Have a Nice Conflict!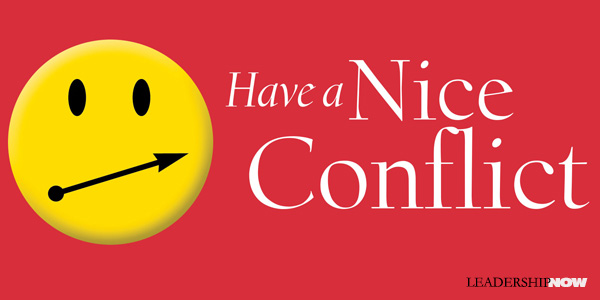 READING Have a Nice Conflict was like listening to my Dad again. He first met "Doc" Porter in the early seventies and they clicked almost immediately. Elias Porter's Relationship Awareness Theory, on which the book is based, resonated with my Dad.
Behaviors are the tools we choose and use to support our self-worth.

You can look at personal strengths like behaviors. They represent the different ways a person can interact with others to achieve self-worth. When a person tries one of these strengths and has success with it, they use it more often. Other strengths might have rendered poor results, and so they might tend to use those less and less. Over time, we develop a set of "go-to" strengths. They become our modus operandi.

But it's important to remember that you have a whole tool chest of other options that may get you better results from time to time.

It is possible that some of your conflict at work happens because other people don't see your strengths the way you intend them to be seen. … So when you find another person's behavior annoying, look for the strength behind it. What are they overdoing? What are they really trying to accomplish? Most likely, their intent is not to annoy you. If you can find the strength lurking behind the perceived weakness, you've discovered insight into that person that may help you understand them better.

Conflict can happen when other people misinterpret your strengths.

Have a Nice Conflict
is the story of sales manager John Doyle who has been passed over for what he believes is a well-deserved promotion. He has lost some of his top performers because he rubbed them the wrong way. When he turns up at an old friend and client's office to explain yet another change in sales reps, he puts him on to Dr. Mac to help him improve his people skills at both work and home.
Dr. Mac explains to John that there are many ways of interacting with others. We have default ways of behaving and when in conflict we often shift into other behaviors to maintain our self-worth. While we are trying to do the "right thing" to maintain our self-worth, conflict can happen when our "right thing" appears to be the "wrong thing" to another person. Conflict can be prevented by seeing contentious behavior as merely a different style instead of a direct challenge or threat aimed at annoying you or derailing you.
He introduces him to the Strengths Deployment Inventory (SDI) which is a tool to help you understand the motivations behind your own behaviors and to better discern the motivations of others. By giving you a framework it helps you to understand what you and others are feeling and then helps you be better able to respond.
Having a nice conflict is about taking personal responsibility for the interaction. To create movement toward resolution, we need to show the other person the path back to self-worth—where they feel good about themselves. That path may be different than yours.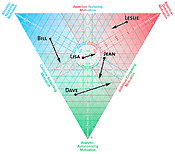 The SDI helps you understand those paths. "When we're stuck in a place of protecting our self-worth, it's much harder to help others protect or restore what's important to them. And that's the primary mission of managing conflict. Managing conflict is about creating the conditions that empower others to manage themselves out of their emotional state of conflict. To effectively manage conflict, we have to begin with ourselves. If we're pulled into conflict ourselves, we're usually not in a great position to help others."
The concept should be taught in schools, however, the thought process is essential for leaders. The book alone offers valuable insights into the process and methodology, but coupled with the SDI you'll have greater success. The authors offer a discount on the SDI to readers of the book.
* * *


Like us on
Instagram
and
Facebook
for additional leadership and personal development ideas.
* * *


Posted by Michael McKinney at 05:08 PM
Permalink | Comments (0) | This post is about Communication , Human Resources , Management , Personal Development , Problem Solving , Teamwork