Tony Blair: The Impact of the Modern World on Leadership
Prime Minister Tony Blair,
addressing on July 30, a gathering of executives
from publisher Rupert Murdoch's Newscorp organization at Pebble Beach, said: "I am sometimes taken to task for being too ambitious in the radical nature of the policy changes I am seeking. I always have the opposite worry: not being radical enough."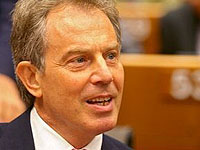 "
The toughest test for any leader today is the sheer scale, pace and reach of change.
There is no steady state in political leadership today. Countries, like companies, are faced with upheaval, uncertainty and require constant adaptation to changing times. Globalisation is creating vast economic opportunity but with it the same amount of insecurity. Social patterns of conventional community and family life have eroded. September 11th, changed the foreign policy. Two years ago, energy policy barely featured on the G8 or EU agendas. Now it dominates both: and rightly.
In these times, caution is error; to hesitate is to lose; yet many of the decisions are acutely, finely balanced.
Take the three isms that run throughout most political debates in Europe and the US today. They're not socialism or capitalism. They're: protectionism, isolationism, nativism, by which I mean, to do with migration and national identity. In each case the issue is: "open or closed." ... In this battle - "open versus closed" - those on the "open" side of the argument will meet fierce opposition. Yet the "closed" side of the argument in truth has nothing to offer a nation except the delusion that the tide of change can be turned back; or alternatively a weaker version of the same delusion, namely that hard choices can just be evaded.
[O]ur cause will only triumph if people see it as based on even-handedness, on fairness, on a deep and genuine passion to help others....[I]f we want the strong measures necessary to solve our world's challenges,
we need a strong and unifying value base from which to put forward the solutions
.
The world changes fast; the policy changes necessary to cope are hugely challenging; opposition from traditionalists is immense. In these conditions, political
leaders have to back their instinct and lead
. The media climate will be often be harsh. NGOs and pressure groups with single causes can be benevolent but can also exercise a kind of malign tyranny over the public debate.
For a leader, don't let your ego be carried away by the praise or your spirit diminished by the criticism and look on each with a very searching eye. But for heaven's sake, above all else, lead."
Posted by Michael McKinney at 12:07 AM
Permalink | Comments (0) | Leaders