If It's Important, Be There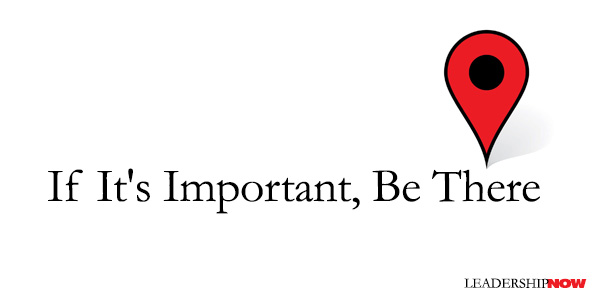 IN Contented Cows Still Give Better Milk, authors Bill Catlette and Richard Hadden make the point that organizations with contented employees understand that one of the most fundamental precepts in the whole workplace arena is that "the person who started for them this morning is as close to a 'model employee' as they're ever going to get." So the best companies do something about it. They are fanatical about training people not only with skills they need, but they also carefully train them in the organization's traditions, values, and philosophies.
But this is the part (too) many leaders just don't get:
"People want to know that the training course they're taking the time to sit through is as important to senior management as it is supposed to be to them." How do you communicate that? "This often requires senior management to ride along with them—not in their own condensed mini-versions, but alongside everyone else."
Catlette and Hadden go on to say, "There should be no executive parking spaces when it comes to training. Managers must participate enthusiastically and, more important, be able to demonstrate the skills they expect everyone else to learn."
The message is clear. If it's important to you, it will be important to them. It's quite common to hear, "If this is so important, where are they?" Without the visible support of the leadership, commitment to the training is compromised. Leaders need to visibly communicate: "This is important—so important that I went through it before you did. I'm using it, and now I want and expect you to do the same. That's why I'm here."
* * *


Like us on
Instagram
and
Facebook
for additional leadership and personal development ideas.
* * *


Posted by Michael McKinney at 11:49 PM
Permalink | Comments (0) | This post is about Education , General Business , Human Resources , Leadership Development