Split-Second Persuasion
: The Ancient Art and New Science of Changing Minds
Kevin Dutton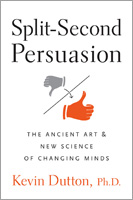 Format:
Paperback, 400pp.
ISBN:
9780099505624
Publisher:
Arrow Books
Pub. Date:
March 4, 2011
Average Customer Review:

For Bulk Orders Call: 626-441-2024

Description and Reviews
From
The Publisher:
How many times a day do you think someone tries to persuade you? Twenty? Thirty? Actually it's more like 400. When you imagine a society based on coercion you start to see how important persuasion is; it literally keeps us alive.
Now psychologist Kevin Dutton has identified a powerful strain of immediate, instinctual persuasion, an elixir of influence that can immediately help you disarm skeptics, win arguments, close the deal, get the guy. Mapping the cutting-edge psychology and neuroscience of this incisive new influence, he introduces us to the natural super-persuaders in our midst—Buddhist monks, magicians, advertisers, con men, hostage negotiators, even psychopaths. He shows us which simple triggers can make someone trust you immediately; what hidden pathways in the brain lead us to believe something even when we know it's not true; how group dynamics can make us more tolerant or deepen our extremism; and what we can learn from newborns about winning arguments. Dutton's fascinating and provocative book will help anyone tap into the power of split-second persuasion.

Reviews
"In this eminently readable book Dutton, avoiding pop-psychology, presents brilliant and highly original advice on how to get someone to do something. A handy skill in courtship, business, science and law but also useful to us in all our daily lives."
—V.S. RAMACHANDRAN, Author of Phantoms in the Brain and A Brief Tour of Human Consciousness
"Offers some powerful insights into the art and science of getting people to do what you want . . . The book contains plenty of tricks to help you get your own way or turn around a sticky situation."
—NEW SCIENTIST
"Hugely entertaining and extremely thought-provoking."
—PROFESSOR RICHARD WISEMAN, Author of 59 Seconds: Think A Little, Change A Lot
"Kevin Dutton is not the Messiah. But he's got a whole bunch of stories and parables that shed new light on how we are persuaded."
—TERRY JONES and MICHAEL PALIN

About the Author
Dr.
Kevin F. Dutton
is a psychologist and research fellow with the Faraday Institute of Science and Religion at Cambridge University. His work has been published in journals that include Scientific American Mind, Journal of Experimental Psychology, and Cognition and Emotion.