It's Not About You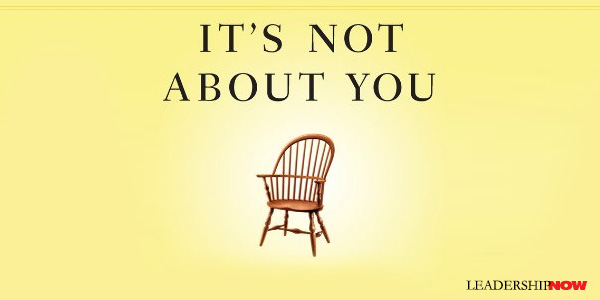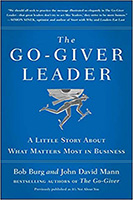 It's Not About You
(Reissued as
The Go-Giver Leader
) by Bob Burg and John David Mann, is the story of a leader's journey. A journey any good leader has to take.
Ben begins with an agenda. His job is to convince or if necessary, to steamroll a manufacturer of high-quality chairs to accepting a merger. Ben's company believes it to be a good thing, but the target company is not so sure. Ben's mindset as he starts out is: "how do I get them to do what I want them to do."
Somewhere between getting people to understand him and slowing-down long enough to understand them, he found his answer.
Through a series of encounters with a mentor—Aunt Elle—and a lot of reflection Ben comes to understand that it is not about him. His journey causes him to reflect on five lessons:
Lesson #1: Hold the Vision. The hard part isn't coming up with the vision, it's holding on to the vision. "As a leader, your job is to hold fast to the big picture, to keep seeing it in your mind's eye, with crystal clarity, where it is you are going—that place that right at this moment exists only in your mind's eye. And to keep seeing that, even when nobody else does."
Lesson #2: Build Your People. "People have all sorts of amazing qualities and natural abilities trapped inside them. With the wood, it's knowing how to apply the heat. With people, it's applying your belief." If you give people something great to live up to, they usually will. "How influential you are, comes down to your intention. What are you focused on? Your benefit, or theirs?" The more you yield, the more power you have.
Lesson #3: Do the Work. Be humble and stay grounded. Aunt Elle said, "People who achieve great things that the world will never forget, start out by accomplishing small things the world will never see."
Lesson #4: Stand for Something. Lead from who you are. People will figure it out anyway. People need to trust your competence, but they need to trust your character more. "Competence is simply the baseline, the thing that puts you in the game. It matters, but honestly, it's a dime a dozen." The authors remind us that you can only lead as far as you grow. Aunt Elle says, "What you have to give, you offer least of all through what you say; in greater part through what you do; but in greatest part through who you are."
Lesson #5: Share the Mantle. It's not about you. "You are not their dreams, you are only the steward of those dreams. And leaders often get it backwards and start thinking they not only hold the best of others but they are the best….The moment you start thinking it's all about you, that you're the deal, is the moment you begin losing your capacity to positively influence others' lives."
Whatever great parenting looks like, it is not about the parent.
The Go-Giver Leader is a great presentation of solid life lessons. A book to be read and passed around. Unfortunately, "it's not about you," is not the kind of lesson that once learned, is always remembered. If it was, fewer great leaders would finish poorly after so many years of outstanding service. This is an issue that we face over and over again, but hopefully in ever diminishing frequency and intensity as our leadership matures. This book is a great reminder of the power of the right kind of leadership; leadership that comes from an inner strength of understanding, service and outgoing concern for others.
| | | |
| --- | --- | --- |
| | | Sometimes the hardest thing to grasp about leadership is that it is not about you. It's easy to make it about us. We want to do something, so naturally we push; when actually we should be pulling by considering the needs of others first. In leadership, as with so much in life, the more we give, the more we have. |
* * *


Like us on
Instagram
and
Facebook
for additional leadership and personal development ideas.
* * *

Posted by Michael McKinney at 09:29 PM
Permalink | Comments (0) | This post is about Followership , Human Resources , Leadership Development , Personal Development