Credibility: How Leaders Gain it and Lose It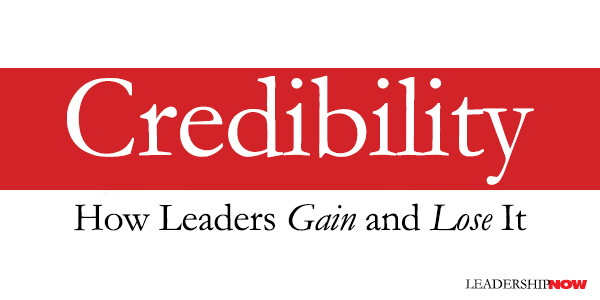 CREDIBILITY is the foundation of leadership.
Unfortunately, many people today do not trust their leaders. "Many wonder if there are any leaders left who have the strength of character to sustain their trust," write Jim Kouzes and Barry Posner in Credibility: How Leaders Gain it and Lose It – Why People Demand It.
While there is no single reason for it, "there is the gnawing sense in many corridors that leaders are not competent to handle the tough challenges; that they are not telling the truth; and that they are motivated more by greed and self-interest than concerns for the customer, the employees, or the country." The time is ripe to revisit this topic.

Credibility
is a wake-up call to get back to the fundamentals; to remember that leadership is about relationships.
"The secret to closing the credibility gap lies in a collective willingness to get closer, to become known, and to get to know others—as human beings, not as demographic categories, psychographic profiles, voting statistics, or employee numbers."
The process of building and sustaining credibility requires six disciplines: discover your self, appreciate constituents, affirm shared values, develop capacity, serve a purpose, and sustain hope. The authors devote a chapter to each of these issues.
Personal responsibility is key to building and restoring credibility. Personal responsibility means understanding not only your actions, but the likely consequences and attending to them. Kouzes and Posner suggest following the "Six A's of Leadership Accountability": accept, admit, apologize, act, amend, attend.
Leadership isn't easy and in a constantly changing world, things like credibility and competency can seem elusive. But if we act on a daily basis, "in ways that increase people's belief that we are honest, competent, inspiring, and forward-looking, people will be much more likely to want to follow your direction." When leaders walk the talk, others are more likely to follow.
Some leaders think that credibility once demonstrated and earned, is complete. But it must be renewed daily in everything we do. Unfair or not, it is the life that a good leader has chosen and demonstrates the understanding that the function of leaders is to serve, not be served. Credibility is an important book to help you sustain your influence. They conclude:
Renewing credibility is a continuous human struggle and the ultimate leadership struggle. Strenuous effort is required to build and strengthen the foundations of working relationships. Constituents do not owe leaders allegiance. Leaders earn it. The gift of another's trust and confidence is well worth the struggle and essential to meeting the challenges of leading people to places they have never been before.
* * *


Like us on
Instagram
and
Facebook
for additional leadership and personal development ideas.
* * *


Posted by Michael McKinney at 04:46 PM
Permalink | Comments (0) | This post is about Human Resources , Leadership Development , Trust