Are You a Culturematic Maker?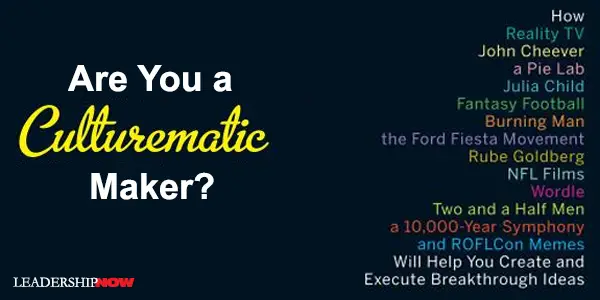 A Culturematic, says author and anthropologist, Grant McCracken, is a little machine for making culture. It is an exercise in edge finding. But at the same time, a Culturematic must speak to us. It must make us go, "Hmm, that's interesting." A Culturematic is also an attitude of mind that goes beyond the box of ordinary thinking "not because it is mischievous to do so, but because there might be a world out there and it might be interesting to find out what this world is."
McCracken says that because we live in a world of constant change and because we must adapt to it with an experimental stream of new ideas, we need Culturematics.
It is when the problem is too complex or difficult and the solution is not forthcoming that Culturematics shine. Culturematics aren't sure where they are going. When we aren't sure what we're looking at but think, "I'll know it when I see it," then we need ideas we can't possibly guess we will need. "The trick," says McCracken, "is to invent our own serendipity, to establish a cloud of possibilities in which we can spot the telling pattern."
Start a Culturematic by asking "what if?" Then, try it. The result should discover and distribute meaning. It helps us to see ourselves or something in the world, differently. It should also unleash value—even repurposing value; discovering "value in the artifact the maker does not know is there."
"Culturematics manage a tension between the order of the starting point and the unpredictability and disorder of the ending point." This is not to say that we point a Culturematic in any direction and pull the trigger. A Culturematic is working with the culture that is already in place, so we point it in the direction where we think we might be able to create meaning and value.
Culturematics...
• start playing in our heads immediately. They capture our attention.
• make the world manageable.
• are something we want to try.
• like order out of accident. They don't file a flight plan, so we can't tell where they'll end up.
• find value invisible to others.
• are both playful and deadly serious.
• aim to change the contents of our heads.
• work from native curiosity.
• make scientists, social chemists, and adventurers of us all. The thing is to try. Failure is inevitable.
Fantasy Football, Twitter, and Reality TV are just a few of the examples of Culturematics discussed in the book. More can be found at the Culturematic Pinterest site.
Culturematic is not based on entirely new ideas. However, it will not only make you look at the world (and what you are doing) differently, but you will develop a new appreciation for what you see, feel, and think. McCracken explains how to Culturematic yourself or your organization. Worth the read if you're trying to create meaning and value in the world.
* * *


Like us on
Instagram
and
Facebook
for additional leadership and personal development ideas.
* * *

Posted by Michael McKinney at 05:21 PM
Permalink | Comments (0) | This post is about Creativity & Innovation , Problem Solving , Thinking , Vision