Influencing Up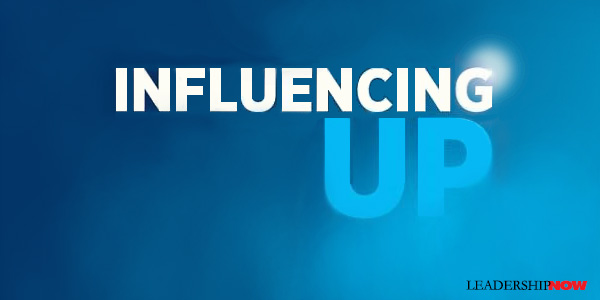 IF you're trying to make a significant contribution you will have to influence people you can't control. In other words, you will need to influence up.

Often we get in our own way when trying to influence. In Influencing Up, authors Allan Cohen and David Bradford we have to overcome these barriers:
The assumptions you hold about how hard to push
An unwillingness to raise a tough issue or have a difficult conversation with your boss
A combative tone that provokes the exact reactions you dislike
Fear of being turned down
Inability to let go of your own concerns long enough to remember to give something valuable to get cooperation
Any problems you might have dealing with authority
Cohn and Bradford deal with all of these issues. Beside any self-examination you will need to do, you will need courage to deal with two influencing up issues:
First, the impact of large power differentials. Obviously, the greater the power differential between you and the powerful person, the more difficult influence becomes.
Unfortunately, this kind of large power gap tends to produce dysfunctional behavior for people on both sides of the equation. Relatively high-power people tend to overvalue their own contributions and undervalue others', whereas those with less authority tend to overestimate higher-level individuals' power and underestimate their own.
Second, becoming a partner with high-powered people. Partner does not necessarily mean equals. It's a matter of "joining with" not just "reporting to" and taking responsibility for developing the partnership. To do that you need a clear understanding of your boss's world.
Characteristics of this partnership are:
both partners are committed to the organizational goals and the success of the other,
you must be motivated by the desire to help and not just personal advancement,
you need to be proactive (a leader in your own right),
both partners must be honest and transparent, and free to offer honest feedback giving each other the benefit of the doubt,
and you must accept the differences between you and your partner.
Just as leaders should ask themselves, "Why am I doing that?" so should junior partners ask themselves, "Why aren't I doing that?" Not all bosses of course, are interested in the idea of influencing up and this is one area where the partnering mind-set really helps.
You need to carefully examine the interests, power, knowledge, and agendas of every relevant individual, group, or organizational stakeholder—and determine who influences others. Although you might not be able to sway a powerful person, he or she might respond to someone else's argument. Who has those connections? This complete analysis is critical for selling ideas or proposals, gaining backing for projects, neutralizing resistance, or otherwise making a difference.
Building on the model they first presented in their book Influence Without Authority, Cohen and Bradford deal with challenges of power differentials and partnering and how to overcome them in a step-by-step, straightforward way.
| | | |
| --- | --- | --- |
| | | As long as you don't inadvertently give away your power, are willing to do your homework, and act with reasonable courage, you can increase your influence with a variety of high-power people. |
* * *


Like us on
Instagram
and
Facebook
for additional leadership and personal development ideas.
* * *

Posted by Michael McKinney at 10:42 AM
Permalink | Comments (0) | This post is about Followership , Leadership , Personal Development