Leadership Truisms: Road-Tested Lessons for Leading During Complicated Times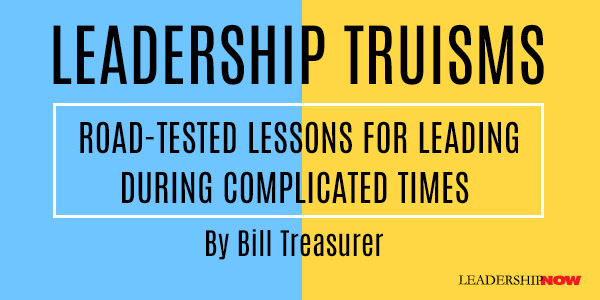 THESE are exceptionally complicated times to be a leader. The world is fraught with touchy political divisions, economic disparities, generational tensions, and racial disharmonies. Magnifying the challenges are the ever-shifting dynamics of today's workplace. More leaders are leading remote teams across larger geographic distances, presenting unique challenges in terms of onboarding new employees, giving performance feedback, building esprit de corps, and nurturing healthy relationships.
The traditional stability of consistently applied practices and processes has been upended. Now individual exceptions and customized deals are common, tailored to flexibly accommodate each person's extenuating life realities. It's a struggle to treat everyone fairly yet individually. Letting one person work from home three days a week to care for an immuno-compromised parent will look like good leadership to that person, but it will smack of favoritism to the healthy single person required to be onsite every day. Leaders will simultaneously be seen as exceedingly fair or unfair, depending on who benefits from policy exceptions that today's realities require leaders to allow.
Despite being a particularly challenging time to lead, leaders can use some road-tested tactics to navigate through today's choppy waters. Leadership fitness is a function of three disciplines: leading yourself, leading others, and leading work.
Leading Yourself
Leadership starts with self-awareness and self-discipline. You've got to know what your good at, and what you'd be wise to hand off to others. You've got to have a deep value system that can help you weather tough people and situations. You've got to manage and prioritize your time. If you can't lead yourself, what qualifies you to lead others? Here are some two-word truisms that will help you lead yourself well:
Know Thyself: Leadership starts with self-awareness. Identify the formative experiences that helped shape your beliefs about leadership. Who were your earliest leadership role models? What did you learn by watching them? Also identify your sunshine and shadows: your strengths and the shadows those strengths cast when you overuse them. For example, are you a persuasive communicator? But does that cause you to often hog the limelight?
Model Principles: Having deeply held values leads to inner strength. Leadership is hard and having strong inner character will help you withstand inevitable headwinds. Be clear about what you stand for — and against. List your deepest held values. Which ones do you embody? Which ones do you need to improve on?
Aspire Higher: Leadership has everything to do with elevating performance — your own and others. In big ways and in small, you should be improving every day. Doing that means setting stretch goals, investing in your own development, and actively seeking out feedback from those impacted by your leadership.
Practice Humility: People want to be led by leaders who are confident and humble. Always remember that you're no better than the people you're privileged to lead. Never be arrogant. Practice humility by asking people for their input and then listening to, and heeding, their advice.
Cultivate Composure: Leaders bear a heavy burden of responsibility, which is stressful. Often that stress gets externalized in the form of anger. Don't be a hothead. When you freak out, people lose confidence in you. Start your day with some quiet reflection. Ask yourself, what good do I want to do in the world today with my leadership influence?
Leading Others
Leaders can't, and shouldn't, do everything themselves. Your success as a leader is contingent upon how successful you help others become. Focus your leadership influence on helping each individual you work with to add more value — literally help them become more valuable. That requires investing time in their development, giving them your focused attention, and drawing out the leader in them through your coaching and feedback. Here's how:
Trust First: Trust bonds followers to leaders. Yet too many leaders fold their arms waiting for people to first prove that they can be trusted. They start from a place of skepticism and guardedness. Switch the equation. Focus first on being worthy of the trust of others. Never shade or couch the truth. Keep people updated and informed. Deliver on your commitments.
Create Safety: Innovation is the lifeblood of business. People will extend themselves, experiment, and take risks if you make it safe to do so. Don't bite people's heads off when they make forward-falling mistakes. Don't intimidate or stoke people's fears. Invite feedback and thank people when they give it to you. Psychological safety is just as important as physical safety.
Nurture Talent: Developing your people is a prime responsibility. Invest at least 15 minutes every two weeks with each person who reports to you. Don't focus on the status of projects and tasks. Instead, check in with them, asking how they're doing, how things are on the home front, and what you can do for them. The 15 minutes will dramatically strengthen the relationship and build mutual respect and loyalty.
Promote Inclusion: If you care about great results, you'll promote diversity, equity, and inclusion. Your job is to foster an environment where every person can bring their full selves to work and be totally engaged. Welcome, encourage, and foster diversity in all its expressions.
Leading Work
Leading yourself and others will help you ensure the final area of leadership fitness: leading work. Leaders are judged by the results they get. The whole point of leadership is to produce positive outcomes that didn't exist before. You and your team need to deliver effectively and consistently. Leadership has everything to do with results. Here's how to get them:
Love Business: Business can be intimidating. The more experience you gain, the more business-minded you'll become, and the less intimidating business will be. Talk to leaders you admire. Have them share the big decisions they faced and the factors they considered when facing them. Join a professional association and broaden your network. Keep an ongoing journal to document your leadership lessons.
Master Management: Great managers make for great leaders. The more you master management fundamentals, the more equipped you'll be to face complex situations. Set clear plans, goals, and milestones. Intently review progress. Equip people with the tools and resources they need. Provide coaching and feedback. Reward stellar performance. Be fiscally disciplined.
Lead Up: Support your bosses' success. Earn their respect by being candid, keeping them updated, and giving them helpful feedback. Look for stuff that they might be missing. When they give you an assignment, overdeliver. You don't have to be a kiss-up or yes-person. You can be loyal to your boss and loyal to yourself at the same time.
Despite being a particularly challenging time to be in a role that has always been challenging, if you're disciplined about leading yourself, if you honor the responsibilities that come with leading others, and if you consistently produce great results by leading work, you'll not only enjoy leading, but you'll be fully fit to lead!
* * *

Bill Treasurer
is the Chief Encouragement Officer of Giant Leap Consulting, Inc., a courage-building consulting firm. Bill is the author of six leadership books, including his newest,
Leadership Two Words at a Time
. For over three decades, Bill has designed, developed, and delivered comprehensive leadership programs for such renowned organizations as NASA, Accenture, eBay, Lenovo, UBS Bank, Southern Company, and the US Department of Veterans Affairs. Prior to founding Giant Leap, Bill served as Accenture's first full-time internal executive coach. He is also a former captain of the US High Diving Team and performed over 1500 dives from heights that scaled to over 100 feet. Learn more at
giantleapconsulting.com
* * *


Follow us on
Instagram
and
Twitter
for additional leadership and personal development ideas.
* * *


Posted by Michael McKinney at 07:03 AM
Permalink | Comments (0) | Leadership