What to Ask the Person in the Mirror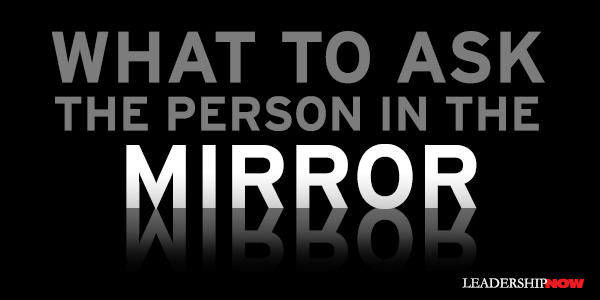 WHILE we might like to think otherwise, here is a fact about successful leaders:
Successful leaders go through significant periods of time in which they feel confused, discouraged, and unsure of themselves and their decisions. They feel as if they should be somewhere else, doing something else.
And unsuccessful leaders go through the same thing. The difference, says Harvard professor Robert Kaplan, is "how they deal with these periods of confusion and uncertainty. The trick lies not in avoiding these difficult periods; it lies in knowing how to step back, diagnose, regroup, and move forward."

This means not having all the right answers, but learning to ask the right questions. The challenge will be asking the right questions and making to the time to reflect on them. Reflecting is the key ingredient here and what many of us are short on. In his timeless book,
What to Ask the Person in the Mirror
, Kaplan offers seven basic types of inquiry or areas of focus—actually a system of inquiry that ties the leadership function together—that you should be looking at on a regular basis:
Vision and Priorities. In this foundational area we need to be very clear and communicate it in a way that helps others to be able to determine where to focus their own efforts. Have you developed a clear vision and have you identified three to five clear priorities to achieve that vision?
Managing Your Time. Your vision and priorities are reflected in the way you use your time. Track your time for two weeks. How does this compare to your key priorities?
Giving and Getting Feedback. Most leaders do not effectively coach their subordinates, and also fail to get the critical coaching that they themselves need in order to excel. Do you cultivate advisors who are able to confront you with criticisms that you may not want to hear?
Succession Planning and Delegation. When leaders fail to actively plan for succession, they do not delegate sufficiently and may become decision-making bottlenecks. Have you identified potential successors for your job? Why not?
Evaluation and Alignment. It is often extremely difficult as an insider to see where you and the organization have drifted out of alignment. If you had to start again, how would you do it? Would you be doing the same things? Does the design of your organization, your incentive systems, your culture, and even your approach to leading still fit the needs of the organization?
The Leader as Role Model. Many leaders fail to appreciate that their actions speak louder than their words. Self-awareness is critically important. Write down two or three key messages you believe you send with your behavior. Seek advice from key subordinates and advisors who directly observe your behavior, in order to answer this question: is there a "disconnect" between the messages you wish to send and those you are in fact sending?
Reaching Your Potential. Know and learn to manage your strengths, weaknesses, and passions, not only to bring out your best, but also to create this same environment and aspiration among your staff.
It's not uncommon to find leaders that just stick to what they know best and not address those areas where they feel uncomfortable or insecure. All of these areas need to be reflected on as they each have an impact on the other. Taking the time to reflect is not easy and "doesn't sound like fun, and may not sound as important as the fifty other things you have to fit into your day—but it works." And be sure to take the time to reflect on these issues with your team as well.
With many down-to-earth examples, Kaplan will expand the range of questions you should be asking yourself. What to Ask the Person in the Mirror will help you to rethink unsustainable behaviors that are damaging to both you and your organization and help you to mature and grow in your leadership role.
* * *


Like us on
Instagram
and
Facebook
for additional leadership and personal development ideas.
* * *

Posted by Michael McKinney at 03:57 PM
Permalink | Comments (0) | This post is about Human Resources , Leadership Development , Personal Development