The Law of the Garbage Truck
: How to Respond to People Who Dump on You, and How to Stop Dumping on Others
David J. Pollay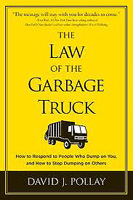 Format:
Paperback, 256pp.
ISBN:
9781454905189
Publisher:
Sterling
Pub. Date:
October 5, 2010
Average Customer Review:

For Bulk Orders Call: 626-441-2024

Description and Reviews
From
The Publisher:
How often does a bad driver, rude waiter, curt boss, or an insensitive relative ruin your day with a thoughtless action, an angry rant, or a snide remark? And how often have you ruined someone else's day?
In
The Law of the Garbage Truck
, David J. Pollay shows us that by refusing to let others dump their "garbage" (negativity, anger, resentment) on us—and letting it "pass by" instead—we become happier and more successful, both personally and professionally. And when we stop dumping garbage on others, we improve our relationships, strengthen our businesses, and bring our communities together.
Twenty years ago, while riding in a New York City taxi, syndicated columnist and business consultant David J. Pollay narrowly escaped a life-threatening car crash. The driver who almost caused the accident started yelling at the cab driver, who remarkably just smiled, waved, and wished him well. Pollay asked how the cabbie could remain so calm, and his response sparked the defining principle of
The Law of the Garbage Truck
:
Many people are like garbage trucks. They run around full of garbage, full of frustration, full of anger, and full of disappointment. . . . And if you let them, they'll dump it on you. So when someone wants to dump on you, don't take it personally . . . move on.
Now Pollay shows you how to apply his Law in this remarkable book that can help you:
Avoid getting dumped on by rude, thoughtless, and angry people
Stop reliving the negative in your past, and fearing the future
Focus on what you can control, not the negative things you can't
Reduce incivility wherever you find it, and stop bullies in their tracks
Improve your relationships by not dumping on your friends, parents, spouse, or coworkers
Find happiness again after dealing with illness, loss, and personal tragedy
Increase productivity, respect, and cooperation by creating a No Garbage Trucks! Zone in your business, school, and home
Gain the courage to enjoy every day, do what you love, and make a difference
This book includes short action guides after each chapter to help you implement
The Law of the Garbage Truck
in your business and personal life, and it contains two powerful, insightful quizzes designed to help you determine how much garbage you are accepting and how much garbage you are dumping. The results may surprise you!
Take control of your life. . . . Don't let other people's bad behavior hold you back.
In
The Law of the Garbage Truck
, David J. Pollay shows you how to respond to the people who dump on you, and how to stop dumping on others. His message is simple, powerful, and transformational. Once you've taken The No Garbage Trucks! Pledge, you—and everyone around you—will realize the benefits!

Reviews
The message will stay with you for decades to come.
—Tom Rath, #1 New York Times bestselling author of How Full Is Your Bucket? and best-sellers Strengthsfinder 2.0 and Wellbeing
The Law of the Garbage Truck
is smart, fun, and powerful.
—Gretchen Rubin, #1 New York Times bestselling author of The Happiness Project
David J. Pollay …addresses the question on the forefront of everyone's mind: "It's hard enough managing my own happiness, but how do I deal with the negative people in my life?" This compelling and practical volume provides the best answer I've seen yet.
—Barbara L. Fredrickson, Kenan Distinguished Professor of Psychology, University of North Carolina - Chapel Hill and author of Positivity
This book will immediately and profoundly change the way you interact with the world … I recommend it highly.
—Keith Ferrazzi, #1 New York Times bestselling author of Who's Got Your Back and Never Eat Alone
David J. Pollay effortlessly distills the science of well-being into a simple, memorable formula for achieving a life lived authentically and happily.
—Sonja Lyubomirsky, Professor of Psychology, University of California, Riverside and author of The How of Happiness
The Law of the Garbage Truck
is a profound, practical, and personal book that shows how to keep the garbage in our lives at bay so we can enjoy inner peace and happiness.
—Jerry Jampolsky M.D., founder of the International Center for Attitudinal Healing, and author of fifteen best selling books, including Love is Letting Go of Fear
The Law of the Garbage Truck
… gives us the motivation to stay on track, achieve our goals, and—best of all—be happy!
—Nido R. Qubein, President of High Point University and Chairman of Great Harvest Bread Company
There's a simple reason why David J. Pollay's "No Garbage Trucks! Pledge has been translated into 48 languages, and people from more than 100 countries have taken it": It works! Start living a better life now!
—Nick Morgan, President of Public Words, and author of Trust Me: Four Steps to Authenticity and Charisma

About the Author
David J. Pollay
, MAPP, is an internationally sought-after speaker, seminar leader and syndicated columnist, whose work has been featured on NPR, ABC television and in publications around the world. He is also president of The Momentum Project, LLC, a consulting organization that focuses on applying the science of positive psychology to business.

Find Items On Similar Subjects

The Happiness Hypothesis
: Finding Modern Truth in Ancient Wisdom