When Generations Collide
: Who They Are. Why They Clash. How to Solve the Generational Puzzle at Work
Lynne C. Lancaster and David Stillman Foreword by Harvey MacKay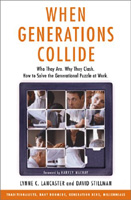 Format:
Paperback, 384pp.
ISBN:
9780066621074
Publisher:
Collins
Pub. Date:
March 1, 2003
Average Customer Review:

For Bulk Orders Call: 626-441-2024

Description and Reviews
From
The Publisher:
BICKERING. BACK BITING. CLASHING. COLLIDING. JUST ANOTHER DAY AT THE OFFICE...
If your workplace sometimes feels like a battlefield and your colleagues sometimes seem like aliens, you are not alone. Today there are four distinct generations of employees glaring at one another from across the conference table, and the potential for conflict and confusion has never been greater.
In this insightful, captivating book, generational experts Lynne C. Lancaster and David Stillman shed much-needed light on how to bridge generational gaps at work by understanding the differences that drive generations apart.
Traditionalist employees with their "heads down, onward and upward" attitude live out a work ethic that was shaped during the dark days of the Great Depression. Meanwhile, the eighty million Baby Boomers are at a crossroads, trying to balance their overwhelming need to succeed with their desire to slow down and enjoy the fruits of their labor. They alternate between admiration and abhorrence for the chutzpah demonstrated by Generation Xers, who, in addition to feeling as if they have to prove themselves constantly, are chafing under the image of being overly ambitious, disrespectful, and irreverent. Nipping at everyone's heels are the new kids on the block, the Millennials -- with their unique mix of savvy and social conscience, they promise to change yet again the landscape of the workplace.
Whether you're a manager, an employee, an entrepreneur, or a skilled professional, you'll derive hands-on, take-home business benefits from understanding this vital form of diversity affecting today's high-performance workplace.
Using a wry and practical approach to bottom-line business issues and drawing upon interviews, experiences, and the findings from their national survey, Lancaster and Stillman give you in-depth insights into each generation. With their help, you'll have the tools you need to recruit, retain, motivate, and manage each generation more effectively. And you'll recognize that while collisions are inevitable, ultimately it's how we manage them that counts.

Reviews
"I felt like an intergenerational voyeur . . . humorous new insights tickling my funny bone as the pages flew by."
—Stephen C. Lundin, Ph.D., author of FISH! and barely a Traditionalist
". . . will have you smiling and nodding in recognition of how generational differences play out in the workplace."
—William Bridges, author of Transitions, Managing Transitions, and Job Shift
"When Generations Collide. . . provides a road map on what we need to do and change to succeed. . . . A must read."
—Curtis Nelson, president and CEO, Carlson Hospitality Worldwide
Lancaster and Stillman use real work situations, and more than a bit of wry humor, to ... make a good case.
—Minneapolis Star Tribune
Rich, engrossing...instructive and profound...This stimulating, valuable ... business book... resonates on a sociological level.
—Boston Globe
A lively read...Lancaster and Stillman preach...valuable lessons for everyone in business.
—Washington Business Forward
The authors offer many examples of trouble spots where generational conflicts are most likely to explode...thought-provoking insights.
—Time magazine

About the Authors
Baby Boomer
Lynne C. Lancaster
is a Phi Beta Kappa summa cum laude graduate of the University of Minnesota. She earned her stripes as a corporate communication consultant to companies such as Coca-Cola and Pillsbury, where she conducted research and coached executives on communication strategy. Lynne has served as a contributing faculty member at the University of Minnesota's Carlson School of Management, and her writing has appeared in numerous publications, including The Futurist and Nation's Business. Lynne is married and stepmother to two Gen Xers.
Generation Xer
David Stillman
is an honors graduate of the University of Wisconsin at Madison with a B.A. degree in communications and sociology. David interned for PrimeTime Live, then traveled the world as a roving reporter for CBS radio, covering stories such as the end of apartheid in South Africa and the fall of the former Soviet Union. David's cutting-edge work in communications has won him numerous accolades, including Worldfest-Houston Medals, the New York Festivals Award, and the much-coveted Clio Award. David is married and the proud father of two Millennials.

Find Items On Similar Subjects

The Global Achievement Gap
: Why Even Our Best Schools Don't Teach the New Survival Skills Our Children Need - and What We Can Do About It