Hiring for Cultural Fit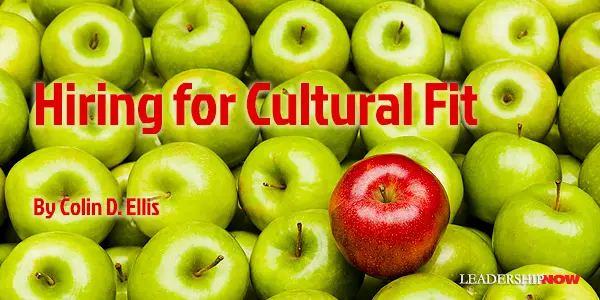 ORGANIZATIONS OFTEN TALK about hiring for cultural fit, yet very few of them know how to do it well. This is mostly because they haven't taken the time to define their culture and, therefore, there's nothing to hire against or fit into. Instead, a standard set of questions, technical skills, qualifications, and psychometric testing are used in the hope that the right candidate lands in their lap.
Where time, money and effort has been invested to define the organizational culture, it's imperative to use what that definition to bring in the kind of people who will contribute to it, rather than hold it back.
The hiring process isn't an exercise in finding someone with a pulse to fill a position. It's an opportunity to bring in an individual whose values, intention, mindset, and ambition match that of the organization. Quite often, the most qualified person isn't the right person for the culture you've created.
However, it may take one, two, or seven interviews to determine that. In order to ensure that a force for good is added to the organizational culture, time needs to be taken to execute the hiring process well. That way, the person fully understands what's expected to fit into the culture and the environment in which the work gets done. When the new hire meshes well with these expectations, unnecessary performance management time is avoided.
Case studies of how to hire for culture successfully
Tony Hseih, CEO of the online shoe retailer Zappos, once famously said that he didn't know anything about shoes, but knew a lot about creating workplace culture. Zappos has a very well-defined recruitment and induction process, which it calls The Zappos Family New Hire Program. It's not a rubber-stamping probation period, but a values fit assessment. Every new hire, regardless of role or department, goes through the four-week program, which combines technical training and culture immersion. In the end, the employee has full knowledge of what the organization stands for and how it does business, and the organization can assess the mindset of the individual and how he or she can contribute to Zappos' values.
When hiring at Slack, CEO Stewart Butterfield looks for humility and an acknowledgment that luck has played some part in the job prospect's success. He also places great emphasis on diversity: "If you don't have people who come from different backgrounds and experiences, you'll miss out on meeting the needs of groups of customers."
Ben Kirshner, former CEO at Elite SEM and now Chairman of the Board at Tinuiti, said he's very particular about who he brings into the culture. , means interviews, on core values. Using an example of having an attitude of gratitude, he explained, "The hiring team will ask candidates a lot of questions to gauge how grateful a candidate is -- how much they appreciate others and how much they give back."
If organizations such as Zappos, Slack, and Tinuiti hired people who didn't share their values, then their culture would become stagnant very quickly as these people would drag others down.
Just because they're qualified doesn't mean they'll fit
To hire for cultural fit, it's critical to assess not only an interviewee's technical skills but also how well the values, emotional skills, and aspirations complement the organization's culture.
To uncover those attributes that can enhance company culture, apply these hiring strategies:
1. Use the organization's vision statement as a hiring tool. Part of defining company culture is creating an inspirational statement of intent that generates the impetus for moving beyond the status quo. The vision statement can also become a tool for hiring as you determine whether the individual will improve the organization's chances of achieving its vision. People are often attracted to cultures based on their aspirations. It's a great way to check that potential employees share the same dreams and understand the agreed-upon ways of working together to realize them.
2. Look beyond a candidate's skills. While skills may get them an interview, the candidates' emotional intelligence should be a determining factor in who gets the job. That means the interview should be structured to ensure that emotional intelligence is something you uncover. One valuable question to ask is, "Tell me about your biggest failure." Being able to admit fallibility is important in a collaborative environment. Also, the best candidates will share how they've adapted or changed from the experience.
3. Tailor questions to find out a person's values. The aim of the interviewing process is to separate those that understand what they stand for from those who just want a job and will say want they think the interviewer wants to hear. Ask candidates to describe their values and how they live them on a day-to-day basis. Include questions around how the candidate would apply the organizational values and remain resilient in stressful situations.
4. Investigate cultural fit. Understand the personalities and skillsets that you already have on board. Once you know your team, and you've collectively developed your defined culture, you can look for someone with the right values, personality, and skills to fill the gaps.
Hiring any member of staff, regardless of whether they're permanent or contract, shouldn't be rushed. If you don't want to undermine the culture that you have, then it's important to take the time to find someone who will add to it. Those people will fit like a glove.
* * *

Colin D. Ellis
is an award-winning international speaker, best-selling author, and renowned culture change and project management expert who works with organizations around the world to help them transform how they get things done. Based in Australia, Colin is the author of four books, including his most recent,
Culture Fix: How to Create a Great Place to Work
(Wiley, Nov. 4, 2019). Learn more at
colindellis.com
.
* * *


Like us on
Instagram
and
Facebook
for additional leadership and personal development ideas.

Posted by Michael McKinney at 08:33 AM
Permalink | Comments (0) | This post is about Management