Credibility
: How Leaders Gain and Lose It, Why People Demand It •
Revised Edition
James M. Kouzes and Barry Z. Posner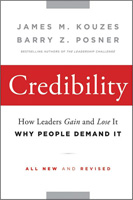 Format:
Hardcover, 272pp.
ISBN:
9780470651711
Publisher:
Jossey-Bass
Pub. Date:
2nd edition August 2, 2011
Average Customer Review:

For Bulk Orders Call: 626-441-2024

Description and Reviews
From
The Publisher:
The first true revision of the classic book from the bestselling author of The Leadership Challenge
As the world falls deeper into economic downturns and warfare, the question of credibility (how leaders gain and lose it) is more important than ever. Building on their research from
The Leadership Challenge
, James Kouzes and Barry Posner explore in
Credibility
why leadership is above all a relationship, with credibility as the cornerstone, and why leaders must "Say what you mean and mean what you say." This first full revision of the book since its initial publication in 1993 features new case studies from around the world, fully updated data and research, and a streamlined format. Written by the premier leadership experts working today,
Credibility
:
Reveals the six key disciplines that strengthen a leader's capacity for developing and sustaining credibility.
Provides rich examples of real managers in action
Includes updates to the applications and research
This personal, inspiring, and genuine guide helps you understand the fundamental importance of credibility for building personal and organizational success.
Nearly 20 years ago, when
Credibility
was first published almost half of America's workforce was cynical, and while things improved in the 1990's, the authors explain that by 2007 trust, the key ingredient of credibility, again took a major nosedive. More recently, the great recession, scandals within organized religion, questionable practices on Wall Street, and hypocrisy among politicians were big factors in the decision to revisit the topic. The book arrives at a time when "many wonder if there are leaders left who have the strength of character to sustain their trust."
Credibility
is a research-based book that offers highly practical advice and real-life examples of what exemplary leaders do to become more influential and trustworthy.
In
Credibility
, Kouzes and Posner write, "we wanted to remind leaders how important it was to attend to the fundamentals..." Readers learn that leadership is a relationship, that there are three qualities people most look for and admire in leaders they would willingly follow, and that there are Six Disciplines essential to building and sustaining credibility over time. With The Six A's of Leadership Accountability—Accept, Admit, Apologize, Act, Amend and Attend—the authors also show how credibility is restored once it is tarnished or lost. Kouzes and Posner, in example after example, illustrate "how values clarification and culture creation [must be] at the tops of a leader's agenda.
This all-new edition of
Credibility
is broader in reach, it reflects what the authors describe as "the changing nature of the context in which people now work." They show how credibility is important regardless of position, role or responsibility, and clearly document how it is a global concern, while blending international research with new case studies that reflect the realities of a global marketplace.

Reviews
"Credibility is the most timely and important issue of our age. And with this book, based on a solid foundation of research plus their years of experience, Jim Kouzes and Barry Posner have thrown us a Hail Mary pass that can help to restore confidence and trust in our institutions. I am personally grateful to receive their pass. I bet that you will be too."
—Warren Bennis, Distinguished Professor of Business, University of Southern California; author, Still Surprised: A Memoir of a Life in Leadership
"My first suggestion on how to build your credibility: read this book and apply what you learn! Nothing is more important to a leader than credibility. Jim and Barry do a wonderful job of showing us all why it matters, how to earn it, and how to keep it! Another amazing contribution from the world's authorities on leadership!"
—Marshall Goldsmith, author, MOJO and What Got You Here Won't Get You There
"Credibility should be on the must-read list for all leaders and potential leaders, and should be a required text for all business majors. Jim Kouzes and Barry Posner clearly outline the values and traits of credible leaders, and they both confirm and support the theory that we all want to work for 'credible' leaders. It is a fantastic read for all of us who aspire to be the leader that others want to follow."
—Ann Rhoades, author, Built on Values; president and founder, People Ink
"Over the past twenty-five years, Jim Kouzes and Barry Posner have built—no exaggeration—the most significant body of leadership work on the planet. Credibility is a masterpiece because it accomplishes the seemingly impossible: it boils the vast, often-complicated and confusing act of leadership down to its purest essence and then teaches us how to put it into practice in all aspects of our lives. Simply put, this book will not only inspire you to make a difference, it will help you do it."
—Steve Farber, author, The Radical Leap Re-Energized and Greater Than Yourself; president, Extreme Leadership, Inc.
"When I graduated from business school back in the early 1980s, I thought I had to be a 'superhuman' if I were to ever be a CEO some day. After two dozen years of being a CEO, I now know that it's not about being superhuman; it's instead about being a super human. If there's one leadership book that is the operating manual for how to be a super leader and a super human at the same time, it is Credibility. Loved every word of it!"
—Chip Conley, founder and executive chairman, Joie de Vivre; author, PEAK and Emotional Equations

About the Authors
James M. Kouzes
and
Barry Z. Posner
are the coauthors of the classic bestselling books The Leadership Challenge, The Truth About Leadership, A Leader's Legacy, Encouraging the Heart, and over a dozen other books and workbooks on leadership. They also developed the highly-acclaimed Leadership Practices Inventory (LPI), a 360-degree assessment tool based on The Five Practices of Exemplary Leadership. Jim is the Dean's Executive Fellow of Leadership and Barry is Professor of Leadership at Santa Clara University's Leavey School of Business. They are among the world's most trusted and influential scholars on leadership.

Table of Contents
| | | |
| --- | --- | --- |
| | | |
| | Introduction: On Credibility and the Restoration of Trust and Confidence | xi |
| | | |
| 1 | Leadership Is a Relationship | 1 |
| 2 | Credibility Makes a Difference | 22 |
| 3 | Discover Your Self | 42 |
| 4 | Appreciate Constituents | 62 |
| 5 | Affirm Shared Values | 84 |
| 6 | Develop Capacity | 111 |
| 7 | Serve a Purpose | 132 |
| 8 | Sustain Hope | 153 |
| 9 | The Struggle to Be Human | 174 |
| | Epilogue: Character Counts | 201 |
| | | |
| | Notes | 203 |
| | Acknowledgments | 229 |
| | About the Authors | 233 |
| | Index | 237 |

Find Items On Similar Subjects

A Leader's Legacy

The Leadership Challenge
: Fourth Edition

The Trusted Leader
: Bringing Out the Best in Your People and Your Company