Keeping Your Ego in Check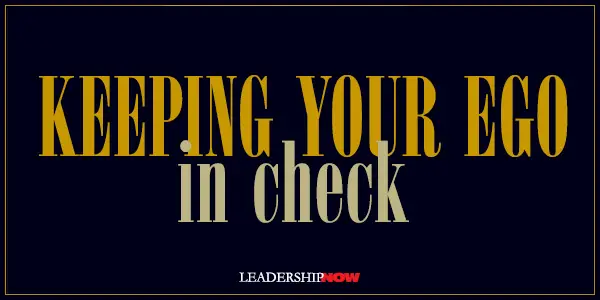 I
F A LITTLE EGO is a good thing, too much can be a very bad thing. Managing one's ego is the subject of Mathew Hayward's book,
Ego Check
. "
Checking one's ego at the door is entirely the wrong way to think about managing overconfidence and hubris
because it drives a wedge between who we are and how we are supposed to act. Instead, the key is to check our decisions and actions, ahead of time to determine whether they reflect authentic or false confidence."
He suggests that authentic pride is good—even necessary—as it helps us to "appreciate who we are and what we have done" without constantly seeking approval from others. He warns that "the danger is that authentic pride—based on real achievements and emotions—can quickly degenerate into excessive pride. We easily slip into becoming too full of ourselves and operate with clouded judgment. I believe it was Dirty Harry who said, "A man's got to know his limitations."
He breaks excessive pride—which arises when we develop an inflated view of ourselves based on our need for certain outcomes and approval—into three forms:
Dependent Pride: Pride based on what we hope to accomplish—future outcomes—rather than what we have done or are currently doing
Exaggerated Pride: Pride based on what we want to believe about ourselves rather than what the data or the feedback we are getting would really tell us (believing our own press releases)
Overweening Pride: Pride driven by potential outcomes or what we imagine we are doing as opposed to what we are actually doing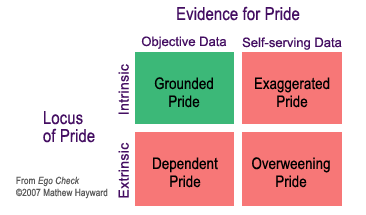 Authentic Pride
or
Grounded Pride
arises when we intrinsically appreciate ourselves based on candid and factual feedback. This type of pride can be a positive force in our lives.
* * *


Like us on
Instagram
and
Facebook
for additional leadership and personal development ideas.
* * *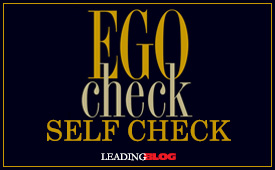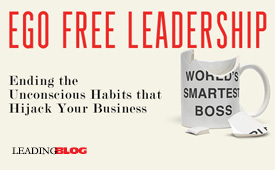 Posted by Michael McKinney at 10:30 PM
Permalink | Comments (0) | This post is about Books , Personal Development