Culture Eats Strategy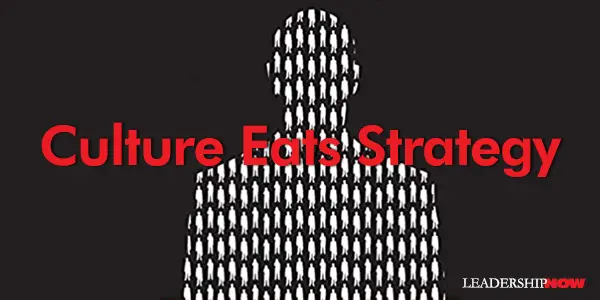 You're so busy grasping technology in one hand and science in the other, you have no hand left to grasp what's really important. It's the human spirit, that's the challenge, that's the voice, that's the expedition.


—John Travolta as George Malley in the film Phenomenon

T
O create transformation change in an organization you need to change the culture. This may seem to go without saying, but we often try to make changes without changing the underlying belief systems. Belief systems drive behavior. In
Transforming Your Leadership Culture
, authors John McGuire and Gary Rhodes write, "Organizational culture holds your organization's aspirations and the spirit of the place. Its beliefs and values define the organization's core." To illustrate how endemic the force of belief is within a culture, they relate the following example:
Mike, a vice president at National Bank, a prestigious financial organization, tells the story of what came out of an all-day meeting of a group of vice presidents at headquarters: "We brought in VPs and directors from all our locations. We needed to use the largest conference room in the building and had to get special permission to do so."

At National Bank, "permission" wasn't simply an issue of scheduling. The large conference room was located on the top floor of the building and used exclusively by senior executives, not by vice presidents. The vice president and director offices were on the floors below; lower-ranked employees were lower still, filling in the middle floors; the ground level housed administrative and support operations. The furnishings in the building changed by floor too. The top floor featured leather chairs, high-quality wood desks and tables, artwork, and attractive kitchen and washroom facilities. Below that level, floors housed progressively less expensive furnishings.

The night before the meeting, Mike was working late in his office finishing up his presentation: "A couple of guys from our maintenance staff kept walking past my office with chairs from the meeting room down the hall. I didn't think much of it until the next morning when I arrived on the top floor for our big meeting. The maintenance staff had replaced all the leather chairs from our floor."

Here the power of the culture reveals itself: no one had told the maintenance staff to trade out the chairs. There was no policy or precedent for doing so. The maintenance crew made its own decision, based on its understanding that certain chairs went with certain levels of status. Without question, they simply followed the cultural norm. The cultural authority and trappings of status were so embedded in the organization that it didn't even occur to them that vice presidents might sit in executive chairs while meeting on the executive floor.
"Change won't take hold in operations without change in culture to back it up," say McGuire and Rhodes. Understanding organizational culture, why it persists, how to change it, and where that change begins is the subject of their book. What beliefs are undermining your change efforts?
* * *


Like us on
Instagram
and
Facebook
for additional leadership and personal development ideas.
* * *

Posted by Michael McKinney at 12:37 PM
Permalink | Comments (0) | This post is about Change