11 Shifts Every Leader Needs to Make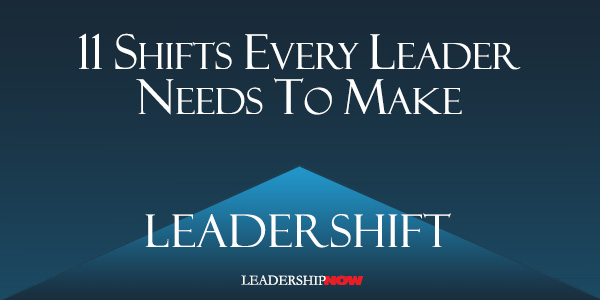 TO GET FROM where we are to where we want to be requires a shift in our thinking. When our thinking shifts in an area, our perspective changes, and new opportunities become visible. We serve people differently.
In Leadershift, John Maxwell states, "every advance you make as a leader will require a Leadershift that changes the way you think, act, and lead."
Shifts in thinking require that you see a bigger picture, rethink your perspective, and understand your context. Your leadership potential depends on these shifts.
It's is unlikely that you would make all of these shifts at once. Some will happen gradually. Some will happen almost overnight. Some will come naturally to you and others will seem counterintuitive. We're all different but we all need to make these shifts. Essentially they all boil down to making the shift from me to we.
Maxwell suggests eleven leadershifts that have helped him grow as a leader. Here are a few ideas from each of the leadershifts he describes:
Leadershift #1 Soloist to Conductor – The Focus Shift
You can't do it alone. Leadership is not a solo practice. Of course, working with others has its challenges. A big part of this shift is changing your focus from receiving to giving. Adding value every day without keeping score. "As leaders, we must stop wishing and start working. Instead of looking for the 'secret sauce' of success, we must start sowing seeds of success."
Leadershift #2 Goals to Growth – The Personal Development Shift
Rather than focusing on goals, focus on growth. "Goals helped me do better, but growth helped me become better." Begin on the inside. "Growth on the inside fuels growth on the outside." You can't do everything, so focus on four areas: attitude, developing strong relationships, your leadership, and equipping others to carry on without you. To become more growth-oriented, you need to embrace change, be teachable (humble), learn from failure, connect with other growth-minded people, believe in yourself, and understand that real wisdom is acquired and applied over time.
Leadershift #3 Perks to Price – The Cost Shift
Great leadership isn't about control, the income or the corner office. It's about sacrifice. Great leadership costs us something. American missionary Adoniram Judson is rumored to have said, "There is no success without sacrifice. If you succeed without sacrifice, it is because someone has suffered before you. If you sacrifice without success, it is because someone will succeed after you." Great leaders go first. "What sets great leaders apart from all other leaders is this: they act before others, and they do more than others. Great leaders face their uncertainty and doubt, and they move through it to pave the way for others."
Leadershift #4 Pleasing People to Challenging People – The Relational Shift
You can please some of the people some of the time, but you can't please all of the people all of the time. But if you want the best out of people, you have to challenge them. "You have to put doing what's right for your people and organization ahead of what feels right for you." This means keeping your eye on the big picture. Sometimes you have to have tough conversations, but you must balance care with candor.
Leadershift #5 Maintaining to Creating – The Abundance Shift
Maintaining isn't always easy, but it is the easiest mindset to slip into. It's not about change for change sake, but it's about "can we do better?" Create a creative environment where people gather ideas and value multiple perspectives. "Being inflexible and sticking to my plan put a lid on me and my organization." Larry Stockstill said, "I live on the other side of 'yes.' That's where I find abundance and opportunity. It's where I become a better and bigger self. The opportunity of a lifetime must be seized within the lifetime of the opportunity. So I try to say 'yes' whenever I can."
Leadershift #6 Ladder Climbing to Ladder Building – The Reproduction Shift
This shift is about equipping others. We being with ladder climbing (How high can I go?), then we shift to ladder holding (How high will others go with a little help?), then ladder extending (How high will others go with a lot of help?) to finally, ladder building (Can I help them build their own ladder?). "If you want learners to follow directions, you only need to provide the what. If you want them to lead others and give directions, they must also have the why."
Leadershift #7 Directing to Connecting – The Communication Shift
You must learn to connect with people to be the best leader you can be. To move from directing people—talking, ready answers, your way—to connecting—listening, asking, empowering. Be a person people can trust. Lift others up. "When you interact with others as a leader, what is your mindset? Is your intention to correct them or connect with them?"
Leadershift #8 Team Uniformity to Team Diversity – The Improvement Shift
If everyone around you thinks like you, you need to expand your network. A diverse team will fill in gaps in knowledge, perspective, and experience. "Malcolm Forbes said diversity is the art of thinking independently together."
Leadershift #9 Positional Authority to Moral Authority – The Influence Shift
Moral authority is not about position it's about who you are. People follow moral authority before they follow positional authority. Maxwell lists four areas a leader needs to develop to have moral authority: competence, courage, consistency, and character. "Every leader who possesses moral authority has had to stand alone at some point in time. Such moments make leaders."
Leadershift #10 Trained Leaders to Transformational Leaders – The Impact Shift
Maxwell believes that if you only make one shift in your leadership, this is the one because it "will bring the greatest change to your life and the lives of those around you." Transformational leaders inspire others to become more. But that's because they have worked to become more themselves. "If you want to see positive changes in your world, the first person you must change is you. As leaders, you and I have to be changed to bring change. We teach what we know, but we reproduce who we are."
Leadershift #11 Career to Calling – The Passion Shift
This is the shift from just doing a job to do what you are gifted to do. Aristotle wrote, "Where our talents and the needs of the world cross, there lies our vocation." Your calling is not about you. "A calling moves us from the center of everything in our world to becoming the channel through which good things come to others."
* * *


Like us on
Instagram
and
Facebook
for additional leadership and personal development ideas.
* * *


Posted by Michael McKinney at 10:30 AM
Permalink | Comments (0) | This post is about Leadership Development , Thinking