Creating a Sustainable Business Environment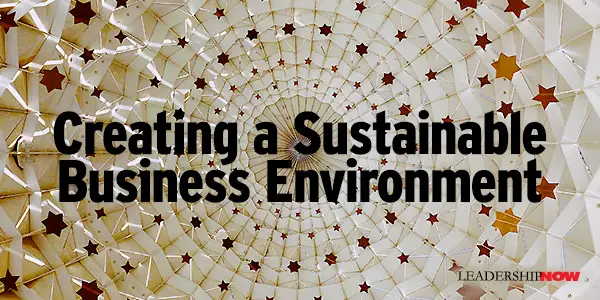 CHARLES HANDY writes that to repair the damage to the image of business, leaders of those businesses should bind themselves to a form of the Hippocratic Oath, "Above all, do no harm." It means doing more than being legal. It means being ethical. It means taking the lead in creating sustainable environments for both individuals and the world they live in.
Lee Cockerell, former executive vice president of operations for Walt Disney World Resort, says that "the organization of the future will pay as much attention to people and leadership strategies as it does to products and services." He adds that "good leaders are environmentalists: their responsibility is to create a sustainable business environment—that is, one that is calm, clear, crisp, and clean, with no pollution, no toxins, and no waste—in which everyone flourishes."
To that end, leaders must create an inclusive workplace where every employee can contribute to the best of their ability. In The Organization of the Future 2, he suggests ten goals you can set for yourself where you can impact your organization's culture:
Know Your Team. Get to know them as people. Know their skills, talents, goals and understand their potential.
Engage Your Team. Ask them for their opinions.
Develop Your Team. Stay engaged with your team members and know where they can benefit from training, mentoring and other forms of development.
Greet People Sincerely. Don't get so busy that you don't notice other people.
Build Community. Think of your team as a community with all of its diversity. Get to know their differences so you can leverage these dynamics.
Listen to Understand. Show you care enough to listen. This is MBWA (Management By Walking Around). Get out and give people your complete attention and listen to what they are saying as well as what they are not saying. Take the time.
Communicate Clearly, Directly, and Honestly. This is one where we all fall short from time to time. Use ordinary words and say what you mean. That doesn't mean rude, blunt or intimidating. Listen for understanding.
Hear All Voices. Encourage other people to share. Practice the Four Cast Member Expectations:
• Make Me Feel Special
• Treat Me as an Individual
• Respect Me
• Make Me Knowledgeable, Develop Me, and Understand My Job
Speak Up When Others Are Excluded. Be on the lookout for people who are being excluded (for whatever reason) and bring them along.
Be Brave. Have the courage to do the right thing, encourage your team to do the same and let them know that you have their back when they do.
* * *


Like us on
Instagram
and
Facebook
for additional leadership and personal development ideas.
Posted by Michael McKinney at 12:30 AM
Permalink | Comments (0) | This post is about General Business , Human Resources , Management