Reinventing You – Becoming the Person You Were Meant to Be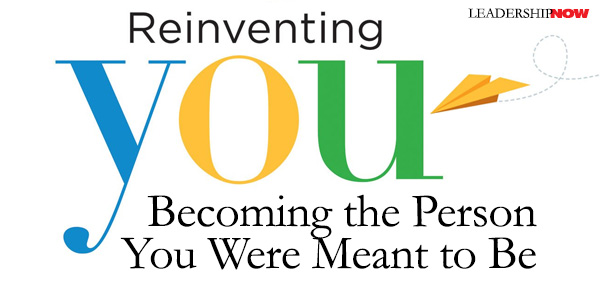 IT'S not uncommon to think of personal reinvention as being somewhat contrived or manipulative. But reinventing you isn't about becoming what you are not, but more of who you are. In Reinventing You, Dorie Clark says "it's about taking control of your life and living strategically. Who do you want to be? And what do you need to get there?" It's about making sure that our personal brands reflect the reality of our lives (Facebook notwithstanding).
KNOW YOURSELF
Clark takes you through the whole process, beginning with, of course, starting where you are. This is a vital step and not to be glossed over because many of us don't know where we are starting. We need you to understand our reputation and why it is what it is. She offers ways to do this, questions to ask, and how to conduct your own 360 interview—determining what those around you think about you. Very valuable material.
Next you need to research your next move or future destination and test drive it. (Did you know that there is a company that allows you to test-drive over 125 new careers to see if they are a fit?)
Once you have determined where you need to be, it is important to develop the skills you need. Clark explains how to do this and when to go back to school and when not to, and finding a mentor (someone who embodies what you'd like to develop and the person you'd like to become).
LEVERAGE YOUR POINTS OF DIFFERENCE
Rebranding yourself publicly means understanding first, what is unique about you. It may not be what you think. Often it's the mindsets and thinking that proved valuable in your current situation may differentiate you in a completely unrelated field. The examples of people that Clark provides, who have done just that, are very helpful in getting you to see your unique contribution.
From that you can build your narrative that pulls together the underlying themes that connect your professional experiences in a way that is obvious to others.
THE GAP
There is a time lag–a gap–between fully inhabiting the "old you" and the "new you." Clark writes that the "hardest part of making a transition can be bridging the gap between how others used to perceive you (and how you perceive yourself) and how you'd like to be seen moving forward." She says the only solution is to fake it till you make it.
I'm sure that we have all experienced this dynamic when making any personal change. When no one readily accepts the nice person you have finally become, it's easy to give it up and resort to the old habits of behavior. The answer is to keep projecting the new behavior until you're comfortable with it and others begin to accept it as the new "normal." Your commitment to the new you will eventually win people over.
Clark adds, "You need to be hyperaware of what you're doing and make sure you're signaling explicitly to the outside world what you're trying to build." This is where doing the homework in step one—know yourself—will help you to have the fortitude to press on.

Clark explains how to get the word out and how to prove your worth. She reminds us that rebranding is a process and not a one-time activity. It is important to "keep monitoring your reputation to ensure you're being perceived by others the way you'd like." This is a well done and thoughtful book that is valuable not just for rebranding yourself but also for managing your reputation in general.
| | | |
| --- | --- | --- |
| |   | Reputation management is not as straight-forward as it once was. The behavior is the same, the tools are different. In addition, says Dorie Clark, it's almost certain that at some point you'll need to reinvent yourself professionally—and ensure that others recognize the powerful contribution you can make. |
* * *


Like us on
Instagram
and
Facebook
for additional leadership and personal development ideas.
* * *

Posted by Michael McKinney at 04:28 PM
Permalink | Comments (0) | This post is about Human Resources , Personal Development