All In: It's Culture that Drives Results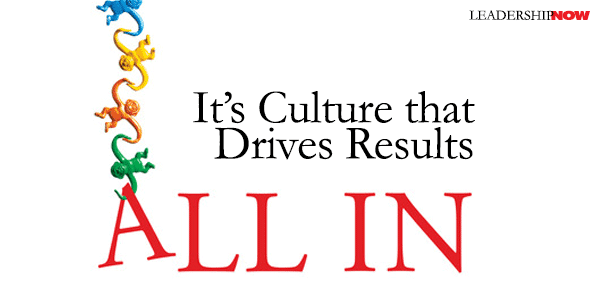 IN THE New York Times, Stephen I. Sadove, chairman and chief executive of Saks Inc., explains that it is culture that drives results:
It starts with leadership at the top, which drives a culture. Culture drives innovation and whatever else you're trying to drive within a company — innovation, execution, whatever it's going to be. And that then drives results.

When I talk to Wall Street, people really want to know your results, what are your strategies, what are the issues, what it is that you're doing to drive your business. They're focused on the bottom line. Never do you get people asking about the culture, about leadership, about the people in the organization. Yet, it's the reverse, because it's the people, the leadership, the culture and the ideas that are ultimately driving the numbers and the results.
While we know that our most important resource is our people, it's not so easy to get people "all in"—convincing people to "truly buy into their ideas and the strategy they've put forward, to give that extra push that leads to outstanding results."

All In
by Adrian Gostick and Chester Elton explains why some managers are able to get their employees to commit wholeheartedly to their culture and give that extra push that leads to outstanding results and how managers at any level, can build and sustain a profitable, vibrant work-group culture of their own.
All In
takes the principles found in their previous books—
The Orange Revolution
and
The Carrot Principle
—and expands on them and places them in a wider context.
They begin by explaining that it all rests on the "belief factor." People want to believe, but given the fact that "failure could cost them their future security why shouldn't they be at least a little dubious about your initiatives?" But belief is key. "As leaders we must first allow people on our teams to feel like valuable individuals, respecting their views and opening up to their ideas and inputs, even while sharing a better way forward. It's a balancing act that requires some wisdom."
To have a culture of belief employees must feel not only engaged, but enabled and energized. What's more, "each element of E+E+E can be held hostage by an imbalance in the other two."
The authors have created a 7 step guide to develop a culture where people buy-in:
Define your burning platform. "Your ability to identify and define the key "burning" issue you face and separate it from the routine challenges of the day is the first step in galvanizing your employees to believe in you and in your vision and strategy."
Create a customer focus. "Your organization must evolve into one that not only rewards employees who spot customer trends or problems, but one that finds such challenges invigorating, one that empowers people at all levels to respond with alacrity and creativity."
Develop agility. "Employees are more insistent than ever that their managers see into the future and do a decent job of addressing the coming challenges and capitalizing on new opportunities."
Share everything. "When we aren't sure what's happening around us, we become distrustful….In a dark work environment, where information is withheld or not communicated properly, employees tend to suspect the worst and rumors take the place of facts. It is openness that drives out the gray and helps employees regain trust in culture."
Partner with your talent. "Your people have more energy and creativity to give. There are employees now in your organization walking around with brilliant ideas in their pocket. Some will never share them because they don't have the platform to launch those ideas on their own. Most, however, will never reveal them because they don't feel like a partner in the organization."
Root for each other. "Our research shows incontrovertible evidence that employees respond best when they are recognized for things they are good at and for those actions where they had to stretch. It is this reinforcement that makes people want to grow to their full shape and stature."
Establish clear accountability. "To grow a great culture, you need to cultivate a place where people have to do more than show up and fog a mirror; they have to fulfill promises—not only collectively but individually." And this has to be a positive idea.
Gostick and Elton explain that the "modern leader provides the why, keeps an ear close to those they serve, is agile and open, treats their people with deference, and creates a place where every step forward is noted and applauded."
The authors skillfully examine high-performing cultures and present the elements that produce them. A leader at any level can implement these ideas to drive results. A great learning tool.
| | | |
| --- | --- | --- |
| |   | To succeed, you need everyone on your team all in; you need a culture of belief. A high performing culture is characterized by people that are engaged, enabled and energized. |
* * *


Like us on
Instagram
and
Facebook
for additional leadership and personal development ideas.
* * *


Posted by Michael McKinney at 11:46 PM
Permalink | Comments (0) | This post is about Culture , General Business , Human Resources , Management , Motivation