02.13.19

Finding Your Flywheel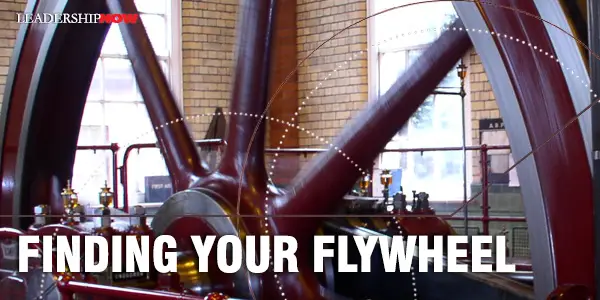 G
REATNESS NEVER HAPPENS in one fell swoop—no single action. It is the result of a series of correct actions that build on each other. Jim Collins likens it to turning a giant, heavy flywheel. In
Turning the Flywheel
, he describes the process:
Pushing with great effort, you get the flywheel to inch forward. You keep pushing, and with persistent effort, you get the flywheel to complete one entire turn. You don't stop. You keep pushing. The flywheel moves a bit faster. Two turns … then four … then eight … the flywheel builds momentum … sixteen … thirty-two … moving faster … a thousand … ten thousand … a hundred thousand. Then at some point breakthrough! The flywheel flies forward with almost unstoppable momentum.
The flywheel concept was first introduced in the bestselling
Good to Great
. In
Turning the Flywheel
, Collins shares practical insights and clarity about the process. You can see it at work in successful organizations, but
the trick is finding your flywheel
. While it your flywheel may be similar to another organization's flywheel, "what matters most is how well you
understand your
flywheel and how well you execute on each component over a long series of iterations." Collins lists seven essential steps to finding and capturing your flywheel.
Collins explains the flywheels of Amazon, Vanguard, Intel, Giro Sport Design and others. Giro's flywheel is illustrated below. As with all proper flywheels, each step or action in sequence is the
almost inevitable consequence of executing the step before it
. So, in the case of Giro, by creating a great bike helmet that elite athletes want to wear, it naturally inspires weekend warriors to wear it, which in turn attracts mainstream customers, which builds brand power and allows you the resources to invent more great products. And the flywheel turns faster and with more power.
If you understand your flywheel's underlying architecture as distinct from a single line of business or arena of activity, you can evolve, expand, or extend your flywheel in response to changes in your environment. That is to say the underlying logic of your flywheel—what your organization is doing. If you understand that, you can apply it to other areas.
Some Rules
The very nature of a flywheel—that it depends upon getting the sequence right and that every component depends on all the other components—means that you simply cannot falter on any primary component and sustain momentum.

To sustain and renew the flywheel you need to embrace the Genius of the AND (as presented in Built to Last).

When you reach a hundred turns on a flywheel, go for a thousand turns, then ten thousand, then a million, then ten million, and keep going until (and unless) you make a conscious decision to abandon that flywheel. Exit definitively or renew obsessively, but never—ever—neglect your flywheel.
Collins also makes it clear that
a flywheel operates within a context
—a framework of principles that great organizations adhere to. The framework has four stages:
Stage 1: Disciplined People
Stage 2: Disciplined Thought
Stage 3: Disciplined Action
Stage 4: Building to Last
The flywheel principle operates at the pivot point from Disciplined Thought into Disciplined Action. Collins explains each stage in detail and the principles that apply to each like Level 5 Leadership, the Hedgehog Concept, 20 Mile March, and Fire Bullets, Then Cannonballs. But I found this observation interesting:
An overarching theme across our research findings is the role of discipline in separating the great from the mediocre. The only legitimate form of discipline is self-discipline, having the inner will to do whatever it takes to create a great outcome, no matter how difficult. When you have a disciplined people, you don't need hierarchy. When you have disciplined thought, you don't need bureaucracy. When you have disciplined action, you don't need excessive controls. When you combine a culture of discipline with an ethic of entrepreneurship, you create a powerful mixture that correlates with great performance.
Every entrepreneur should read this because it organizes your decisions around a principle that compounds your efforts.
Turning the Flywheel
is a short but necessary read to help you understand your business and what can and will make it successful. Executing well on a well thought out flywheel will give you years—even decades—of success.
More importantly, if leaders communicate their organization's unique flywheel so that everyone at every level understands it, it will bring clarity and purpose to each individual's work.
It provides tangible evidence as to their part in the organization's success.
* * *


Like us on
Instagram
and
Facebook
for additional leadership and personal development ideas.
* * *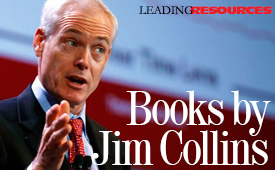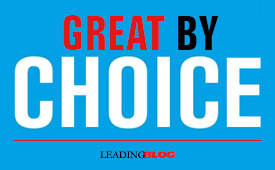 Posted by Michael McKinney at 08:12 AM
Permalink | Comments (0) | Entrepreneurship , General Business
02.04.19

Simple Techniques to Overcome Negative Emotions When Negotiating with Others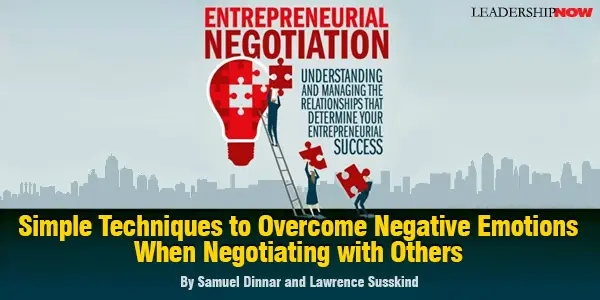 A
KEY PREDICTOR of entrepreneurial success is a leader's ability to manage relationships with investors, employees, and customers. Relationships are negotiations. We all negotiate. How well we learn to negotiate can be the difference between success and failure.
Entrepreneurs who can negotiate well are better equipped to deal with the challenges they face in relationships significant to their business.
Here we will look at one aspect of successful negotiating: our emotions.
The mishandling of emotions – especially tension and mistrust – is a major source of errors when negotiating. It can lead to miscommunication, misjudging the other party's motives, inability to reach consensus, and more. In our book
Entrepreneurial Negotiation
, we explain that the best way to diffuse negative emotions is to prevent them from escalating in the first place.
Diffuse Tension Before It Escalates
At the beginning of every negotiation, there is a natural tension in the air. The higher the stakes, the higher the tension level. To diffuse it, open by conveying your sincerity and warmth with a handshake, eye contact, and a smile, as appropriate.
Other ways of reducing tension in the first few minutes are sharing airtime while projecting genuine interest, showing respect and asking for agreement on some small initial ground-rule (e.g., use of first or last names, seating arrangements, etc.).
A 2004 experiment using sociometric badges in a mock negotiation (between a corporate vice president and a middle manager) demonstrated that "tone of voice" used by participants in the first five minutes predicted more than a third of the variation in the objective and subjective outcome of a negotiation. They also found that turn-taking dynamics (who speaks when) had a strong correlation with the subjective value levels reported after the negotiation.
Still, other studies showed that similarity, also called affiliation, is a primary factor that influences personal human connection – the building of rapport between individuals. Rapport reduces stress and is the best predictor of success in relationships. As a negotiation proceeds to more difficult topics, good negotiators maintain a relaxed tone (with the appropriate level of seriousness) while respecting their counterpart's autonomy and status.
The Power of Humor, Stories, and Metaphors
Several additional tools that are often used to reduce stress are storytelling, metaphors, and humor. The appropriate use of humor, especially, can serve as a release valve for negative emotions such as anxiety, suspicion, and anger, and can create room for people to put things in perspective. Humor can also serve as a way of acknowledging the absurdity of the moment, where parties have inadvertently locked themselves into extreme positions. Humor does need to be used carefully. If a party doesn't understand an attempt at humor, they may be left wondering if the joke is on them. If they feel as if they are the target (or that they are being taken lightly), it will most likely make the situation worse. Finding the right balance between humor and serious intent can make it easier to deal with escalating competitive behavior.
Stories have the power to convey an important idea, stimulate a strong emotional response, and allow a release of political or interpersonal tension. They help to shift everyone's focus from the tension in the room to the tension in the story. At the conclusion, when the story's tension is finally released – both the listeners and the storyteller experience a stress-reducing feeling. Our brains react to stories the same way they react to true events.
Using metaphors is also effective. For example, in negotiating the break-up of a business, framing the situation as a pile of cash to be divided creates a "divide the pie" metaphor. This is likely to induce a win-lose mindset. Using a story about a "cash cow" might shift the focus to a living creature that cannot be divided, but if taken care of will produce dividends over time. This second framing metaphor would more likely induce a collaborative discussion of how to share responsibilities and allocate future profits.
Apologize Quickly and Sincerely
If you realize you have done something that has hurt the other side, you should issue an apology immediately. It is rarely to your advantage to provoke feelings of fear, anger or resentment. A sincere apology can often restore a better working context. Apology is a social ritual that shows respect and empathy to the offended person. While you cannot undo a mistake, an apology can help the other side move on. This is the opposite of what happens when a person is emotionally triggered. Experiments show that receiving an apology reduces heart rate, breathing rate, sweat levels, facial tension, and blood pressure.
Apologizing quickly and sincerely shows that you take responsibility for your actions. On your side, it can also prevent a buildup of remorse or shame caused by the fact that you hurt someone or simply as a result of having made an error. It is not easy, and quite humbling to apologize, but when done correctly it projects the inner strength of someone who is confident and aware of the feelings of others.
Even when you apologize immediately, don't rush things. It takes time for impacted emotions to wash over the other side. The body needs time to recover and to switch from fear, anger, and anxiety to empathy and compassion. Be present and attentive. Accept the silence as OK, and don't move on prematurely. You may need to repeat your apology, since it may not have been fully heard or absorbed the first time. Focus on your counterpart's reactions. Wait for them to indicate that it is OK to continue.
Some mistakes are minor, and it will be easier for the other side to recover from these, even without an apology. Some will require both sides to cool off before continuing. After you have apologized and demonstrated your sincere intent to remedy the situation, you may want to revisit the item that was on the agenda when you made the mistake initially. Ask for a "do-over." This is the ultimate "detect and respond" response: an "on-the-spot" apology that is accepted, coupled with permission to return to the negotiation.
Negotiations are fraught with tensions. Learning to reduce tension and negative emotions creates a better outcome for everyone.
* * *

This post is by Samuel Dinnar and Lawrence Susskind, co-authors of
Entrepreneurial Negotiation: Understanding and Managing the Relationships that Determine Your Entrepreneurial Success
. They are both experts in negotiation and mediation, teach at the Program on Negotiation at Harvard Law School and at
MIT
, and have experience as entrepreneurs, executives, consultants, and mediators. To learn more, visit
www.entrepreneurialnegotiation.com
.
* * *


Like us on
Instagram
and
Facebook
for additional leadership and personal development ideas.
* * *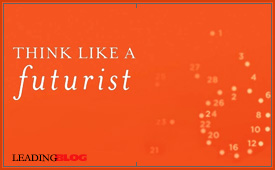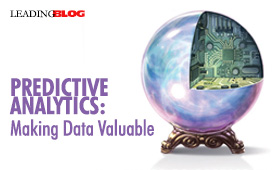 Posted by Michael McKinney at 11:43 AM
Permalink | Comments (0) | Entrepreneurship , Problem Solving
11.19.18

William Donaldson on Entrepreneurial Leadership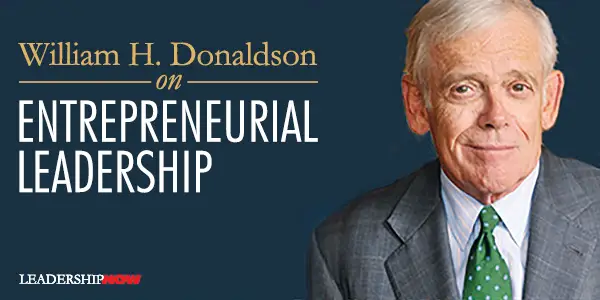 W
ILLIAM DONALDSON has led a full life. He was most notably a co-founder of the investment banking firm of Donaldson, Lufkin & Jenrette in 1959, served in Henry Kissinger's State Department, was the founding dean at the Yale School of Management, served as chairman and chief executive of the New York Stock Exchange, turnaround CEO of Aetna, chairman of the SEC, and now CEO of the private investment firm Donaldson Enterprises.
Donaldson and Karl Weber extract relevant lessons for leaders in
Entrepreneurial Leader
. The thread that runs through his career is the
entrepreneurial mindset
. That mindset is "about the application of creative thinking and prudent risk-taking to build innovative, long-lasting organizations in any sector of the economy."
There are leaders and there are entrepreneurs, but not all leaders are entrepreneurs, and not all entrepreneurs are leaders. Simply put, I believe that entrepreneurial is a mindset—a way of thinking—and leadership is a way of acting. Entrepreneurial leadership, then, describes the way such a leader behaves.
The case method he experienced at the Harvard Business School, showed him that "in many cases,
the deeper you delve into a problem, the less obvious the answers are
." This realization is empowering because "since nobody really knows the one perfect solution to the kinds of real-life challenges organizations face, it's important to have the courage to ask questions, to propose answers, to challenge assumptions, and to experiment—all of which are key elements of the entrepreneurial drive."
As founding dean and professor at the Yale school of management, he taught a course on entrepreneurial leadership. He focused on the personal characteristics of the leader. "Of course, an entrepreneurial leader needs to know about subjects like financial management, competitive strategy, market analysis, and the like. But I think those topics are distinctly secondary.
More important are the human qualities that the entrepreneurial leader brings to the job
—the ability to see the world through fresh eyes; the ability to pay attention to both the big picture and the small details that define a particular situation; a high degree of personal energy, optimism, and a sense of fun; the readiness to shape and define the system in which he or she operates rather than being controlled by a system someone else has created; and, most important, a strong sense of integrity."
By integrity, he means that they transcend themselves. They look beyond their ego. They remain true to the vision and commit to the value of individuals.
He notes that an entrepreneur is not a gambler. "The smart entrepreneur uses careful planning, intelligent strategy, and lots of hard work to
minimize the risk
as much as possible."
Effective leaders must be entrepreneurial—which means getting things done, regardless of the obstacles.

Entrepreneurial leaders must have the ability to learn fast in environments of ambiguity and change, while providing clarity and coherence for those around them.

Entrepreneurial leaders have the ability to see the world a bit differently from everyone else. They have the drive to innovate—the willingness to continually experiment, to test new ways of organizing and deploying resources, to abandon outmoded approaches when circumstances change; in short, to "make all things new."
I found this comment especially useful as it speaks to the mission here at LeadershipNow:
In the business arena, entrepreneurial leaders must think and behave as if they own the company—whether they do or not. Entrepreneurial leaders must define systems rather than be defined by them; they must adopt an ownership mentality. They understand that they must take ownership of their choices, including the smaller, day-to-day decisions they make. They must take full responsibility for them rather than attributing them to "the system" or "circumstances." Entrepreneurial leaders also think continually about the big picture—the broader goal that everyone in the organization is supposed to be working toward—and strive to be guided not by short-term gain or personal profit but by long-term objectives that help everyone. Furthermore, entrepreneurial leaders find ways to encourage everyone in the organization to think and behave in this way, and create circumstances that help them do this.
The behind-the-scenes look at the roles he has taken on throughout his life—especially the rationale behind and the building of Donaldson, Lufkin & Jenrette—is instructive. The range of his life and career
demonstrate the broad relevance of the principles he describes
in this book and make for a fascinating read.
* * *


Like us on
Instagram
and
Facebook
for additional leadership and personal development ideas.
* * *

Posted by Michael McKinney at 12:43 PM
Permalink | Comments (0) | Entrepreneurship , Leadership
11.14.18

The 8 Elements of Punk Rock Business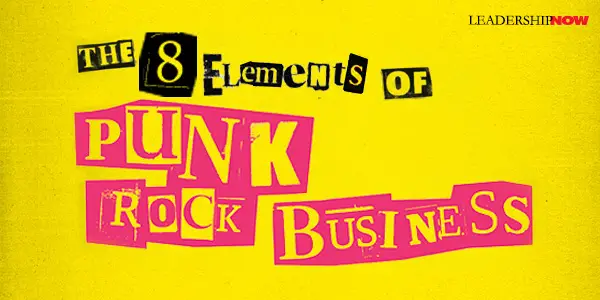 O
K,
I'll bite. What do the Ramones, the Clash, and the Sex Pistols have to do with leadership?
The title of Jeremy Dale's book,
The Punk Rock of Business
, comes from a comment Bono made to Oprah about a project Dale was working on with him for Motorola. Dale and his team had performed the impossible and
Bono said, "They are the punk rock of business: no long introductions, three beats and you're in.
They say they are going to do something, and then it just gets done."
Using that as an inspiration, Dale has taken it to mean so much more. Punk is an attitude. It's a fight against apathy and complacency. "I'm not okay with the current status quo. We're into disruption."
Many businesses these days are clogged up by bureaucracy that thwarts innovation, slows down creativity, and encourages mediocrity. I hate mediocrity. I'd much rather have spectacular success or fantastic failure. I believe mediocrity occurs far too often because too many people in business, particularly those in middle-management roles, are far too cautious, pessimistic, and more concerned about protecting their jobs rather than striving for greatness and being everything they could be. They are fearful of putting their heads above the parapet, so they take a play-it-safe attitude and come up with the conservative, tame, and expected proposals.
Dale has distilled the punk rock movement to eight elements. These
8 elements of Punk Rock Business
were at the heart of punk rock music, movement, attitude, fashion, and culture. Elements that are wanting in many organizations.
Element 1: Have a Cause
"Punk was all about wanting something better, being clear about what that was, and making that their cause." Have a point of view. Find something you're passionate about and then inspire your team to deliver it. An organization's mission statement is meant to direct every single decision. A mission statement may not be enough. You may need to create a manifesto to add substance and emotion, creating a story around the mission statement. "We should be committed to being a
lighthouse
brand; that is, one who shines brightly, whose position is fixed, so that people can navigate their world trusting in us and our position on things." Well put.
Element 2: Build a Movement
"Punk was attractive to like-minded people, and it galvanized that segment of the youth. Punk, more than music, was a mindset, and that attracted people." It's all about the people. The followers make the movement. You must get other people on board. Show your commitment to them and the mission by showing up. This is where you bring your emotional brain and not your rational brain.
Element 3: Create New and Radically Different Ideas
"Punk was completely different—never seen before jaw-dropping creation that exploded into our consciousness. No one was ambivalent to punk; you loved it or hated it." It's about creating new, different, and better ideas. After all, that's what leadership is. Punk provided an avenue to express their frustration with the dead-end society that they saw at the time. "Never before had music been played at anything like two hundred beats per minute. Never before had music been played so loudly or aggressively. Never before had the lyrics to the songs been so politically charged or laid siege to taboo subjects."
Begin by finding out what's different about what you're doing. What problem are you trying to solve? Radical ideas come from teams. And when they do they need to be brought to life by showing, not telling. Radical ideas are targets and so need to be protected. "Every project should have a vision and some nonnegotiables. The nonnegotiables are so important, because not only do they prevent the willingness to compromise, they also act as the catalyst for intelligent people to seek creative solutions when the inevitable challenges arrive."
Element 4: Drive Speed and Action
"Punk was three beats, and you're in." Go for it. "When time is tight, great things happen." You don't always have to be right. "Decision-making is a portfolio. Not every decision needs to be correct." The momentum is the important thing.
Element 5: Say It as It Is
"Punk lyrics came with a contagious honesty." No nonsense. You have to say it like it is—but constructively. Sometimes you have to call others out, and sometime you must call yourself out. Don't leave people wondering what you think. Speaking plainly saves time, bring clarity, and sets the performance bar where you want to set it.
Element 6: Be Authentic
"Punk gave people permission to be themselves." Probably the only rule of being punk is: "to be yourself and be comfortable being who you are." Surround yourself with confidants who will hold you accountable and call you out when you are being a fraud.
"Don't just endure or play it safe. If you are, work out how you are going to stop that immediately … or, alternatively, work out how you are going to justify that to your grandchild in years to come."
Element 7: Put Yourself Out There
"To be punk you had to make a very visible and belligerent statement; it required you to put yourself out there, say 'this is me,' and invite criticism. It was far more important to just give it a go, rather than to get it perfect." Grab every opportunity to challenge yourself. Be the first to volunteer. You will be criticized. Get used to it. "You will not always get it right, but my experience is that the impact you have when you do get it right far outweighs the embarrassment when you don't." Are you a participant or a spectator?
Element 8: Reject Conformity
"Punk pressed the reset button." Nonconformist. "However, it wasn't just its nonconformity, it was the
extent
to which it didn't conform that was shocking for many." Some norms are pointless and irrelevant. "Today's corporate world is full of mediocrity, slowness, politics, false praise, and people too scared to say it as it is. More and more employees are disillusioned with lukewarm leadership that makes their jobs dull and boring and constrains their creativity, imposing limitations rather than empowering them."
Don't take yourself too seriously. "Get over the show, get over your ego, and react based on the quality of work, not the superficial stuff that doesn't matter." Joey Ramone said they started a band because in 1974 everything was overproduced. "Being overproduced and perfectly organized kills the lifeblood that spontaneity brings."
Humility is the X-Factor
"Punk by its very nature is aggressive and in your face."
Humility keeps you out of trouble.
"Punk doesn't need to be aggressive if you apply a degree of care and humility. If people see that you are fundamentally a good person, whose heart is in the right place, whose motives are pure, who has charm and charisma, who isn't arrogant or conceited, who cares about people, and above all else is human and has humility, then you can apply all eight elements without worrying if you're going too far." Dale adds fifteen more key requirements that are needed to implement a punk rock attitude in business.
Unfortunately, I have not conveyed in this commentary the great stories that are used throughout to illustrate the 8 Elements of Punk Rock of Business. They are engaging and entertaining and really help to develop the concept. Well worth the read. The book provides a much-needed perspective on business and leadership in a very unconventional way.
* * *


Like us on
Instagram
and
Facebook
for additional leadership and personal development ideas.
* * *

Posted by Michael McKinney at 07:14 PM
Permalink | Comments (0) | Entrepreneurship , General Business , Teamwork
10.15.18

Dear Founder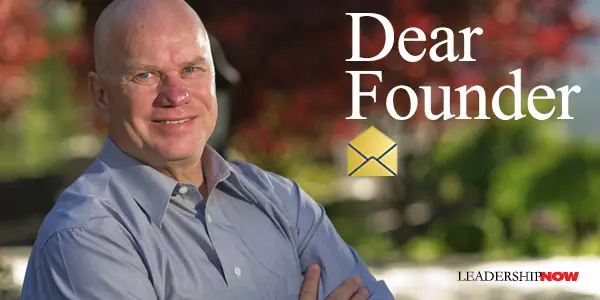 W
HAT BEGAN AS a project to provide guidance to a select group of founders in the Webb Investment Network has been expanded and offered to founders of all types and those who need to have a founder's mindset. The result is
Dear Founder
written by Maynard Webb with the help of Carlye Adler.
Maynard Webb is a Silicon Valley veteran and investor. Behind all of these letters is real-world experience from his days at IBM, eBay, Yahoo, LiveOps, Gateway, Bay Networks, and Quantum. They are organized to follow the trajectory of a company's life cycle from getting started, getting to relevance, getting to scale, to finally leaving a legacy.
Being a founder is complicated, and with each step in the life cycle, the success stories become fewer and fewer. Webb's wish is that these letters will help you and your team through the tough issues that most founders inevitably face.
Too often, Webb finds that
founders set the bar too low
. It's uninspiring, and the company doesn't "achieve the destiny it's aiming for." "I've learned," says Webb, "that it is better to aim very high and not quite achieve perfection than to nail every goal and deliver mediocrity." He encourages, "We are all capable of more than we think we are. Dream big, and execute bigger. If you are willing to dream and then work hard and execute well, you can achieve more than you ever imagined."
Fundraising while exhausting, can make you better. "Fundraising is a lot like sales, only this time you're not selling a product but rather shares in your company…. It can offer a window of self-reflection and
a chance to tighten your story
and focus on the important drivers of your business."
There are many letters on the nuts and bolts of growing a business, but not surprisingly, many of the letters deal with the human side. It's all about people. Here are some excerpts from several of the letters:
When You Need to Delegate
"Effective delegation means that you know that the task/project will get done with the results that you expect. At the outset, this means that you have to:
"Assess the capability and willingness of the team to do the task. Often, people will volunteer for a cool assignment, but can/will they really do it?
"Communicate what success looks like to the people you are delegating to. What is the timeline, quality, etc.?
"Ensure they know that if they encounter problems, you are there to guide them. Overall, you are still accountable for the results. Delegation is not abdication.
"Establish checkpoints to monitor progress, so you don't get any nasty surprises at the end.
"When the team delivers, celebrate their success.
"The more confidence you have in a team or person, the less structure you need to make delegation work."
When You Are Overwhelmed
"The important thing is to realize that it is a momentary state.
By shifting into action, you can get rid of this uncomfortable feeling.
Once I realize that I am feeling overwhelmed, I don't need to actually fix everything to get rid of the overwhelming feeling; I just need a plan that I believe in and that I can start executing."
When You Are Confusing Hubris with Boldness
"Of course everybody that comes in thinks they have a winning strategy, but when someone truly has conviction, it shows. How? It's when someone can crisply articulate the vision, the value proposition, the market, and the potential. They have clarity on what their next steps are and what will be done with the money. Rather than downplay competitors as dumb and naïve, they explain what the strengths of each are and why these strengths will make the difference for them to outcompete this new startup.
"Here's the one thing that signals a bold attitude that might be more counterintuitive:
being secure enough to identify the parade of horrible things that can go wrong.
"
When You're Accused of Working Too Much
"In staring a company, the unfortunate reality is that
there's no such thing as balance
. Taking an idea to greatness requires extreme—Herculean—efforts.
"Sometimes these trade-offs will be worth the cost, and other times they won't be. If they are not, don't commit to doing your job halfway.
"Our work and personal lives often collide, and they will only continue to do so. The best way to make it all work is not to silo off these distinct parts, but to
weave them together into a custom tapestry
. If you do that, and if you are truly doing what you love, it trumps the desire for balance and achieves something better, something magical."
When You Self-Impose Limits
"When you create limits that don't really exist, you are justifying where you are. And where you are is never as great as where you could be.
"Generally we put more limits on ourselves than any outside force ever can.
"If there is a recipe for success, I believe that it is this:
Get out of defense mode and go into wonder mode.
"
When You Receive Public Criticism
"I've come to realize that getting input—good or bad—is a blessing. It gives you invaluable information on how you are doing, and more importantly, how you can do better.
"So what do you do when you're on the receiving end of critical reviews or negative comments? First of all, congrats—
this is validation that people care about what you're doing
."
Other letters include:
When you are selecting a co-founder
When nobody wants to give you money
When everyone wants to invest
When you need to spend your money wisely
When you need to figure out compensation for your sales team
When you need to know who owns what
When you need to have an open door
When you need to build a great board
When your first key hire leaves
When no one is excited to be here
When you need to deal with poor performers
When you have to face that your startup is failing
When you need to pick your battles
When you need to improve execution
When you need to scale
When you have just missed your quarter
When the board says they are replacing you as CEO
When you have a big payday
* * *
Of Related Interest:

Rebooting Work: How to Make Work— Work for You
* * *


Like us on
Instagram
and
Facebook
for additional leadership and personal development ideas.
* * *

Posted by Michael McKinney at 12:07 AM
Permalink | Comments (0) | Entrepreneurship
08.16.18

Straight Talk for Startups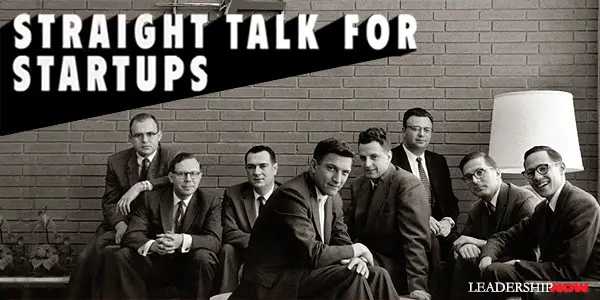 E
NTREPRENEURSHIP is not for everyone. It's not an escape from the cubicle, hard work or bosses. But it is creative. It can be enriching in many ways. And if you are successful, you can believe that you did it all on your terms. And while it's easier than ever to get started, it harder than ever to succeed.
Randy Komisar and Jantoon Reigersman bring decades of startup experience to help you beat the odds. In
Straight Talk for Startups
they offer
100 insider rules
to bring clarity and a dose of reality to the entrepreneurial process. So whether you're thinking of starting a business or are in the middle of managing one, this book will help to avoid (are correct) rookie mistakes.
Komisar and Reigersman begin by telling you what matters and what doesn't.
Before you quit your job, here are a few things you need to think about:
It's hard.
Because money is abundant, "it's no surprise that the competitive landscape becomes crowded and non-economic." It's not uncommon for your competition to sell below cost in order to buy customers with their capital. And employees tend to act more like mercenaries than comrades in arms.
Try to act normal.
"There is nothing normal about being an entrepreneur." I loved this line: "Venture capitalists have one of the greatest jobs in the world. They get to sit across the table from passionate strangers who
hallucinate the future for them
." They advise that when selling your idea: "Don't let them know you are one of those precious lunatics hell-bent on changing the world until you've gotten to know them better. You don't want to scare them off right at the start."
Aim for an order-of-magnitude improvement.
You've got to give people a really good reason to move from where they are quite comfortable to where you want them to be—a loyal customer. An order-of-magnitude of ten times is the minimum. Beyond that you improve your odds of success. "If you try to thread the needle with an innovation that is just good enough, you may miss [the target] entirely. But if you shoot for an order-of-magnitude change, you may still be in the game even if you miss by half."
Most failure result from poor execution, not unsuccessful innovation.
"Plenty of people confuse luck for skill. We flatter ourselves and find cause where there is none. The difference between skill and chance boils down to repeatability." Timing matters. The elements need to line up. The authors identify six significant stages of development:
Stage 1:
Idea
—develop your idea and assess its attractiveness
Stage 2:
Technology
—build the technology
Stage 3:
Product
—deliver the product
Stage 4:
Market
—demonstrate market demand
Stage 5:
Economics
—prove unit economics in real life
Stage 6:
Scale
—now, finally, grow your business
There is a method to the madness. Don't get ahead of yourself. Great clarification: "
The creative process is essentially an execution process, not a eureka moment.
"
Other rules include:
A part-time game changer is preferable to a full-time seat filler.
Manage your team like a jazz band.
Net income is an opinion, but cash flow is a fact.
Avoid venture capital unless you absolutely need it.
Too many unanimous board decisions is a sign of trouble.
Success is not linear.
Learn the rules by heart so you know when to break them.
Komisar and Reigersman close by saying, Always ask
why
. Why this? Why you? Why now? Asking why will keep you grounded.
Know why this venture is important to you. Why it should be important to others. And given the low probability of success for any venture, why it is nevertheless worth failing at. Of course you don't want to fail; success is always preferable to failure. But if you fail, will you feel you wasted your time, or that you fought the good fight?

Keep yourself grounded and your wits about you by frequently asking yourself, Why? Entrepreneurship is important because it has the power to make the world better. That is why it is worth all the blood, sweat, and tears.
If you are considering starting a business, you will do well to also read Randy Komisar's
The Monk and the Riddle: The Art of Creating a Life While Making a Living
.
* * *


Like us on
Instagram
and
Facebook
for additional leadership and personal development ideas.
* * *

Posted by Michael McKinney at 08:01 AM
Permalink | Comments (0) | Entrepreneurship
06.29.18

Born to Build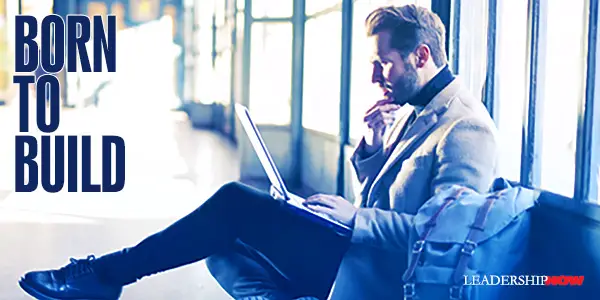 A
RE YOU A BUILDER?
All of us are to one degree or another. We are born to build. Building something gives us meaning and purpose. For some though, it is a need that drives them every day.
Building is a high-degree-of-difficulty task, but natural builders want the impossible assignment. They actually prefer the messiness, the problems, the barriers, the absence of supervision, the improvisation and the rush of a new customer breakthrough.
You can build something on your own or from within an existing organization. But builders know how to create demand for their ideas.
In
Born to Build
, Jim Clifton and Sangeeta Badal of Gallup—the people who brought you
StrengthsFinder
—have turned their attention to entrepreneurs and ambitions, self-motivated people that want to build something. They take a psychological approach to the subject to understand builders—who they are, what motivates them, and how they do it. With the
Builder Profile 10 assessment
included with the book, you can find out if you are a builder and what part you are likely to play.
The skills and the mindset of a builder will help you no matter what career path you choose.
Successful builders proactively develop behaviors that empower them to anticipate problems, overcome adversity, recognize opportunities, organize resources and take action to build something.
Gallup has determined that there are three key players or roles in the development of an organization: The
Rainmaker
, the
Conductor
, and the
Expert
. When all three are present in an organization or a team, the likelihood of it breaking out and booming grows exponentially. It is rare that any one person is all three. So the idea is to find partners or create a team early on that will complement your type of builder.
The Rainmaker:
Aggressive, optimistic, risk-tolerant, Rainmakers measure success by profitability. They are self-confident and incredibly persuasive. They know how to energize and influence customers and employees with their vision of the future. A venture almost never works without this player. (38 years ago when I started my manufacturing business, I wish I would have brought a Rainmaker on board a lot sooner. We would have reached our goals much faster.)
The Conductor:
They possess great management talent and mainly focus on the operations of the venture. They know how to get everyone working together and take pride in finding the right people for key positions. They build the venture by building its people. Hard work energizes them.
The Expert:
Primarily focused on product development and research, Experts set a high bar and believe that being the best in your field is the organization's crucial distinction. Highly independent, discerning and quick-thinking, Experts never accept the status quo and constantly imagine new possibilities. They are part artist and part scientist.
The mindset of a builder incorporates
four keys to building
:
Creating Self-Awareness, Recognizing Opportunities, Activating on Ideas,
and
Building a Team
.
Creating self-awareness and building a team is where this book and its assessment really come into play. Through study and research Gallup came up with a list of 10 talents that influence the behaviors and explain the success of a builder. Every builder uses a mix of these 10 talents:
Confidence: People with Confidence accurately know themselves and understand others.
Delegator: Delegators recognize that they cannot do everything and are willing to contemplate a shift in style and control.
Determination: People with Determination persevere through difficult and seemingly insurmountable obstacles.
Disruptor: Disruptors exhibit creativity in taking an existing idea or product and turning it into something better.
Independence: People with Independence do whatever needs to be done to build a successful venture.
Knowledge: People with Knowledge constantly search for information that is relevant to growing their business.
Profitability: People with Profitability make decisions based on the observed or anticipated effect on profit.
Relationship: People with Relationship possess high social awareness and an ability to build relationships that are beneficial to their organization's survival and growth.
Risk: People with Risk instinctively know how to manage high-risk situations and make decisions easily in complex scenarios.
Selling: People with Selling are the best spokesperson for their business.
Your unique mix of talents will determine your role in the venture—Rainmaker, Conductor or Expert. Your dominate talents help to determine your building journey. "The way you are wired will influence not only what you build, but also how you build it. Your talents are the lens you use to look at the world. They guide how you frame problems and the solutions you generate for those problems, what you see as roadblocks and the methods you use to clear them, how you identify your goals and aspirations, and the route you take to fulfilling them."
Importantly, once you understand the way you are wired, you will see what kind of people you need to complement your talents in order to successfully create your vision of the future and build your venture. Although it's a romantic thought, we never do it alone.
* * *


Like us on
Instagram
and
Facebook
for additional leadership and personal development ideas.
* * *

Posted by Michael McKinney at 07:57 AM
Permalink | Comments (0) | Entrepreneurship
05.18.18

Burn the Business Plan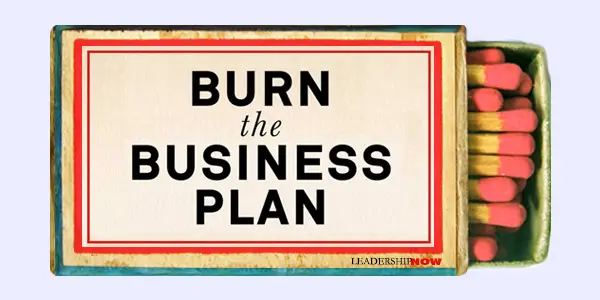 I
F YOU ARE THINKING of starting a business—and apparently nine million Americans are currently thinking about it and only about 500,000 actually do each year—you will want to read
Burn the Business Plan
by Carl Schramm.
The highly-romanticized, high-tech startups that we read about and want to emulate are less than seven percent of all start-ups and they experience the highest failure rate of all business startups. Eighty percent disappear within five years.
Most entrepreneurs never went to college, and most did not start their companies until they were well along in their careers. The average entrepreneur is nearly forty years old when he launches, and more than eighty percent of all new companies are stated by people over thirty-five. More entrepreneurs are between forty-five and fifty-five than any other cohort, and entrepreneurs over fifty-five now create more companies than those under thirty-five. And—another surprise—the chances of a new company surviving rises with the age of the entrepreneur.
What these high-tech startups have in common with all other entrepreneurs is that they don't follow a business plan. The detailed and rigid planning of your typical formal business plan is of little value once the business gets underway.
Just as German Field Marshal Helmuth Karl Bernhard Graf von Moltke once observed, "No plan survives first contact with the enemy," "
it is rare," writes Schramm, "to find an entrepreneur who reports that his business plan was of much use
…. Entrepreneurs must learn to dance to the market's ever-changing tempo and rhythm. Planning doesn't help and is mostly a waste of time." Microsoft, Apple, Facebook, Amex, Disney, GE, Walmart, and Google are just a few examples of companies that began without writing a formal business plan.
To build a successful company, one has to be able to change direction as shifting facts and circumstances dictate.
In my experience running a manufacturing company for over 30 years, Schramm is right on.
While I believe that the basics of running a business and the type of mindset that is required can be taught or presented, I would agree that
you can only learn by doing
. "There is no time-tested body of knowledge that will improve the probability that a startup will be successful."
As Steve Wozniak, Marc Randolph, and many others have suggested,
a great way to learn entrepreneurship is by working in a big company
. "The average entrepreneur works for someone else for nearly fifteen years before starting his own business."
Many entrepreneurs who started their own careers in large corporations regarded them as critical to their subsequent success. Most importantly, they learned the culture of business, how big companies did or did not do a good job of serving their customers, and their customers' continuously changing needs.
Building a company takes time.
Rather than flipping their companies, most successful founders work at it for the rest of their lives. When you begin everything changes. "While many aspiring entrepreneurs think that starting a company is all about one good idea, in fact, successful entrepreneurs know that their first idea was seldom what made their company successful." And here's something to think about: "
Failure rates are considerably higher for companies that are started with the intention of a short-term sale.
"
Every startup has one CEO. The myth that two entrepreneurs coming together makes for a better company is just that, a myth. A realistic "look at the history of startups shows that every company, even those claiming multiple founders,
had just one person who functioned as the 'entrepreneur-in-chief.'
She is the person who sparked the idea, first articulated the vision for the company and brought others together; the person who functions as the company's driving force, without whom the startup never would have happened."
Another reason success as an entrepreneur favors age is that "creating a new product or service is an organic process, one that is shaped by background, experience, and acuity of the innovator." "The average age of an inventor awarded a patent is forty-seven. The reason? Innovation involves a synthesis of accumulated knowledge, much of it subconscious, that the inventor has
absorbed and compiled over his life
."
If you are aspiring to be an entrepreneur, you would be wise to
read widely
across many fields and disciplines. Innovators are curious and have a voracious appetite for learning.
Schramm tells the stories of Dyson, Head, Kasbar, Stebbins and others who "weren't even sure that what they were toiling to achieve was a 'company,' they were just sure that they had really good ideas.
Other interesting ideas Schramm covers:
Franchising is often overlooked as a real entrepreneurial business and is generally not taught in colleges.
"You should operate with sufficient flexibility so that you are open to considering other ideas as you work on your original concept."
Business plans are for investors. Most businesses become successful without venture capital and venture capital is no guarantee of success. "The average startup needs $50,000 in capital." And this comes mostly from savings, credit cards, family, second mortgages and reinvesting revenues.
"An entrepreneur's planning is fundamentally different from how managers in large companies follow well-researched and formalized business strategies. The planning process in a startup can be described more accurately as situational decision making, an imperfectly informed, just-in-time, default strategy.
"Entrepreneurial planning involves learning how to make critical decisions quickly, mostly about matters never anticipated, likely while relying on incomplete information."
It takes time. "Of the thirty percent of startups that survive past five years, most are not profitable until they reach their seventh anniversary."
Burn the Business Plan
is a fascinating and accurate look at what it means to be an entrepreneur. It should be required reading in business schools and by anyone contemplating a startup. Schramm tells interesting stories of entrepreneurial successes and failures all of which add to the value of this book.
* * *


Like us on
Instagram
and
Facebook
for additional leadership and personal development ideas.
* * *

Posted by Michael McKinney at 04:13 PM
Permalink | Comments (0) | Entrepreneurship
01.26.18

A Dozen Lessons for Entrepreneurs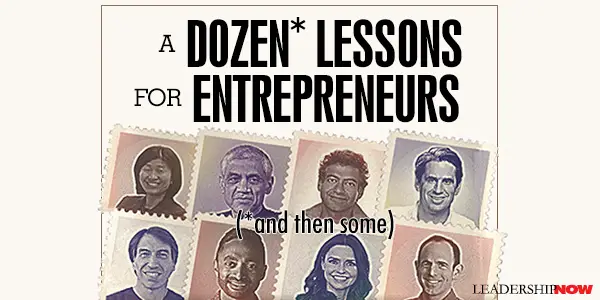 T
REN GRIFFIN, who writes the well-read
25iq blog
, has assembled a collection of insights for entrepreneurs from some of the most successful venture capitalists and coaches of business founders in the world.
For
A Dozen Lessons for Entrepreneurs
, Griffin has interviewed 35 people who have "seen more highly successful business launched than any other single group on the planet." He offers 12 quotes from each followed by short explanations to provide clarity and context. The book is a real education that is worth taking the time to reflect on and absorb.
You will get an experiential education from investors like Steve Blank, Marc Andreessen, Mary Meeker, Paul Graham, John Doerr, and Ben Horowitz.
What follows are some of the thoughts that resonated with me:
Eric Ries:
"The mistake isn't releasing something bad. The mistake is to launch it and get PR people involved. You don't want people to start amping up expectations for an early version of your product. The best entrepreneurship happens in low-stakes environments where no one is paying attention, like Mark Zuckerberg's dorm room at Harvard."
(p. 36)
Sam Altman:
"In general, it's best if you're building something that you need. You'll understand it better than if you have to understand it by talking to a customer. Passion and a mission are more likely to exist if a business is providing solutions to problems that cause the founders personal pain. In other words, a deep understanding of a valuable customer problem and potential solutions to that problem is enhanced if the founders are themselves potential customers for the solution."
(p. 44)
Sam Altman:
"Eliminate distractions. The hard part of running a business is that there are a hundred things that you could be doing, and only five of those matter, and only one of them matters more than all of the rest of them combined."
(p. 48)
Steve Anderson:
"Ten years ago, you needed $5 million to start a business. Today, you need $70 and some coding skills."
(p. 53)
Rich Barton:
"Ideas are cheap. Execution is dear. Great leaders need three key attributes to successfully execute: brains, courage, and heart."
(p. 73)
Rich Barton:
"It's much more powerful long-term to make up a new word than it is to use a literal word. I also like to high-point Scrabble letters in my brands if I can work them in. They are high point because they are rarely used. A letter that's is rarely used is very memorable. Z and Q are all worth ten points in Scrabble. X is 8. They jump off the page when you read them, and they stick in your memory as interesting."
(p. 73)
Chris Dixon:
"You've either started a company or you haven't. "Started" means starting with no money, no help, no one who believes in you (except perhaps your closest friends and family), and building an organization from a borrowed cubicle with credit card debt and nowhere to seep except the office. It means lying awake at night worrying about running out of cash and having a constant know in your stomach during the day fearing you'll disappoint the few people who believed in you and validate your smug doubters."
(p. 99)
John Doerr:
"Believe me; selling is honorable work—particularly in a startup, where it's the difference between life and death."
(p. 102)
Jim Goetz:
Many of the entrepreneurs that we back are attacking a personal pain."
(p. 116)
Paul Graham:
"If you want to start a startup, you're probably going to have to think of something fairly novel. A startup has to make something it can deliver to a large market, and ideas of that type are so valuable that all the obvious ones are taken. Usually, successful startups happen because the founders are sufficiently different from other people—ideas few others can see seem obvious to them."
(pp. 126-127)
Reid Hoffman:
"So many entrepreneurs are worried about protecting their precious ideas, but the truly valuable thing is that you're in motion, you have momentum, and you are gathering all the necessary resources to make it happen."
(p. 158)
Reid Hoffman:
"The network of people around you I what extends your ability to be effective regarding expertise and reaching your goals. Put yourself out there and get feedback. Don't be afraid to take a risk. Another huge thing to emphasize is the importance of your network. Get to know smart people. Talk to them. Stay current on what's happening. People see things that other people don't. If you try to analyze it all yourself, you miss things. Talk with people about what's going on."
(pp. 160-161)
Ben Horowitz:
"Sometimes an organization doesn't need a solution; it just needs clarity."
(p. 168)
Vinod Khosla:
"The single most important thing an entrepreneur needs to learn is whom to take advice from and on what topic. Ask different questions of different people, both those who have been successful and those who haven't."
(p. 179)
Keith Rabois:
"As you get into the unchartered territory where you don't actually have any intellectual background, you need perspectives from people who are very different from you. At that point, it's actually quite valuable to have people who are diverse."
(p. 255)
Keith Rabois:
"First Principle: The team you build is the company you build."
(p. 254)
Fred Wilson:
"Reputation is the magnet that brings opportunities to you time and time again. I have found that being nice builds your reputation."
(p.302)
* * *


Like us on
Instagram
and
Facebook
for additional leadership and personal development ideas.
* * *

Posted by Michael McKinney at 06:11 AM
Permalink | Comments (0) | Entrepreneurship
01.22.18

Killing It! How to Run a Startup in a Healthy, Joyful Way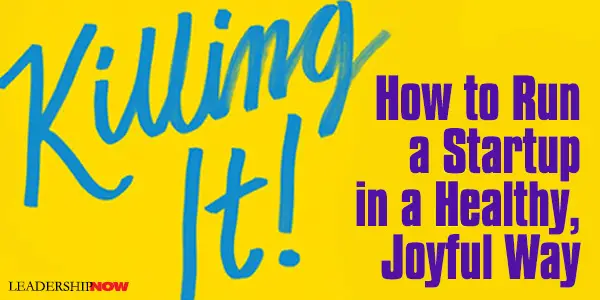 A
MERICA WAS FOUNDED by entrepreneurs. Along with all of the other freedoms granted to its citizens, the freedom to risk and to fail encourages our culture of innovation and entrepreneurship.
Entrepreneurship has never seemed so popular as it is today no doubt because it is easier than ever to start a company. Especially in the tech sector, barriers to entry have fallen, and there is greater access to risk capital for startups. Steve Anderson, the founder of Baseline Ventures, said, "
Ten years ago, you needed $5 million to start a business. Today, you need $70 and some coding skills.
" It is a golden age for entrepreneurs.
But with the implied success is a dark side that is rarely talked about. The cost is often the entrepreneur's physical and mental health and the impact their work has on their family and friends.
Sheryl O'Loughlin
tackles this head-on in
Killing It!
The entrepreneur's personal life is
often the hidden cost
of building an uber-successful career or business.
Sheryl who has taught entrepreneurship at the Stanford Graduate School of Business understands the ups and downs of being an entrepreneur. She served as the CEO of Clif Bar, was the Co-Founder and CEO of Plum Organics and is now CEO of REBBL. In
Killing It!
she offers empathetic support for entrepreneurs with candid discussions about her own experience and those of other entrepreneurs she has known.
Many people start a business without really knowing what they are getting into. Starting a business for money is a bad bet since around 95 percent of startups fail. There needs to be a real love for the problem you're trying to solve. Professor, social entrepreneur and investor Will Rosenzweig, told Sheryl, "Many thought they were going to launch a business coming out of school, not necessarily to solve a problem, but the problem they were trying to solve was their own unemployment and livelihood."
Execution
Once you get past the idea, execution is everything. "It's this build phase that catches many entrepreneurs by surprise—after so much excitement; they're shocked at how mundane it all is. Remember the Buddhist saying, 'After enlightenment, the laundry.' Oh, and how much laundry there is."
Sheryl says you have to make others love your business as well and connect to the company's purpose—and it's ongoing. You do that by inviting others to be part of the story. You help others to connect their personal passions to the company's purpose. You and your team need to live the experience your customers have with the product. You need to be a leader that models love, compassion and care and hire people that can do the same.
At the same time, love can blind you to realities. So "let reality in," she cautions. "
You don't have to love every moment, but you do have to love enough of them.
"
Entrepreneurs believe they have to do it all. Show no weakness. But we do have weaknesses. We need to talk to each other. "When entrepreneurs don't rely on one another, they don't harness the power of possibility. Too often we approach our work from a mind-set of scarcity and not one of abundance—a mistake that holds us back. The entrepreneurial profession requires that a person be vulnerable in order to remain healthy, and it's critical to have a space in your life with others that allows for that." When it comes to running your own company, business and personal issues are all intertwined.
Friendships
Hang on to your friends. "Friendships are crucial for the emotional well-being of an entrepreneur, but they are often the first thing to hit the chopping block when things get busy." There are three good reasons for this:
It's Good for Your Business. Entrepreneurs can easily become myopic. "The point is, you have to stay connected to the world outside your narrow one in order to make sure your ideas are still relevant—not according to some marketing study or other, but according to common sense."


It Helps Maintain Your Full Identity. "You are not your startup. Being a friend or a family member forces you to take on that identity. You can't just take in the relationship; you have to give, too. Valuing these relationships reminds you that it's not in fact all about you. Being a friend offers a buffer against narcissism and obsession. Remember that the intensity that entrepreneurs are so susceptible to must be guarded against so that it doesn't become destructive. If you've been spinning all day long about a decision, just sitting with someone else and offering your attention and care to them can pull you out of that dangerous headspace."


It Helps Heal You (and Them). "There are dozens of studies that show the friendships are good for our health. Choose a friend you trust and open up to him or her. Write down a list if your greatest fears with your business and share them."
Risk-Taking
I've risked it all
is not a good strategy. "A skilled entrepreneur is the one who will assign risk to
somebody else
. The entrepreneur will that the resources when they are there. Would you go climbing without the proper gear? Probably not, and you shouldn't approach business any differently. Entrepreneurship is about
minimizing risk
."
You need a Plan B because most of the time you will need it. Most ventures will fail. "You can't make the mistake of thinking you'll beat the odds just because you have a fancy degree, stellar experience, and great contacts."
Self-Worth
We are conditioned to believe that money equals success. It's vital, but your self-worth isn't tied to the company's net worth. "To keep a healthy self-worth/net worth separation, you have to continually ask yourself what role money is serving in your endeavor? Is money becoming your identity?" What are you proud of? We talk about family values, but they aren't as easy to measure as money.
Your self-worth is probably the most important message of her book.
Self-worth "is the quality that must be the strongest and most fight-ready before you start a company." No matter what happens, you are no the company. "What must endure is a deep feeling that you are living in line with your values, that you are fundamentally grounded. You have to have resilience, and you have to know that you can fall down, get back up, and wipe yourself off, aware that deep down you are okay. Without this strong sense of self-worth, no matter how supportive your partner or your kids or your friends, no matter how bold or humble you are, you are at risk, even if your company isn't."
Most new businesses fail. And most entrepreneurs would do it all over again. But if you know up front the dark side of entrepreneurship, hopefully, the journey will end up happier and healthier for you. Before you start a company, think of entrepreneurship in terms of your life as a whole. Invest in your wellbeing.
Killing It!
is a great place to start.
* * *


Like us on
Instagram
and
Facebook
for additional leadership and personal development ideas.
* * *

Posted by Michael McKinney at 03:39 PM
Permalink | Comments (0) | Entrepreneurship , General Business