Five Frequencies That Are Driving Your Culture (for better or worse)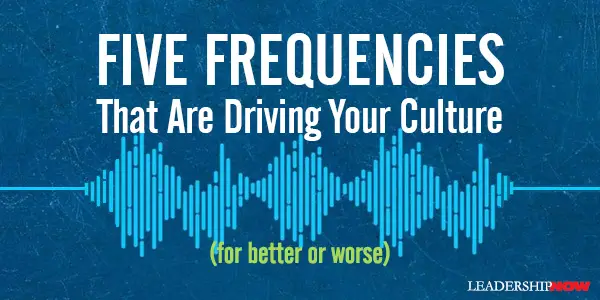 IS YOUR CULTURE holding you back? Are the signals you are broadcasting as a leader, creating the culture you want—you need?
Culture experts Jeff Grimshaw, Tanya Mann, Lynne Viscio, and Jennifer Landis say in Five Frequencies that to make a good culture great, leaders must deliberately transmit strong and steady signals. Leaders create culture for better or worse, through the signals they are consciously or unconsciously broadcasting over five frequencies. To change a culture, you need to broadcast a strong, steady signal on each of these frequencies:
Their Decisions and Actions
Example is everything—especially when it is inconvenient and costs you something. If it is truly a "value," what are you willing to pay for it? Think in the long-term. "Go long-term greedy." "This can mean avoiding ethical shortcuts, hiring people smarter than you, delegating more, and helping prepare high performers for success beyond your team."
What They Reward and Recognize
Reward the behaviors you want to see more of. "You are responsible for the dysfunctional behaviors that so bother you." Everyone brings their emotions to work. "Understand and leverage the emotional algorithms that motivate your people." Understand that it is all relative, scarcity and timing matter, and everyone appreciates being appreciated.
What They Tolerate (Or Don't)
"Leaders are ultimately defined by what they tolerate." Be sure the boundaries are clearly defined as well as the consequences. And don't make excuses because you don't want to feel bad or you can't hold a particular star performer accountable, or because it's really no big deal. It's all-important, and consistency is vital.
What you tolerate or don't tolerate is a balance. "When you decide to become more tolerant of some things (like where people work), you must become, if anything, less tolerant of other things (like the work not getting done). As Harvard professor Gary P. Pisano puts it:"
A tolerance for failure requires an intolerance for incompetence. A willingness to experiment requires rigorous discipline. Psychological safety requires comfort with brutal candor. Collaboration must be balanced with individual accountability.
How They Show Up Informally
When you show up, you "bring the weather." People notice a leader's tone, mood, and focus. They are weather in any organization. What do kind of weather do you bring?
When considering how you show up, the authors advise you to relinquish your raft. They introduce the concept with a story:
A traveler on an important journey comes to a raging river. It seems there's no way to cross. And that's terrible news because this is an important journey. Fortunately, she spots a rickety old raft on the bank, off in the brush. With trepidation, she pushes the raft into the water, hops on, and amazingly, uses it to reach the other side. She's able to continue her important journey. She thinks: I may encounter other raging rivers down the path, so I must keep this raft. So she carries the raft on her back as she continues her journey. It's a heavy raft, and it slows her down. When fellow travelers point this out, she's incredulous: "You don't understand," she says. "If it wasn't for this raft, I wouldn't be where I am today!" And she's right. That's literally true. The problem is: If she doesn't put down the raft, she may not get to where she needs to go on her important journey.
It's your baggage. It's your reactive tendencies that may have worked for you in the past that are no longer getting you where you need to be. Reactive tendencies like going with the flow, control, the need to be the hero, or being overly protective of your ego, eventually bring you diminishing returns.
Their Formal Communications
Formal communications don't work on their own, but they serve to reinforce the other four frequencies. Approach your communications as a story to make it memorable. And say it over and over. "Go past the puke point because that's often the turning point where employees are just starting to truly get it."
Have a backstory. Know where you came from. "Look for stories of people demonstrating the behavior you want to see more of, especially when it's not easy for them to do so." Fill the communication vacuums. "Don't push your people to the black market."
Know, Feel, Do
To establish a reliable culture, you need to measure where you are and where you need to go. The authors call it Know, Feel, Do: what employees know, what they feel, and what they do.
The authors advise us to work backward and forwards. Looking forward, they ask, "What is the culture that makes this outcome possible and probable? What will employees consistently KNOW? FEEL? DO?" Looking at each of the five signals, what will you need to broadcast to your employees in each of the five signal areas?
It is also necessary to look backward and see where your current culture came from. What did each of the signals contribute to your current culture? It will help you to know what to change in order to close the gap from where to are to where you want to be.
* * *


Like us on
Instagram
and
Facebook
for additional leadership and personal development ideas.
* * *


Posted by Michael McKinney at 04:15 PM
Permalink | Comments (0) | This post is about Culture , General Business , Human Resources