Is it Time to Disrupt You?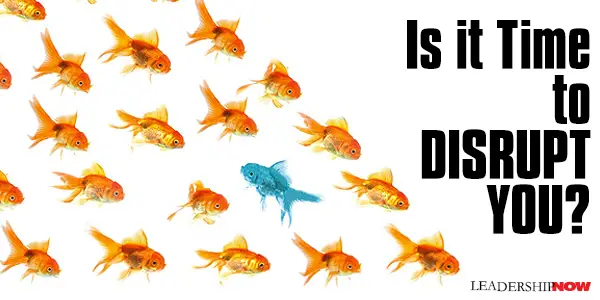 "I was presenting myself to the world as an out-of-shape, intimidated middle-aged man. That needed to change," writes Jay Samit.
Disruption can be a powerful and positive force. If we are to work with and take advantage of the disruptions in the world around us,
we must be willing to disrupt ourselves
.

All disruption,
says Samit in
Disrupt You!
,
begins with introspection
. After an early failure, he began a process of self-disruption. "I analyzed all the pieces that came together to form my identity. I began to define what unique experiences and knowledge I had that would set me apart from my peers. I thought about the way I made decisions, how I processed and responded to information, how I approached problems. I thought about the way I presented myself to the world and how I communicated my abilities to potential business partners and clients. And I thought about how I was sending my time and energy. If I was going to find opportunities to make a name for myself in the world, I was going to have to change something in my approach."
This a lot to tackle, but it is a process we all need to face. It can be very difficult to confront our assumptions about ourselves and the world around us to create a reimagined self. It is difficult to upend what we have built—our identity and approach—in exchange for a better future. It's unknown. We are often more comfortable with what we have always done—even if it is not working for us—than we are moving into unchartered territory.
Like any business we also have a
value chain
—our identities. Any or all of these links may need to be disrupted. You might think of
research and development
like the way we interpret the world. Where do I thrive? What kind of people do I work with best? What do I believe about myself that might not be true?
Production and design
are the ways in which you respond to problems. Do I tackle problems with an open mind, thinking holistically? Your reactions to disruptions in your environment will depend on your mindset.
The next link relates to how you
market and sell
your potential. Not what you have done, but what you can do. Success says Samit, is about defining your future. About his own marketing and sales links he writes:
We market and sell ourselves in the ways we present ourselves to the world, which are based on what we see as our personal strengths or limitations. We distribute ourselves in the ways we choose to spend our time and where we focus our energies. When viewed from this framework, the process of self-transformation becomes approachable: you need only analyze each link in your internal value chain and find the single link that's holding you back. Then make changes to that link to disrupt yourself.
Finally,
distribution
is how we spend your time and where we direct our focus. Do I devote my time and energy to achieving my dreams, or am I surfing the Internet every evening? Our time and energy is a valuable resource, we must distribute it wisely.
Self-disruption is about making deliberate choices rather than running on autopilot. It's about making preemptive moves rather than just being a pawn in a game.
Samit provides
Disruptor's Map
in each of these areas to help you begin disrupting yourself before you are disrupted. Consider where you are and where you want to be. And don't forget to ask yourself what you want to do along the way personally and professionally. Both are critical areas to consider.
Self-disruption can prepare us for the future and the disruptions it will bring.
Every disruption brings about opportunities. By analyzing the value chain you can find new ways to capture value. "The real challenge," says Samit, "is for each of us to determine where we feel we can make the most impact."
* * *


Like us on
Instagram
and
Facebook
for additional leadership and personal development ideas.
* * *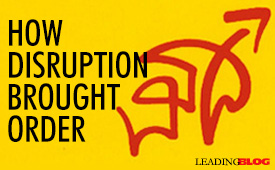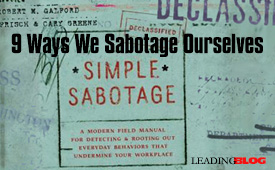 Posted by Michael McKinney at 06:17 AM
Permalink | Comments (0) | This post is about Personal Development