Leading Apple With Steve Jobs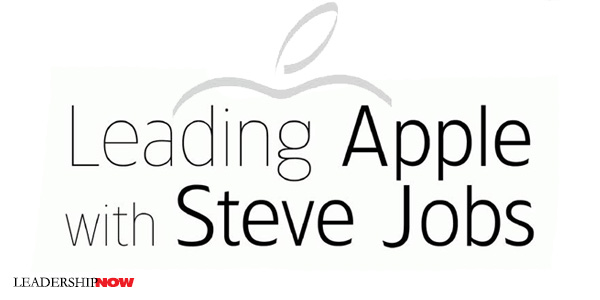 JAY ELLIOT, former Senior Vice President of Apple, has spent a lot of time with Steve Jobs. In Leading Apple with Steve Jobs, he writes that "Isaacson's Steve is not the Steve I knew." He believes that there has been too much focus on the negative aspects of how Jobs dealt with people and not enough on the positive. "I think," he writes, "most people who worked for him, including me, would say they did the best work of their lives for him and don't regret the experience a bit." While his stories regarding his time with Jobs don't do much to polish his image, he does bring out aspects of his thinking that undoubtedly have given people the opportunity to feel that in spite of the negative aspects of Jobs' behavior, Apple is where they wanted to be.
When analyzing anything, it always a challenge to pull out the important lesson and learn how to integrate the good without the bad. We are all a complex mix of motivations and behaviors and everything we do seems like an indispensable part of achieving our success (or not). But we can always improve—diminish the negative and emphasize the positive.
It is not unusual for any of us to find ourselves in a position where our intention is admirable but we lack the skill to implement it in the most beneficial way. Frequently, we can find ourselves stuck without alternatives to our own patterns of behavior. As leaders, we have to constantly be learning—by reflection and reading about the lives of others—to discover where we could expand our thinking and therefore our options.
Not only does Elliot help us understand why Jobs was the way he was, he does a good job of explaining the development of and reasoning behind much of the Apple mystic that is worth implementing.
Jobs said that "It's not my job to pull things together from different parts of the company and clear the ways to get resources for the key projects. It's my job to push the team and make them even better, coming up with more aggressive visions of how it could be." Jobs believed that accountability, attention to detail, perfectionism, simplicity, and secrecy, would sustain innovative leadership at Apple.
Getting the right people was as important to Jobs as creating a new product. "When you're in a startup, the first ten people will determine whether the company succeeds or not." Elliot says that he learned from Jobs the value of "knowing your own values so well that you can instinctively recognize someone who shares those values." It would be good to reflect on our own values from this standpoint. Another way of thinking about this would be to consider: if you don't know why you do what you do, why would anyone want to follow you?
The right people make the difference. "A leader in the Steve Jobs model needs to have a set of lieutenants who can translate his goals and vision into detailed action plans. The success of Apple through the years has largely been due to Steve's talent for surrounding himself with people who could bear the heat when he wasn't satisfied, were strong enough to stand up to him when he was wrong, and were able to relay not just his instructions but his commitment, drive, and vision to the crew."
* * *


Like us on
Instagram
and
Facebook
for additional leadership and personal development ideas.
* * *

Posted by Michael McKinney at 02:54 PM
Permalink | Comments (0) | This post is about Communication , Creativity & Innovation , General Business , Human Resources , Management