Are You a Giver or a Taker?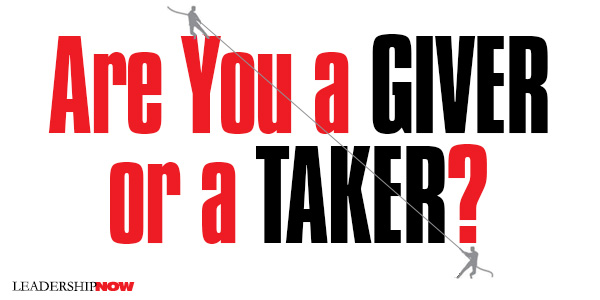 RESEARCH shows that givers sink to the bottom of the success ladder. Givers may make others better off, but they do so at their own expense.

But here's the thing, givers also land at the
top
of the ladder with
takers
and
matchers
in the middle. Adam Grant explores in
Give and Take
, what separates givers at the bottom and top. And the difference is not competence, but the kinds of strategies givers use and the choices they make.
Grant notes that in "purely zero-sum situations and win-lose interactions, giving rarely pays off…. But most of life isn't zero-sum."
The giver advantage is often hard to see in the short term because the "giver advantage grows over time." Chip Conley, founder of Joie de Vivre Hotels, explains, "Being a giver is not good for a 100-yard dash, but it's valuable in a marathon."
The Strength of Weak Ties
Givers connect with the people they know casually--their acquaintances. Although it is harder to ask them for help, they are the faster route to new leads and ideas. "The dormant ties provided more novel information than the current contacts. Over the past few years, while they were out of touch, they had been exposed to new ideas and perspectives."
The Five-Minute Favor: "You should be willing to do something that will take you five minutes or less for anybody."
Givers create a ripple effect around themselves. "Giving, especially when it's distinctive and consistent, establishes a pattern that shifts other people's reciprocity styles within a group." Givers take on the tasks that are in the best interests of the group.
Developing Others
As leaders, givers don't look for talent first, they focus on motivation. "Because they tend to be trusting and optimistic about other people's intentions, in their roles as leaders, managers, and mentors, givers are inclined to see the potential in everyone."
Takers have a general distrust of others. "Even when takers are impressed by another person's capabilities or motivation, they're more likely to see this person as a threat, which means they're less willing to support and develop him or her." Takers desire to be the smartest person in the room.
"The matcher's mistake lies in waiting for signs of high potential. Since matchers tend to play it safe, they often wait to offer support until they've seen evidence of promise."
Otherish Givers
Givers that end up on top are otherish. "Being otherish means being willing to give more than you receive, but still keeping your own interests in sight, using them as a guide for choosing when, where, how, and to whom you give." Giving energizes and is meaningful when it is done out of choice rather than duty or obligation—and otherish givers give more than totally selfless givers.
To avoid being taken, it is important to distinguish between givers and takers and those that pretend to be givers. Givers become matchers when they are dealing with takers.
Grant provides a lot of fresh examples—people from all walks of life. What he finds most magnetic about successful givers: "they get to the top without cutting others down, finding ways of expanding the pie that benefits themselves and the people around them. Whereas success is zero-sum in a group of takers, in groups of givers, it may be true that the whole is greater than the sum of the parts."
| | | |
| --- | --- | --- |
| |   | Every time we interact with another person at work, we have a choice to make: do we try to claim as much value as we can, or contribute value without worrying about what we receive in return? In the workplace, says Adam Grant, givers are a relatively rare breed. |
* * *


Like us on
Instagram
and
Facebook
for additional leadership and personal development ideas.
* * *

Posted by Michael McKinney at 09:10 PM
Permalink | Comments (0) | This post is about General Business , Management , Personal Development