Are You Leading for the Right Reasons?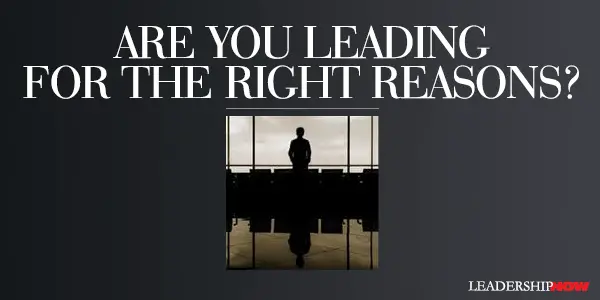 YOU either lead for yourself or others. Why you took the role you now fill, affects the results you are getting.
Patrick Lencioni has penned another leadership fable that follows the discussion of two CEOs getting to the bottom of why they lead and the results they are getting from their two different mindsets. The Motive is classic Lencioni, with plenty of let's-get to the-core-of-the-issue insights.
He writes that there are fundamentally only two motives that drive people to lead: service or reward.
Those who lead to serve "understand that sacrifice and suffering are inevitable in this pursuit and that serving others is the only valid motivation for leadership.
Those who lead for rewards often associated with leadership "see leadership as the prize for years of hard work and are drawn by its trappings: attention, status, power, money."
When leaders are motivated by personal reward, they will avoid the unpleasant situations and activities that leadership requires. They will calculate the personal economics of uncomfortable and tedious responsibilities—responsibilities that only a leader can do—and try to avoid them. This inevitably leaves the people in their charge without direction, guidance, and protection, which eventually hurts those people and the organization as a whole. Employees will express their disbelief as to how their leader could have been so negligent and irresponsible, yet it makes perfect sense in light of his or her motive for becoming a leader.
Lencioni acknowledges that although we all try to do the right thing at times, we do fall short. But a little self-examination will reveal that one of these motivations is predominant in our thinking and explain the impact we're having on the health of the entire organization.
What Do Reward-Centered Leaders Avoid?
When you are motivated by reward as a leader, you typically avoid these five situations or responsibilities:
1. Developing the Leadership Team
In some cases, leaders delegate team-building to their head of HR. Let me be very clear; this does not work. And that's not a knock against HR folks. If people on a leadership team don't believe that the leader sees team development as one of his or her most critical roles, they're not going to take it seriously, and it's not going to be effective. The leader simply must take personal responsibility for, and participate actively in, the task of building his or her team.
2. Managing Subordinates (And Making Them Manage Theirs)
Managing individuals is about helping them set the general direction of their work, ensuring that it is aligned with and understood by their peers, and staying informed enough to identify potential obstacles and problems as early as possible. It is also about coaching leaders to improve themselves behaviorally to make it more likely that they will succeed.
3. Having Difficult and Uncomfortable Conversations
Failing to confront people quickly about small issues is a guarantee that they will become big issues. And if you're not a responsibility-centered leader, one who understands that if the leader doesn't do it, no one will, then you're probably going to find a reason, almost any reason, to ignore those messy issues and do something else.
4. Running Great Team Meetings
Meetings are the setting, the arena, the moment when the most important discussions and decisions take place. What could be more important?

Think about it this way. The best place to observe whether a surgeon is good at her job, a teacher is good at his, or a quarterback good at his, is to watch them during an operation, a class session, or a game, respectively. What's the best place to observe a leader? That's right—a meeting.
5. Communicating Constantly and Repeatedly to Employees
Most CEOs don't hate the idea of communicating to employees. But the majority of them greatly underestimate the amount of communication that is necessary…. Unfortunately, many CEOs refuse to repeat themselves again and again and again and again…. No reasonable human being has ever left a company because management communicated too much. "That's it. I'm going somewhere where leaders tell me something once and never repeat it again!"
Each of these points ends with a section of questions "to help you reflect on your own attitude and discern whether you may be struggling to some extent with reward-centered leadership."
What motivates us to lead? If it is not service, we aren't really leading; we are simply draining the organization and its people for our own gain. Lencioni encourages "those who chose to embrace responsibility-centered leadership—even if they were formerly focused on rewards—will come to see activities and situations that they once viewed as tedious and unpleasant as the real work of a selfless leader. And eventually, start to enjoy them."
But more than that, we are teaching future generations that the only kind of leadership that matters is responsibility-based or service-centered leadership. If reward-centered leadership is the norm, "the wrong people will aspire to be managers, CEOs, and civic leaders, condemning society to more of the same or generations to come." The cost is too high.
* * *


Like us on
Instagram
and
Facebook
for additional leadership and personal development ideas.
* * *


Posted by Michael McKinney at 12:00 AM
Permalink | Comments (0) | This post is about Leadership