Make No Small Plans: Lessons on Thinking Big, Chasing Dreams, and Building Community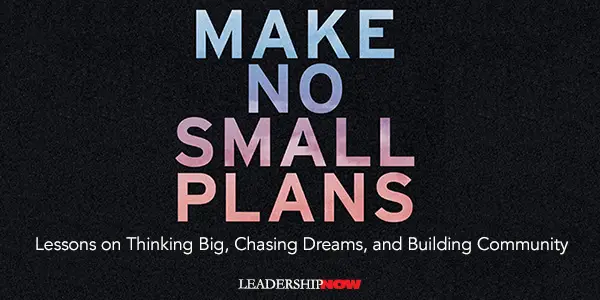 BIG IDEAS are often met with, "It'll never work." And if that doesn't stop us, then our inner voice may make us throw in the towel. Make No Small Plans: Lessons on Thinking Big, Chasing Dreams, and Building Community is the incredible story of how four friends, who in the beginning, had no idea what they were doing—Elliott Bisnow, Brett Leve, Jeff Rosenthal, and Jeremy Schwartz—took Bisnow's idea and turned it into a reality.
Bisnow wanted to "bring together twenty creative people and build a peer group so that we can connect with each other, meet new friends, and brainstorm." He contacted twenty of the best people he knew, and they all turned him down.
The first impression I get from Make No Small Plans is that most of us don't work as hard as we could. We give up too soon. At this point, many people would just quit or decide they needed a new idea. Bisnow didn't quit. He upped the stakes. He decided he was thinking too small. And Summit Series was born. "Sometimes you can have the right idea and pitch it to the wrong person."
He went after big-name entrepreneurs and invited them to an all-expense-paid trip to Utah to discuss professional challenges they each faced and collaborate on solutions. To make a long story short, it was the beginning of a journey that would eventually become Summit—a community that inspires and connects entrepreneurs, academics, athletes, artists, astronauts, authors, chefs, engineers, explorers, philanthropists, spiritual leaders, and scientists—co-founded by Bisnow, Leve, Rosenthal, and Schwartz.
In building their community, former CEO of Zappos Tony Hsieh gave them some valuable advice at one of their first events:
"Are there people at this event who you wouldn't invite to your parent's home for dinner if not for their personal and professional success?

[If yes], "Those people can't be part of what you're building going forward. If you're building a community, your culture is the most important thing."
Another thread that runs through their journey is to leave space for the unplanned. "It doesn't matter how prepared you are, because the day will never unfold the way you planned it. What matters most is how you react to the unexpected moments."
Takeaways from the journey to build Summit:
Replace Your Weaknesses with a Partner's Strengths.
Know Your Definition of Success.
When You Know How to Listen, Everybody Is a Guru.
Don't Keep It Real, Keep It Surreal.
Don't Worry About Making Mistakes When You're Making History.
Bite Off More Than You Can Chew. You Can Figure Out How to Chew Later.
It Only Has to Happen Once to Be Remembered.
It's Not About the Idea. It's About the Execution.
Unite The Core to Move the Masses.
The Road to Success Is Always Under Construction
Having had a taste of success, they are now looking for smart people doing incredible things—"change-the-world" stuff—and it can become easy to forget that they once only had a dream and a desire to do something special. People who are doing incredible things are already doing incredible things, and they can mentor those with only a passion. Remaining grounded in their history, they need to seek out and encourage the people who are now once like they once were, with only a passion and a dream to do incredible things and make it their mission to change their world.
Another good lesson for all of us.
* * *


Follow us on
Instagram
and
Twitter
for additional leadership and personal development ideas.
* * *


Posted by Michael McKinney at 11:32 AM
Permalink | Comments (0) | This post is about Entrepreneurship