Finding Your Flywheel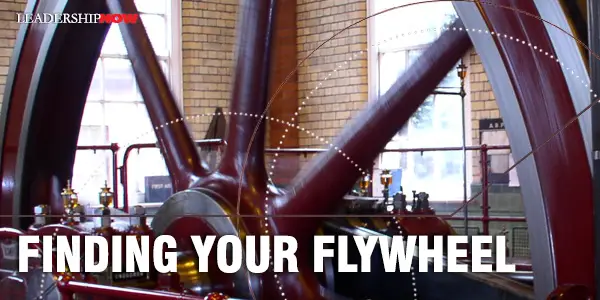 GREATNESS NEVER HAPPENS in one fell swoop—no single action. It is the result of a series of correct actions that build on each other. Jim Collins likens it to turning a giant, heavy flywheel. In Turning the Flywheel, he describes the process:
Pushing with great effort, you get the flywheel to inch forward. You keep pushing, and with persistent effort, you get the flywheel to complete one entire turn. You don't stop. You keep pushing. The flywheel moves a bit faster. Two turns … then four … then eight … the flywheel builds momentum … sixteen … thirty-two … moving faster … a thousand … ten thousand … a hundred thousand. Then at some point breakthrough! The flywheel flies forward with almost unstoppable momentum.
The flywheel concept was first introduced in the bestselling Good to Great. In Turning the Flywheel, Collins shares practical insights and clarity about the process. You can see it at work in successful organizations, but the trick is finding your flywheel. While it your flywheel may be similar to another organization's flywheel, "what matters most is how well you understand your flywheel and how well you execute on each component over a long series of iterations." Collins lists seven essential steps to finding and capturing your flywheel.
Collins explains the flywheels of Amazon, Vanguard, Intel, Giro Sport Design and others. Giro's flywheel is illustrated below. As with all proper flywheels, each step or action in sequence is the almost inevitable consequence of executing the step before it. So, in the case of Giro, by creating a great bike helmet that elite athletes want to wear, it naturally inspires weekend warriors to wear it, which in turn attracts mainstream customers, which builds brand power and allows you the resources to invent more great products. And the flywheel turns faster and with more power.
If you understand your flywheel's underlying architecture as distinct from a single line of business or arena of activity, you can evolve, expand, or extend your flywheel in response to changes in your environment. That is to say the underlying logic of your flywheel—what your organization is doing. If you understand that, you can apply it to other areas.
Some Rules
The very nature of a flywheel—that it depends upon getting the sequence right and that every component depends on all the other components—means that you simply cannot falter on any primary component and sustain momentum.
To sustain and renew the flywheel you need to embrace the Genius of the AND (as presented in Built to Last).
When you reach a hundred turns on a flywheel, go for a thousand turns, then ten thousand, then a million, then ten million, and keep going until (and unless) you make a conscious decision to abandon that flywheel. Exit definitively or renew obsessively, but never—ever—neglect your flywheel.
Collins also makes it clear that a flywheel operates within a context—a framework of principles that great organizations adhere to. The framework has four stages:
Stage 1: Disciplined People
Stage 2: Disciplined Thought
Stage 3: Disciplined Action
Stage 4: Building to Last
The flywheel principle operates at the pivot point from Disciplined Thought into Disciplined Action. Collins explains each stage in detail and the principles that apply to each like Level 5 Leadership, the Hedgehog Concept, 20 Mile March, and Fire Bullets, Then Cannonballs. But I found this observation interesting:
An overarching theme across our research findings is the role of discipline in separating the great from the mediocre. The only legitimate form of discipline is self-discipline, having the inner will to do whatever it takes to create a great outcome, no matter how difficult. When you have a disciplined people, you don't need hierarchy. When you have disciplined thought, you don't need bureaucracy. When you have disciplined action, you don't need excessive controls. When you combine a culture of discipline with an ethic of entrepreneurship, you create a powerful mixture that correlates with great performance.
Every entrepreneur should read this because it organizes your decisions around a principle that compounds your efforts. Turning the Flywheel is a short but necessary read to help you understand your business and what can and will make it successful. Executing well on a well thought out flywheel will give you years—even decades—of success.
More importantly, if leaders communicate their organization's unique flywheel so that everyone at every level understands it, it will bring clarity and purpose to each individual's work. It provides tangible evidence as to their part in the organization's success.
* * *


Like us on
Instagram
and
Facebook
for additional leadership and personal development ideas.
* * *

Posted by Michael McKinney at 08:12 AM
Permalink | Comments (0) | This post is about Entrepreneurship , General Business