9 Secrets to Creating a Successful Future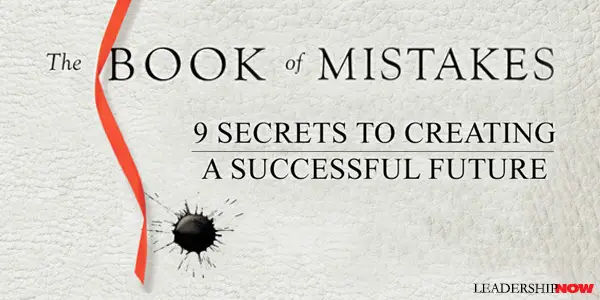 I
F SOMEONE IS WILLING to share the wisdom of their experience, it's worth taking the time to absorb their message. By seeking out the experiences of others, we can grow faster with less drama.
In The Book of Mistakes, Skip Prichard has created for us an absorbing fable of a young man and a young woman who are both part of a mysterious journey to learn the nine mistakes that tend to trip us up. While they make sense, they are not always intuitive. The truths presented here often stand between us and success.
The main story follows David whose life of promise has become ordinary. Through a life-altering event, he has a chance meeting with an Old Man who sets him on a journey that will take him to meet nine unique people who will share the nine mistakes and the impact these mistakes have had on their own lives.
The nine mistakes are framed by three universal laws that are found in an ancient book of wisdom. The parallel story is about Aria and how she comes to be the keeper of the book of wisdom and how she learns of the three laws.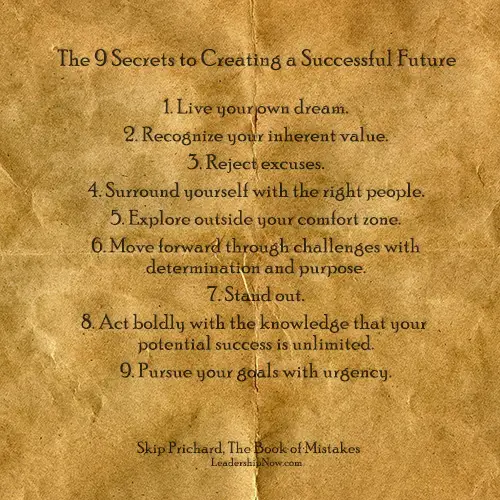 Printable Graphic

The three universal laws enable the nine secrets to creating a successful future. To avoid the nine mistakes, you need to:
1. Live your own dream. "A life choreographed by someone else is not our finest performance."
2. Recognize your inherent value. "Don't accept the limitations others put on you." "Others are so quick to define us. They set expectations. They don't realize when we've changed."
3. Reject excuses. "Behind every excuse is a door to greatness." "If you want to take your life back, take your thoughts back."
4. Surround yourself with the right people. "Your friends determine your fate." "Replace naysayers, doubters, and energy drainers with encouragers, winners, and motivators."
5. Explore outside your comfort zone. "Mediocrity is the end result of too much comfort."
6. More forward through challenges with determination and purpose. "Don't let current circumstances define your destiny." There will be setbacks but "It doesn't mean you have to be good at everything or do everything, but if you think it's a skill that you need to fulfill your purpose, you need to find a way through it."
7. Stand out. "Standing out is as simple as consistently outperforming expectations."
8. Act boldly with the knowledge that your potential success is unlimited. "The only limitations you need to worry about are the ones in your mind." "Helping others magnetizes people to your cause and enhances your success."
9. Pursue your goals with urgency. Live each day as if it's your last and your first. "Your last keeps you focused on what really matters. You think about people, about loving those around you. Your first is important because you also must have a longer view, or you will never accomplish the goals that are hard and take longer."
Each mentor David encounters has their own story that illuminates the mistake they share with us. Their experiences help to identify and relate to the mistake and help us to take action to avoid the mistake in the future. Prichard brings a lot of wisdom to each of these common life issues.
The story is engaging for young and old. Share this book widely because these are the kinds of mistakes that create regret down the road. At the end of your life these are the things that you look back on and wonder why no one ever told you about these pitfalls. We are never too old to learn them and some are more difficult to deal with because of the baggage that often accompanies them. Now is the time to set your course.
* * *


Like us on
Instagram
and
Facebook
for additional leadership and personal development ideas.
* * *

Posted by Michael McKinney at 10:45 AM
Permalink | Comments (0) | This post is about Personal Development