What Robert Greifeld Can Teach You About Getting Your Organization On Track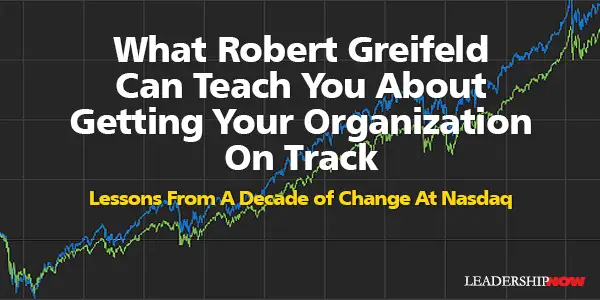 TURNING AROUND an organization requires a new story. A very clear and well-told story. When Robert Greifeld was asked to take the helm of Nasdaq in 2003 to execute a turnaround, he came with a new story. As he relates in Market Mover, the story had five parts:
1. Get the Right People on Board
2. Reduce Bureaucracy
3. Embrace Fiscal Discipline
4. Overhaul Technology
5. Stop Being Satisfied with No.2
In any cultural or business turnaround, the right people make all the difference. You can't predict the future, so you need people that get the new story.
You can't control circumstances, but what you can do is to ensure that you have the best people in place so that when the world changes around them, they can adapt, respond, and step up. That's why my motto has always been people first.
He believes that you should promote before you recruit and offers this advice on finding them:
Often, the people who are right for the new culture are not individuals who thrived under the previous regime. Change the culture, and inevitably, people with skill sets more apropos to the next context suddenly stand out.
He wasn't looking for just smart people, but people with bandwidth. That is, people with the "capacity to fruitful focus one's attention on multiple areas." He also encouraged debates among his executive team.
The point of the debate wasn't to enact a perfectly democratic ideal. It was to achieve better clarity on all of the issues involved so everyone understood the reasons for proposed changes, and my decision-making was both transparent and much better informed.
Next, Greifeld had to get people working on the right things. "A common trait of those who fail, I believe, is that they end up working on the wrong things." Prioritizing is the challenge.
As a leader, I consider it my job to focus on what's not working. Optimism is essential if you're to take risks and succeed; indeed, it's probably true that the only people who really accomplish things are the optimists. But that optimism must be tempered by a disciplined and critical perspective.

Shine the light into areas of vagueness, confusion, or conflict, knowing that there is leverage to be found in creating clarity, alignment, and resolution.
A focus on cash is vital, but it's important to remember that you can't save your way to success. "When a culture is focused entirely on thrift, the next big thing is usually invented somewhere else."
To address the technology gap at Nasdaq, Greifeld went outside to buy winners—smart acquisitions.
Today's outsiders are tomorrow's establishment. Business leaders should always cultivate an attentive disposition toward outsiders, especially in industries impacted by technology. Always be on the lookout for new ideas, products, and technologies happening on the edges of your business ecosystem, where outsiders are developing a different picture of your future in apocryphal garages and basements.
Naturally, Nasdaq must deal with regulation and government oversight, but no matter what business we are in, we must sell ideas to others. "Don't feel like you're above politics—none of us are. Learn to work with it and use it to increase your competitive advantage. Lobbying is education. It's an opportunity to get important perspectives on the table so legislatures and regulators can actually make informed decisions."
Motivation to change is easier when you are threatened, but when times are good, when you have things where you want them, change is much harder. You always need to be looking for ways to change and grow.

Any moment reflecting on the past is a moment you're not focused on the future. Just because you were successful yesterday does not mean you will be successful tomorrow. If you're not careful, personally and organizationally, past success will be a weight on future success, and the greater the success, the heavier the weight.
As NASDAQ grew and matured, Greifeld realized that he was not as essential as he had been. It was time to move on. He left the CEO position to someone he promoted when he first arrived, Adena Friedman.
"Business is a marathon, not a sprint, and to be a leader in the marathon takes an unusual degree of fitness—mental, emotional, and physical."
Market Mover is of course, full of the nuts and bolts of financial technology and the digital economy, but it is so much more. It is not just about the revival of Nasdaq's near-death experience but is a course in leadership and the entrepreneurial spirit that drives innovation and growth. He writes candidly of the most critical moments of his thirteen-year career at Nasdaq with each chapter focusing on a headline-making event. He takes us through his response and the lessons he learned. This book will not only help you be a better leader, but the insights you will find here will prove invaluable in guiding you as you build your organization.
* * *


Like us on
Instagram
and
Facebook
for additional leadership and personal development ideas.
* * *


Posted by Michael McKinney at 02:35 PM
Permalink | Comments (0) | This post is about Entrepreneurship , General Business , Leaders