Unlocking Creativity: Are These Creativity-Inhibiting Mindsets Holding You Back?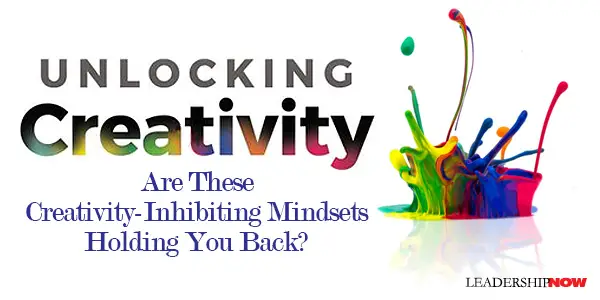 IN AN IBM global survey of CEOs, the overwhelming consensus was that more than rigor, management discipline, integrity or even vision, successfully navigating an increasing complex world will require creativity. In a world where we must adapt or die, we need creative solutions.
In struggling to generate a sufficient number of creative ideas, we typically blame the number of creative individuals in our organization or hierarchy and bureaucracy. But in Unlocking Creativity, Michael Roberto takes a different perspective. He believes that we are getting in our own way by the way we think, decide, and act with regard to the development of original ideas.
We find that while we talk about the need for creativity and innovation, employees don't feel supported or inspired by their leaders and were not given the time or resources to develop new ideas. And there seems to be a stigma surrounding creative types. There often viewed as quirky, unfocused, strange, and nonconformist. As a result, they are viewed as having less leadership potential.
Isaac Asimov once said, "The world, in general, disapproves of creativity, and to be creative in public is particularly bad. Even to speculate in public is rather worrisome."
The question is, do we have a people problem or do we have a situation problem? Roberto looks at six organizational mindsets or belief systems that stifle creativity.
The Linear Mindset
"Many organizations fail to understand and embrace the discontinuous nature of the creative process." They expect disciplined execution—on time and under budget. But realistically, creativity is not like that. The creative problem-solving process involves a healthy dose of trial and error. We must learn by doing.
Many companies have failed to make the shift from the traditional planning mindset to a learning-by-doing approach. Strategy formulation and implementation remain largely disconnected from one another. Firms continue to engage in annual strategic-planning rituals, pretending that they can predict the future from the confirms of the corner office. Even worse, they have treated design thinking as just another linear process that they can deploy. Step two always follows step one. They march through the phases robotically, as if they have discovered a magic formula for innovation.
But the five stages of design thinking are not always sequential as Roberto explains. "Trying to turn any creative process—design thinking or otherwise—into a highly structured, linear system turns out to be a colossal mistake."
The Benchmarking Mindset
"Firms study their competitors closely, but in so doing, they experience fixation. Consequently, they adopt copycat approaches rather than creating distinctive strategies."

Firms should recognize that differentiation comes from becoming more lopsided rather than well rounded. You establish a distinctive competitive position by amplifying your strengths, rather than engaging in knee-jerk efforts to imitate your competition.
We often fixate on what we know. "We become attached to a specific mental set, a way of thinking about a problem based on solutions that have worked in the past. Mental sets can facilitate problem-solving at times, but becoming fixated on an inappropriate solution from past experience can inhibit creativity."
One way to avoid this fixation is to learn from people outside of our industry. "Rather than simply benchmarking direct rivals, companies need to think broadly about the full range of substitutes against which they compete. American Airlines competes against Skype and WebEx, not just Delta and United."
Avoiding this mindset takes courage. "When you chose not to imitate, you often make bold bets that may lead to failure." And "In many instances, people do not recognize the merits of the distinctive, creative strategy at first." It's easy to just go back to what you know and are comfortable with.
The Prediction Mindset
"Managers have a desperate desire to see what's next and they exhibit overconfidence in the ability of experts to forecast the future. The insatiable need to predict just how big ideas will become actually impedes creativity."
We crave certainty. When it comes to forecasting "How people think matters more than what they already know." The best forecasters are intellectually curious gathering information from a wide variety of sources and updating their conclusions as the facts change.
The prediction mindset impedes creativity because of the way new ideas are treating in most organizations. We support and fund ideas that we think are going to be the next big thing—move the needle. The problem is we don't really know. And some great ideas need time to ripen and be modified as they are tested in the marketplace. Focus not on the short-term return but on delighting customers.
"Managers often resort to changes in organizational structure as a means of stimulating creativity and improving performance."
Here's the bottom line we can learn from example after example: "Leaders will not find an optimal structure that unleashes creativity. No such perfect solution exists. You cannot find a simple causal path that connects structure to performance." Instead, "the best leaders pay close attention to team climate (psychological safety), behavioral norms and ground rules (rules of engagement), and the design of the work itself (personal responsibility)." These elements allow creativity to flourish.
The Focus Mindset
"Organizations believe that teams will excel at creative work if they focus intensively, perhaps even secluded from their colleagues. They fail to recognize that the best creative thinkers oscillate between states of focus and unfocus." Focus and distance.
Srini Pillay wrote in the Harvard Business Review, "The brain operates optimally when it toggles between focus and unfocus, allowing you to develop resilience, enhance creativity, and make better decisions too." Creating that space can be done by simply walking at times, but with teams consider having team members role-play different roles than they currently occupy. Travel helps to spark creativity as does creating temporal distance.

Jeff Bezos and the people at Amazon use "time travel" frequently to stimulate innovative thinking about new products and services. Andy Jassy, Senior Vice President of Amazon Web Services, explains that developers in his organization do not begin writing software code for a new project until they have drafted a hypothetical release for their new product offering.
The Naysayer Mindset
"Managers encourage people to critique each other's ideas early and often. Unfortunately, the failure to manage dissent and contrarian perspectives constructively causes many good ideas to wither on the vine."
The Devil's Advocate technique can be helpful but with ground rules: the who, when, and how of devil's advocacy. If the role is always played by one person, they begin to be ignored. So rotate the role. Because of the pressure to conform, Roberto recommends having two devil's advocates. It must be constructive and respectful. As in with President John Kennedy during the Cuban Missile Crisis, he assigned Theodore Sorensen and Robert Kennedy to "relentlessly pursue every bone of contention in order to prevent errors arising from too superficial an analysis of the issues." The idea is to provoke dialogue and debate.
Creating an environment that unlocks the creativity inherent in your organization is not easy nor can you expect immediate results. "Remember that the creative capabilities of people throughout your organization may have lain dormant for quite some time." See the process through their eyes. It is the calling of leaders. "Enabling others to explore, experiment, learn, and create is your duty as a leader, and it's potentially the most rewarding work you will ever do."
Unlocking Creativity is well written and engaging as Roberto pulls lessons from numerous studies and a wide variety of people and organizations like Leonardo da Vinci, IDEO, U2, Google, the Beatles, Amazon, Israeli Intelligence, Zappos, Google, NASA, Pixar, Data General, Hollywood, Disney, Trader Joes, Reebok and Planet Fitness. Unlocking Creativity pulls together what we know about creativity and how that knowledge can be applied to our organizations and teams to foster innovation.
* * *


Like us on
Instagram
and
Facebook
for additional leadership and personal development ideas.
* * *


Posted by Michael McKinney at 11:46 PM
Permalink | Comments (0) | This post is about Creativity & Innovation