Jerry Colonna on True Grit and Other Advice for Leaders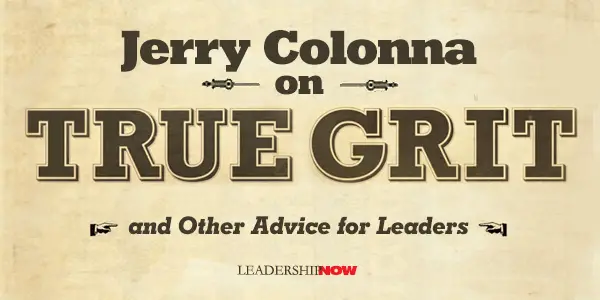 JERRY COLONNA helps start-up CEOs make peace with their demons, the psychological habits and behavioral patterns that have helped them to succeed—molding them into highly accomplished individuals—yet have been detrimental to their relationships and ultimate well-being. In Reboot: Leadership and the Art of Growing Up, he does just that.
He states that much of what he has learned about growing up came from learning to lead. Reboot is a peak into his life and the lives of leaders as they come to terms with who they are and what is holding them back. It's like listening to a coaching session.
Who we are shows up in our leadership. Sometimes we use the organizations we lead to make ourselves feel better about our unresolved issues. When we don't like what we see, we have to be honest and ask ourselves, how have I been complicit in creating the conditions I say I don't want?
In Reboot, he says things like:
The back of the warrior is strengthened by knowledge of knowing the right thing to do. The soft, open heart is made resilient by remembering who you are, what you have come through, and how those things combine to make you unique as a leader.
On learning to lead yourself he says:
Learning to leader yourself is hard because it requires us to look at the reality of all that we are—not to fix blame on ourselves but to understand with clarity what is really happening in our lives. Learning to lead yourself is hard because it is painful. Growth is painful; that's why so few chose to do it.
A client tells him, "It's like this—if I'm not panting, I feel like I'm not working." He responds with:
There it is. That same old haunting belief system. Run faster and faster, telling oneself that the way to be is to do; do more, faster, and just maybe you'll outrun war, cancer, and the other demons that cause you to doubt your worth, your lovability, and your own voice.
Colonna challenges leaders to show up as you are.
When we stop the bullshitting, the pretending that we're crushing it, that we've got it all figured out, we run the risk of being overwhelmed by the realities of all that we carry—the burdens we've convinced must remain secret to keep us and those we love safe, warm, and happy. But the spinning prevents us from being who we really are. You might as well tell me who you are, because if you don't, I'm going to invent things, and those things will stand between us, keeping us from being close.
His thoughts on grit are illuminating. He begins by telling us what grit is not:
False grit is brittle. It's the sense that we are nothing if we can't take a punch. In fact, we define "taking a punch" as the ability to not feel pain when we are pinched. False grit is dangerous. It feeds a stubbornness that, in turn, can feed delusion. We mistake the tendency to delude ourselves that our relationship will improve, our companies will succeed, if only we double down on our old patterns, grip the steering wheel until our knuckles whiten, and bear down. Stubbornness is not the hallmark of the warrior. Leaders who persist out of stubbornness, believing themselves to be gritty, are at best delusional and, at worst, reckless.
On the other hand, true grit is kind.
True grit is persistent. Ture grit persists not in holding on to false beliefs against all evidence but in believing in one's inherent lovability and worthiness. Ture grit is the leader believing in the team's purpose, its capacity to overcome obstacles, and the relevancy of the cause. True grit acknowledges the potential of failure, embraces the fear of disappointment, and rallies the team to reach and try, regardless of the potential of loss.

True grit, the capacity to stick with something to the end, stems from knowing oneself well enough to be able to forgive oneself. To have inquired deeply and steadily enough to find the deep sense of purpose that is beyond a personal mission statement. In that knowing of oneself, one is then able to stand as a single, warrior amid a community of brokenhearted fellow leaders.
* * *


Like us on
Instagram
and
Facebook
for additional leadership and personal development ideas.
* * *


Posted by Michael McKinney at 01:05 AM
Permalink | Comments (0) | This post is about Entrepreneurship , Personal Development