6 New Rules for the Digital Age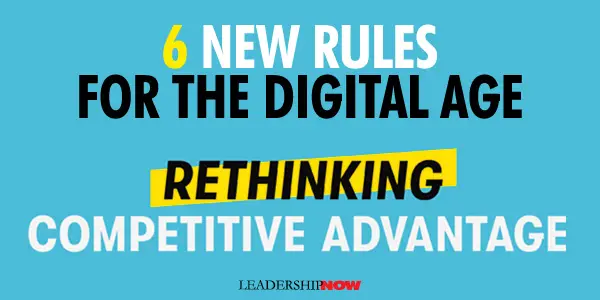 EVERY NOW AND THEN, a book comes along to give you the insights you need to see and understand the world you live in and how to thrive in it. Rethinking Competitive Advantage: New Rules for the Digital Age by Ram Charan is one of those books. The ideas and terminology you've heard and read about come together here to give you a holistic view of where you need to go next.
Charan has taken years of observation and distilled it into six practical rules to guide you into this digital age.
To begin:
In the digital age, competitive advantage is the ability to win the ultimate prize—the consumer's preference—repeatedly, through continuous innovation on behalf of the consumer, and to create immense value for the shareholders at the same time.
As opposed to:
Until recently, the greatest competitive advantage went to companies that controlled distribution channels, had hard assets on the largest scale, or had established brands or patents.
In other words, it's more about what a company does than what it has.
Digitization defines the playing field. "The old adage 'stick to your knitting,' for example, a colloquial version of 'build on your core competence,' tends to narrow a company's imagination. Yet a bold imagination is a requirement for leaders today."
Digital companies like Netflix, Amazon, Google, and Alibaba, have certain elements—or approaches—in common:
• They imagine a 100x market space that doesn't yet exist.
• They have a digital platform at their core.
• They have an ecosystem that acerates their growth.
• Their moneymaking is tied to cash and exponential growth.
• Their decision-making is designed for innovation and speed.
And,
• Their leaders drive learning, reinvention, and execution.
These elements lead to six rules that a leader must work with if they are going to thrive in the digital age. The way forward is understanding the new rules of competition and playing a different game. Charan explains several roadblocks like—an overreliance on outdated theories—to moving forward in the digital age that insightful. The first four rules represent building blocks for building a competitive advantage. The last two relate to the human side of bringing this all together.
Rule #1. A personalized consumer experience is key to exponential growth.
The digital companies connect with the end-user and creating a customized experience. They work from the end-user backward. The customer is not the retailer but the end-user. "The key is to identify an experience that can both be personalized and appeal to a very large number of people, regardless of national or cultural boundaries." Most traditional companies don't think big enough.
Rule #2. Algorithms and data are essential weapons.
Algorithms and data must become central to your business. Charan distinguishes digital capability and digital platform. Digital capability usually means that the company has utilized algorithms to improve internal processes. In contrast, a digital platform is "a set of algorithms that collect and analyze data. Combining and refining algorithms over time helps a company build a competitive advantage."
Converting to a digital platform should be done incrementally. Leaders must understand what technology can do for them and have good judgment about how to use it. A digital platform can personalize the consumer experience, create market spaces of 100x, eliminate intermediaries, utilize dynamic pricing, and use data to uncover opportunities for exponential growth.
Rule #3. A company does not compete. Its ecosystem does.
The ecosystem is the arrangement between partners that can be created. "Moving forward requires seamless systems and technology platforms, taking advantage of the latest technical developments, meeting a range of consumer preferences, and processing massive amounts of data to improve the outcome of things."
Conceiving these ecosystems takes imagination and a specific set of leadership skills. Fundamentally, "it's about building relationships with people from other cultures and with different incentives."
The predominant challenge is to conceive of the ecosystem in its entirety, how it will deliver a great experience for the consumer, how the partners will enhance each other capabilities, and how success will be measured and shared.
Rule #4. Moneymaking is geared for huge cash generation, not earnings per share, and the new law of increasing returns. Funders understand the difference.
When it comes to digital companies, earnings per share is not the focus. Revenue growth and cash gross margin is.
Moneymaking is different in the digital age. Of course the components of moneymaking—things like revenues, cash, gross margin, cost structure, and funding—are the same as ever. But the emphasis, the patterns, the timing, and the relationships among them are different.
In digital companies, as revenues grow, so does gross margin because of the law of increasing returns.
As digital companies grow revenues and improve percentage gross margin, they exponentially increase their gross margin in cash. In essence, they become a cash-generation machine.

The gross margins of born-digital companies are generally higher than those of their conventional counterparts.
The digital connection that digital companies have with their customer base makes it easier for them to keep them engaged and gather more data. "Algorithms can then help detect the causes of certain behaviors, including customer defections, and test ways to improve the customer experience."
Rule #5. People, culture, and work design form a "social engine" that drives innovation and execution personalized for each customer.
The social engine, a company's culture and way of organizing work, helps drive the growth of the big digital companies.
Most of these digital giants operate with only three or four layers below the CEO. Organizing into functionally focused teams makes for better and faster decisions and implementation. Important too is who is on those teams. Who you choose to lead those teams speaks volumes about the values of the company. Beyond just plain competency, you need people who want to learn, grow, and get things done. Laslo Bock said that at Google, they "disqualified anyone who gave even a small signal that they might not be collaborative or intellectually humble."
Once established, the culture becomes a magnet for others who share those values and behave that way.
Rule #6. Leaders continuously learn, imagine, and break through obstacles to create the change that other companies must contend with.
Speaking of intellectual humbleness, leaders must be at the forefront of curiosity and learning—continuously growing. "Any company that is or wants to be digital must have leaders who match up against the criteria a digital company requires." The main difference Charan sees between traditional leaders of legacy companies versus leaders of digital companies has to do with their "cognition, skills, and psychological orientation." Among these traits are:
They have the mental capacity to think in terms of 10x or 100x, to imagine a future space that doesn't exist, and the confidence that they will overcome whatever obstacles they might encounter.
They have a facility for and are comfortable with data-based analysis. Facts and knowledge—not predictable outcomes—give them the courage to act.
There is fluidity to their thinking. They welcome change and even seek it.
They are hungry for what's next and are willing to create and destroy. Their psychology is geared toward high speed, urgency, and continuous experimentation.
They are literate in the application of algorithmic science and value fact-based reasoning.
They are willing to reconceptualize the organizational structure so that decision-making takes place closer to the customer to improve the speed and quality of decisions.
This insightful and very accessible book is one of Charan's best. It should be widely read. Even if you do not want to join the current reality and perhaps go down with the ship, at least you'll know why.
Here are a few more thoughts from the book:
Dissatisfaction with the status quo and a search for what's next is a universal human endeavor. It does not reside in one person, department, or organizational layer. The flow of ideas cannot be blocked by bureaucratic layers. Do the people at traditional companies welcome change? What happens to the good ideas that emerge? How quickly do they get converted into action?

Today transformational change is the norm. Every company has to be able to perceive what will make their best-laid plans obsolete tomorrow and change direction quickly.

Trying to build on your core competence can be a liability in the digital age. Why? Because it tends to promote an inside-out perspective and narrow a leader's peripheral vision and constrain imagination.
* * *


Like us on
Instagram
and
Facebook
for additional leadership and personal development ideas.
* * *


Posted by Michael McKinney at 08:52 AM
Permalink | Comments (0) | This post is about Entrepreneurship , General Business