Learning to Lead with Ron Williams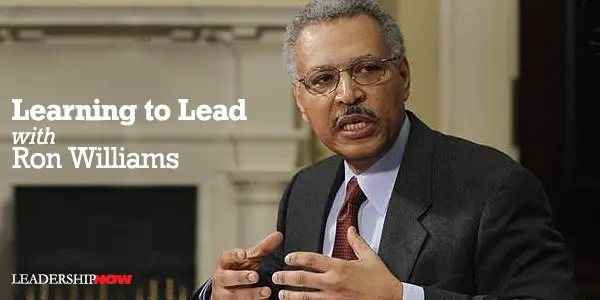 WHO IS looking out for you?
"No boss or mentor drove my success—although they did open doors for me. My success came about through a combination of hard work, continual learning, fortunate career choices, and a bit of luck—by being in the right place at the right time," writes Ron Williams. Williams is best known for his tenure as CEO and Chairman of Aetna, where he transformed a $292 million operating loss into $2 billion in annual earnings.
In Learning to Lead, Williams shows how anyone can grow and succeed as leaders. He grew up in a working-class family in one of the poorest neighborhoods of Chicago in the 1960s. The book is exceptional. He weaves the experiences of his career with the lessons we can all learn from them. Well told and insightful.
He begins by asserting that the single most important asset you have is you. As a result, you need to focus on getting better. "Two things are essential: a deep personal commitment to excellence in everything you do and a commitment to continual improvement." He encourages us to strive to become 15% better each year in concrete and actionable ways. To do that you need to really think about what you are going to do differently. If you want to be extraordinary, you need to stretch yourself above the average person.
Exceed your job description. Do it for you and build a reputation. "By sticking to tasks listed in your job description, you are refusing to demonstrate your ability to perform at a higher level. Why should anyone think of you as a potential leader when you've provided them with no evidence to suggest it?"
For him, his underprivileged background represented an opportunity. "The world and its people were a puzzle for me to solve." He reframed his world. It is our mindset that often makes it impossible to escape the box we find ourselves in. "Reframing is about creating a new mental landscape with a larger scope of freedom, a greater degree of flexibility, and a set of alternative ways of approaching any problem—which can often lead to new and unexpected solutions."
You know you need to reframe when what you hear around you is, "Everybody knows" and "It's obvious that." "It's a sign that you and your colleagues may be trapped in a box of your own making—one in desperate need of reframing."
On the topic of mentors, Williams believes that they are helpful, but you shouldn't spend your time looking for one. "Mentors come along without planning. Mentorship must arise naturally out of the situation rather than being forced." However, and his is key, "that doesn't mean you can't make a conscious effort to learn from the people around you. As you work on learning to lead yourself, you should also seek out others whose examples, experiences, and insights can be of value to you."
When people do (or seem to) get in your way, rather than finding blame, assume positive intent. You can choose how you respond to negative events. We don't need to take it personally. "If there's something that will make you feel really good to say—something you are itching to say—don't say it. Blowing up in the face of provocation is a way of losing power, not of claiming it." Assuming positive intent has been one of William's secret weapons throughout his career. It is an "empowering strategy that disarms defensiveness and turns potential enemies into allies."
When leading others and you are faced with opposition to a project or deadline, Williams says that the leader's job is to ask a lot of pointed questions. "When people protested that a particular deadline I suggested was 'impossible,' I would ask, 'Can you help me understand how you determined that?' or 'What are the factors that led you to conclude it's impossible?' I avoided starting my questions with the word why, having long ago discovered that 'why' questions tend to make people feel defensive—and respond accordingly. By contrast, the more oblique wordings I used directed attention away from the blame game and exactly where I wanted it—toward uncovering the root causes behind their objections."
A leader also needs to ask questions that lead people to think about the problems they face in a new way; to overcome their mental barriers—"those unquestioned assumptions, unexplored options, or unchallenged rules of thumb that keep people stuck at a low level of achievement." These mental barriers cause us to reinforce them with information that supports them and ignore the evidence that should alert and enlighten us. We hurt ourselves and our organizations when we act on our untruths.
Williams includes a chapter on managing up and down and presents his Two-Up/Two-Down System. "Paying close attention to the ideas, information, and concerns of the people around you—especially those operating from a different perspective or from a different location in the organizational hierarchy—is key to leadership success. Learning to correctly grasp what I call strategic intent of those in important positions above you and below you in the organizational hierarchy is a vital leadership practice, one that you should try to make into a daily habit."
Williams provides lessons in communication, creating a positive culture, defining reality, and many more. Putting in practice what he presents here does not require extraordinary gifts. "Your own abilities can suffice to make you an effective leader—provided you focus on the daily challenges around you and then work doggedly, thoughtfully, and positively with the people around you to overcome them."
There is a lot of emotional intelligence contained in this book. Reading it is a good way to develop your own EQ and check your self-awareness. Use Learning to Lead to prepare yourself answer the call to lead when it comes.
* * *


Like us on
Instagram
and
Facebook
for additional leadership and personal development ideas.
* * *


Posted by Michael McKinney at 12:10 PM
Permalink | Comments (0) | This post is about Leaders , Leadership Development , Personal Development