StrengthsFinder 2.0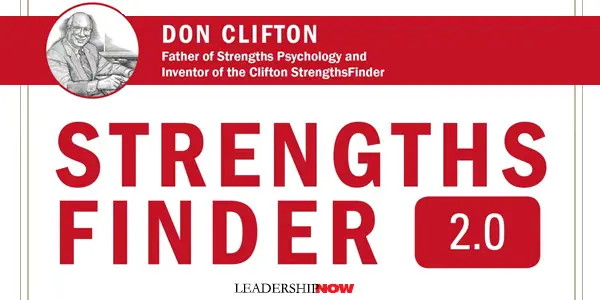 "Most people think they know what they are good at. They are usually wrong . . . . And yet, a person can perform only from strength."


—Peter Drucker
GALLUP PRESS has just released StrengthsFinder 2.0. It's a handy and improved follow-up to Now, Discover Your Strengths. What's so new? Gallup has this to say:
Our research and knowledge base on the topic of human strengths have expanded dramatically over the past decade. StrengthsFinder 2.0 picks up where the first version left off, and it is designed to provide you with the latest discoveries and strategies for application. The language of 34 themes remains the same, but the assessment is faster and even more reliable. And, the results yield a much more in-depth analysis of your strengths — featuring a look at the nuances of what makes you unique, using more than 5,000 personalized Strengths Insights that we have discovered in recent years.
Going far beyond StrengthsFinder 1.0's shared theme descriptions, which can be found in Part II of StrengthsFinder 2.0, these highly customized Strengths Insights will help you understand how each of your top five themes plays out in your life on a much more personal level. For example, even though you and a friend may both have the same theme in your top five, the way this theme is manifested will not be the same. Therefore, each of you would receive entirely different, personalized descriptions of how that theme operates in your lives.
These new Strengths Insights describe what makes you stand out when compared to the millions of people we have studied. Once you have completed the online assessment, you will receive a comprehensive Strengths Discovery and Action-Planning Guide that is based on your StrengthsFinder 2.0 results. This guide includes:
Your top five theme report, built around the new Strengths Insight descriptions
50 Ideas for Action (10 for each of your top five themes) based on thousands of best-practice suggestions we reviewed
A Strengths Discovery Activity that helps you think about how your talents, investment, experience, skills, and knowledge work together to build strengths
A Strength-Based Action Plan for setting specific goals for building and applying your strengths in the next week, month, and year
* * *


Like us on
Instagram
and
Facebook
for additional leadership and personal development ideas.
* * *


Posted by Michael McKinney at 09:51 AM
Permalink | Comments (0) | This post is about Books , Personal Development