Leading Thoughts for September 22, 2022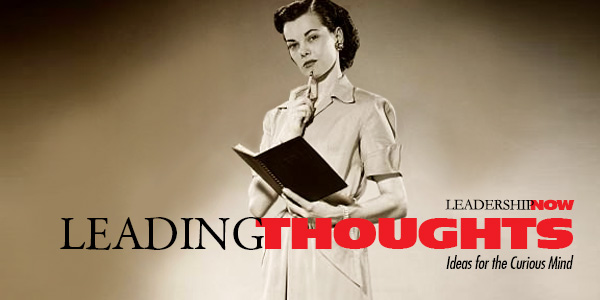 IDEAS shared have the power to expand perspectives, change thinking, and move lives. Here are two ideas for the curious mind to engage with:
I.
Richard Feynman on regret:
"If you want to live a regret-free life, you need to stop thinking about what others think about you and your life. We spend our entire lives thinking, and in fact overthinking about people, society, teachers, and others think, who do not know our paths, our struggles, our good and bad, and unfortunately, we allow them to control our lives. It's you who has to decide what makes you happy and pursue it accordingly. It would be stupid of you to try and stand by someone else's expectations. Do what you feel is good for you, and right for you, In doing so, it is very obvious that you will come across failures and disappointments, but that will teach you a great deal and the best part would you, it would you and only you responsible for that.. Prof. Feynman"
Source: Surely You're Joking, Mr. Feynman!
II.
Journalist Ferris Jabr on why walking helps us think:
"Perhaps the most profound relationship between walking, thinking, and writing reveals itself at the end of a stroll, back at the desk. There, it becomes apparent that writing and walking are extremely similar feats, equal parts physical and mental. When we choose a path through a city or forest, our brain must survey the surrounding environment, construct a mental map of the world, settle on a way forward, and translate that plan into a series of footsteps. Likewise, writing forces the brain to review its own landscape, plot a course through that mental terrain, and transcribe the resulting trail of thoughts by guiding the hands. Walking organizes the world around us; writing organizes our thoughts. Ultimately, maps like the one that Nabokov drew are recursive: they are maps of maps."
Source: Why Walking Helps Us Think, The New Yorker, September 3, 2014
* * *
Look for these ideas every Thursday on the Leading Blog. Find more ideas on the LeadingThoughts index.
* * *


Like us on
Instagram
and
Facebook
for additional leadership and personal development ideas.

Posted by Michael McKinney at 06:11 AM
Permalink | Comments (0) | This post is about Leading Thoughts