Anwar el-Sadat on Life and Leadership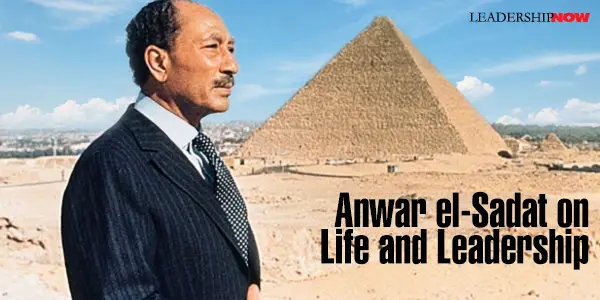 Anwar el-Sadat was a remarkable leader. He became president of Egypt after Nasser's untimely death in October 1970. For his efforts to bring about peace with Israel, he shared the 1978 Nobel Peace Prize with Israel's Menachem Begin. Just over 25 years ago, on October 6, 1981, Sadat was assassinated by terrorists. Here are some thoughts from his 1978 autobiography, In Search of Identity: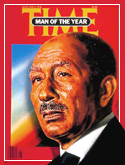 Most people seek after what they do not possess and thus are enslaved by the very things they want to acquire. They become prisoners of their desires even though they appear to be free.
Nothing is more important than self-knowledge. My wide-ranging reading not only broadened my mind and enriched my emotions, it also helped me to know myself better. It is self-knowledge that makes a man's actions proceed from objective, rather than puny subjective considerations.
Suffering crystallizes a soul's intrinsic strength; for it is through suffering that a man of mettle can come into his own, and fathom his own depths.
If human values were relative, all laws—whether those based on revealed religions or those devised by man—would become meaningless. Most people today live in power-based communities, and the world has lost the lofty ideals which man has established down the centuries. Mankind has, I believe, no way out of its current predicament except the restoration of these ideals and the vindication of them in all walks of life.
An Arab aphorism says that a ruler is naturally opposed by half of his subjects if he happens to be just, which, I believe, is true. A ruler is a solo performer on the stage, as it were, and, with the spotlight on him, people can see him very clearly but hardly notice anybody else. Any citizen with troubles, problems, or even trivial daily complaints will naturally blame them on the ruler.
To be gripped by fear is, I believe, the most degrading of all emotions for a human being. In fear personality disintegrates, the human will is paralyzed, and man acts as an automaton.
He who cannot change the very fabric of his thought will never be able to change reality, and will never, therefore, make any progress.
* * *


Like us on
Instagram
and
Facebook
for additional leadership and personal development ideas.

Posted by Michael McKinney at 06:58 AM
Permalink | Comments (0) | This post is about Leaders