Managing Yourself First Checklist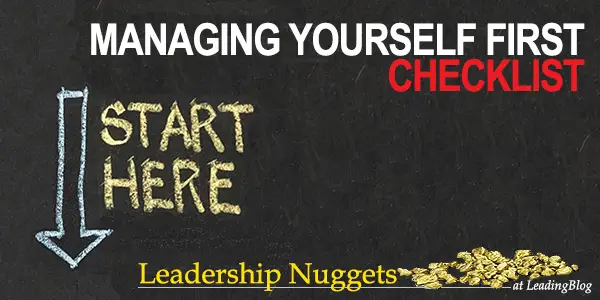 MAKE sure that the first person you are managing every day is yourself. Take good care of yourself outside of work so that you can bring your best self to work every day. Arrive a little early to work and stay a little late. Focus on playing the role assigned to you before trying to reach beyond that role. Focus on doing your tasks, responsibilities, and projects very well, very fast, all day long. If you want to carry weight with your boss, that should be your primary focus. Be a problem-solver, not a complainer. Commit to continuous improvement through rigorous self-evaluation.
Think about context and figure out where you fit in every situation. Continually ask yourself, "Where do I fit in this picture? Why am I here? What is at stake for me? What is my appropriate role in relation to the other people in the group? What is my appropriate role in relation to the mission?" Concentrate on playing these roles 110 percent. Contribute your very best thoughts, words, and actions. No matter how lowly or mundane or repetitive or minor your tasks and responsibilities might seem in relation to the overall mission, play your role to the max. Attitude matters—a lot. Effort matters—a lot.
Start mastering the art of human relations. Approach every relationship by focusing on what you have to offer the other person rather than on what you might want or need. Be a model of trust. Remove your ego. Listen carefully. Empathize. Exhibit respect and kindness. Speak up and make yourself understood. Be a motivator. Celebrate the success of others.
Make yourself a great workplace citizen. Under-promise and over-deliver. Don't bad mouth others, and try not to speak about others unless they are present. Keep your word. Keep your confidences. Be an accurate source of information. Don't keep other people waiting. Instead of under-dressing, overdress. Practice old-fashioned good manners.
Adapted from It's Okay to Manage Your Boss by Bruce Tulgan.
* * *


Like us on
Instagram
and
Facebook
for additional leadership and personal development ideas.
* * *


Posted by Michael McKinney at 08:13 AM
Permalink | Comments (0) | This post is about Leadership Development , Personal Development