Why You Should Sponsor Others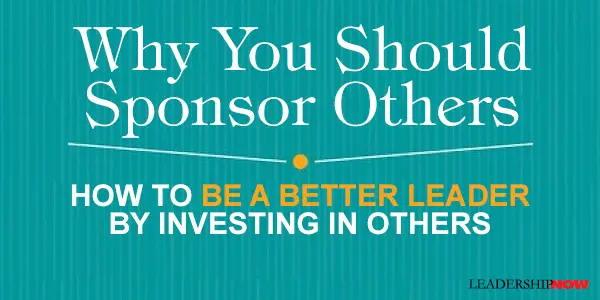 MUCH HAS been written about mentoring. Mentoring is a gift you give to others. And while mentoring can be of tremendous value to the person being guided, it is one-way.
Sponsoring is "all-in." You have skin in the game. Sponsorship is a two-way, reciprocal investment where both the sponsor and the protégé are working for each other's success.
It goes without saying that having a sponsor is a huge career plus, but here's the startling fact, being a sponsor is just as important as finding one. Sylvia Ann Hewlett reports in her book, The Sponsor Effect, "Senior-level managers are 53 percent more likely to have received a promotion in the last two years, if they have a protégé." In addition, "Entry-level professionals who have a protégé are 167 percent more likely to have received a stretch assignment than those who don't." And for those who were actually doing sponsorship right, the results were even better. The point is, become a sponsor. It's good for you too!
The sponsor must devote serious attention to identifying top junior talent, developing their skills, scrutinizing their progress, and advocating on their behalf (or more practically stated, believing in them and using up precious political capital for them, advocating for them, and providing them with air cover to take the risks that success often demands). Protégés must deliver for their sponsor with stellar performance, rock-solid trustworthiness, and a differentiated skillset that adds value to the team and the organization, as well as to the individual sponsor.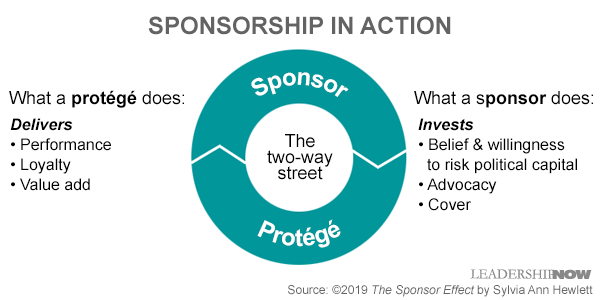 Take note: "The right protégé will complement your leadership skills and style, provide honest feedback, make you feel that you have extra hours in the day, and enable your influence to persist even after you've moved on to your next role or opportunity."
Seven Steps to Effective Sponsorship
Hewlett offers a playbook to do this right. Taking a chapter for each, she explains how to get started, and answers questions like how do you contain risk? And What tools and tactics work best. After all, "If you're going to sponsor someone—linking their career to yours—they're going to be walking around with your brand on their forehead."
Step 1: Identify Potential Protégés
Know what to look for in the talent you're considering sponsoring, starting with performance and loyalty. Performance is table stakes. "What you should be concerned about when evaluating a potential protégés is loyalty to you and the organization. The ideal number of protégés is three.
Step 2: Include Diverse Perspectives
Find those who are different from you—in their mindset and viewpoints, or in their gender, age, ethnicity, experience or background. "The point is that protégés can add the most value if they can provide something you lack."
Step 3: Inspire for Performance and Loyalty
Ensure that your protégés' values align with yours and use their ambitions to spur them forward.
Step 4: Instruct to Fill skills Gaps
Work with your protégés to develop where they need to grow, whether that's in knowledge or soft skills
Step 5: Inspect your Prospects
Keep an eye on your protégés to ensure that they're continuing to deliver in performance and also, most importantly, on the trustworthiness front.
Step 6: Instigate a Deal
Having inspired, instructed, and inspected, now make the ask, specifying in some detail the two-way flow of value.
Step 7: Invest in Three Ways
You now need to be "all in." Endorse in noisy ways. Advocate behind closed doors. Provide air cover. Commit your political capital and your clout, while providing air cover so that your protégés can take risks. "Rule of thumb: the more significant the investment, the bigger the payout."
The following example Hewlett shares highlights the value of sponsorship to help leadership groups break out of their shared biases and points of view that so often hold them back.
"In this business today, if you want to grow, you've got to be comfortable with being uncomfortable," Lou Aversano, CEO of Ogilvy & Mather in New York (a division of WPP), told me. "You have to be willing to burn your lifeboats before someone burns them for you." Yet industry veterans such as himself face a challenge that he calls "altitude."

"We see things from a certain height, and we have biases based on our years of experience and established ways of getting things done," he explains. So when Aversano took the helm in 2014 and started a strategic transformation, he reached out to millennial talent that didn't look at things from this same altitude.

For that, Aversano tapped one of Ogilvy's employee resource groups, the Young Professionals Network. He tasked its one hundred members (average age twenty-seven) to offer ideas about how to reinvent the business model that underpinned the agency. But the process wasn't a suggestion box. Aversano and other senior leaders worked with these young executives closely for nearly two months, instructing them on the business challenges and offering feedback so they could grow their strategic chops and offer evolved, informed ideas.

[One of the results] was that Aversano identified a standout potential protégé: a young man named Ben Levine.

After working closely with Levine through the Young Professionals Network, Aversano was so impressed he put him on Ogilvy's leadership team as a "senior advisor for transformation." There, Levine has delivered transformative advice. For example, given his refreshing lack of altitude, Levine has been able to map out novel ways Ogilvy can engage with clients. He has also identified patterns that show which of the approaches are most likely to produce revenue and profit. "He charted the path to grow for us," Aversano says.
Sponsorship requires an investment of time, but it has immediate value. You can begin to see the benefits very quickly. So, find some protégés today. The Sponsor Effect offers a formula to get it right.
* * *


Like us on
Instagram
and
Facebook
for additional leadership and personal development ideas.
* * *


Posted by Michael McKinney at 08:23 AM
Permalink | Comments (0) | This post is about Leadership Development