The Edge: How 10 CEOs Learned to Lead—and the Lessons for Us All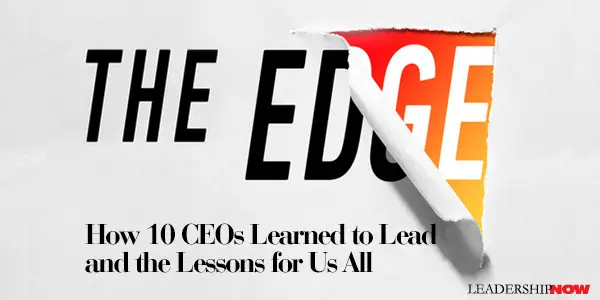 GIVEN that we live in a radically changing world, what got you here won't get you there. In Michael Useem's words, "The best capacities of an earlier time remain informative but also incomplete for the challenges we face ahead." Therefore, "what's required is a mixture of traditional capacities, fresh capabilities, and a learning bridge for combining the two."
In The Edge: How 10 CEOs Learned to Lead—and the Lessons for Us All, Michael Useem asks what gave ten CEOs the edge. The edge is that "place or point or period where your past skills are serving you, but you need to bring new skills online as well." He explains:
It can feel like a cliff edge because your comfort zone, the solid ground you navigated to get you where you are, is behind you. What lies beyond the edge is the opposite, an unfamiliar landscape barely coming into focus. Your task is now to acquire the skills you need in this new territory before your career or your enterprise falters as a result of your personal limitations.
Useem has identified ten principles or capacities that will be called for to supplement traditional leadership capacities.
Accelerate your flywheel for growth
Mobilize and engage holistically
Take a learning sabbatical
Partner to lead change
Think like a chief executive
Bring in better leadership
Reconfigure for evolving markets
Reinvent the company culture
Connect and unite all the players
Learn to lead across a lifetime
He chose ten CEOs that became what they needed to be when the situation called for it and incorporated at least one of these ten new capacities. "In finding their own ways forward, sometimes over years, our exemplars taken together provide us with an instructive roadmap for designing our own ways forward. We learn:
From Vanguard's Bill McNabb, we can see the value of identifying and then accelerating a self-reinforcing flywheel for growth.

From Progressive Corporation's Tricia Griffith, we can see the benefit of more lateral and more inclusive leadership.

From WSFS's Mark Turner, we saw the value of taking a step away from daily demands to appreciate the way technologies may be changing how we lead and our own timing for stepping down.

Mark Turner: "Everybody has to be a leader of leaders. You show yourself a leader when you do not have to get involved in everything."

From Estée Lauder's William Lauder and Fabrizio Freda, we learned to partner for change to open new channels for marketing products before traditional avenues close off.

From ITT's Denise Ramos, we saw the value of rounding out your leadership skills holistically to serve as a general manager, then picking a successor with a new and different skill set that's better suited to the challenges that lie ahead.

From Nokia Growth Partners' Bo Ilsoe, we were reminded that a company may be struggling for traction not because its strategy is misdirected, but because it has the wrong individual at the top, and that for finding the right leader a meticulous and disciplined appraisal is essential for ensuring effective execution of the firm's strategy.

From seeing his markets imploding, splitting, or consolidating, Ed Breen faced one crisis after another, but he confronted each with a fresh eye, triaging his firm in one case, dividing and recombining the frim in another, and confronting a virus in a third.

From Johnson & Johnson's Alex Gorsky, we learned that culture can serve as an invaluable vector for aligning the behavior of those beyond your direct instruction—though only if modernized from time to time as the world changes.

From the Philadelphia Eagles' Jeffrey Laurie, we were reminded that single-bullet solutions are appealing but misleading as he learned to connect the players, unite his inner circle, and embrace calculated risk-taking.

From the Continental Army's George Washington, we came to better appreciate that leadership can be learned across a lifetime—and that it can take a lifetime to master.
* * *


Follow us on
Instagram
and
Twitter
for additional leadership and personal development ideas.
* * *


Posted by Michael McKinney at 08:28 AM
Permalink | Comments (0) | This post is about Leadership Development