The Leader's Greatest Return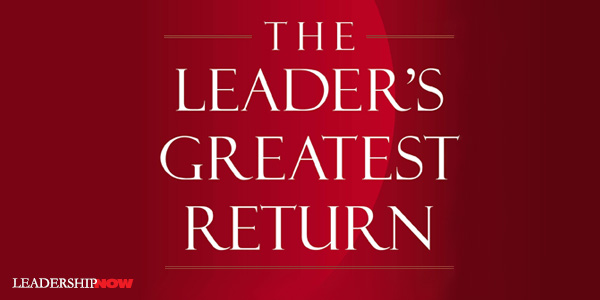 IF YOU want to make a difference in the world, go further, faster by developing other leaders. Your efforts are magnified exponentially by the investment you make in others.
Of course, we talk about developing more leaders, but if we actually made it a priority, we would have more leaders. One issue leaders have always faced is the ability to identify potential leadership in the raw. It can be a bit counterintuitive. John Maxwell addresses these issues and more in The Leader's Greatest Return.
To help make this more practical and intentional, Maxwell has laid out a ten-step process for developing leaders.
1. Identifying Leaders: Find them so you can develop them.
You need to know what you are looking for. What does a potential leader look like? Maxwell offers six As to guide us: Assessment of Needs (what do you need?), Assets on Hand (people within), Assets not on hand (people outside), Attitude, Ability, and Accomplishments.
You're looking for attitude before aptitude. Always begin with attitude.
Good character is what holds together all the positive attitude traits I've mentioned—willingness to serve, selflessness, empathy, growth, and sacrifice. Character keeps everything secure. Without it, things can break down fast. Character is about managing your life well, so you can lead others well.
2. Attracting Leaders: Invite them to the leadership table.
Leaders want to be around leaders. "Having a leadership table means creating a place in your organization or on your team where people have a place to learn, an opportunity to practice leadership with its successes and failures, and a chance to shine."
Leaders "see the future leader within the person, and help that leader emerge." Inviting potential leaders to the table gives them a chance to practice leadership.
As a learner there's no substitute for participating and having access to people who know what they're doing, can direct you, and give you feedback. That requires proximity.

Leadership is more caught than taught. That's why one of the best ways for potential leaders to learn how leaders think, problem-solve, and act is to spend time with them at the table.
3. Understanding Leaders: Connect with them before you lead them.
Understand them. Learn their perspective.
Before you lead and develop people, you need to connect with them. You need to find common ground with potential leaders, which is less about ability and more a function of attitude. They commit to you and follow when they feel understood.
Maxwell lists ten actions to create that understanding: "Value them, let them know you need them, include them in your journey, adopt a teachable spirit, ask questions, listen well and often, seek to know their perspective, give credit to those who help you, express gratitude to those who help you, and replace me with we." What Maxwell is talking about is humility.
4. Motivating Leaders: Encourage them to give their best.
Don't motivate. Inspire.
I try to inspire people and help them find their own motivations. That means I must first find my own motivations and model the behavior I want to see in the people I lead. Good leaders inspire others only to the extent that they inspire themselves.
5. Equipping Leaders: Train them to be great at their job.
Great leaders sponsor their potential leaders. "They position them and mentor them." Sponsoring potential leaders is where you begin to see the return on your time and investment.
Work yourself out of a job. Success doesn't come from protecting what you have. It comes from equipping others to replace you so that you can move onto bigger and better things. When you become an equipping leader and teach potential leaders how to be great at their job, everybody rises.
6. Empowering Leaders: Release them to reach their potential.
Give authority away. "Only secure leaders give power to others."
The main limitation most people have on their lives is their low expectations of themselves. Most people are unaware of the possibilities that lie within them. Good leaders introduce the people they lead to those wonderful possibilities.
7. Positioning Leaders: Team them up to multiply their impact.
Bring your leaders together to develop a team of leaders. Maxwell explains the seven types of leaders to you want to invite to your leadership team.
Teams of leaders are powerful. But they are difficult to create. Why? Leaders are hard to gather. And it can be a challenge to get them to work together. They all have their own ideas, and they would usually rather gather a team than be on one.
8. Mentoring Leaders: Coach them to the next level.
Leaders have a responsibility to mentor others. For mentoring to work, it becomes a two-way street. As mentors, we should both teach and learn.
The leader being mentored should move up to a higher level of leadership. The ultimate step in mentoring ends with the leader being mentored takin the baton from his mentor and surpassing him.
9. Reproducing Leaders: Show them how to develop leaders.
"The only thing limiting the future of any organization is the number of good leaders it develops."
Maxwell says the kind of leaders you are trying to develop are what he calls 3-G leaders. "When I select leaders, I look for evidence of the three Gs. They have to be grounded, gifted, and growing. And as I develop them, I need to see them continue to develop in those areas to keep working with them." Grounded as in possessing a foundation that makes them solid—humble, teachable, authentic, mature, and having integrity. Gifted in that they possess the strengths that can help them succeed in the service of others. And possessing a hunger and capacity to be developed—Growing.
When you begin developing leaders, the most important thing you can do is let them know what you're thinking and why. Bring them to the table and let them in on high-level meetings and discussions so that they can learn how you and other top leaders think.
10. Compounding Leaders: Receive the Highest return of developing leaders.
Developing leaders benefits from what is called "accumulative advantage." That is, a small initial advantage leads to a slightly bigger advantage that compounds over time to create a significant advantage. "That's the return that comes from continually developing leaders. It compounds! And the longer you keep doing it, the greater your advantage becomes." And you reap the compounding power of consistency.
You can't develop everyone. "Compounding results from developing the top 20 percent. If I have ten people on my team, I incest 80 percent of my time and effort into my top two—my top 20 percent. I add value to them, so they can multiply value to others." Those two can then develop the top 20 percent of those they influence and so on.
Developing leaders pays dividends to you, those you develop, and to everyone they influence. Developed leaders help you carry the load, leverage your resources, help you create momentum, expand your influence, ensure a future, develop others, and develop you.
It's dangerous to think you've arrived as a leader. As someone once quipped, today's peacocks are tomorrow's feather dusters. If you want to keep leading, you need to keep growing, and few things stretch a leader like leading growing leaders.
The Leader's Greatest Return is one of the most important books Maxwell has written. It brings together, in a meaningful whole, the culmination of over 50 years of experience leading and learning to lead. It provides a holistic view of leadership and applies the laws he has written about previously in The 21 Irrefutable Laws of Leadership and other classic leadership books to the most meaningful function of leadership—developing more leaders.
* * *


Like us on
Instagram
and
Facebook
for additional leadership and personal development ideas.
* * *


Posted by Michael McKinney at 11:30 PM
Permalink | Comments (0) | This post is about Leadership Development