Leading Thoughts for September 29, 2022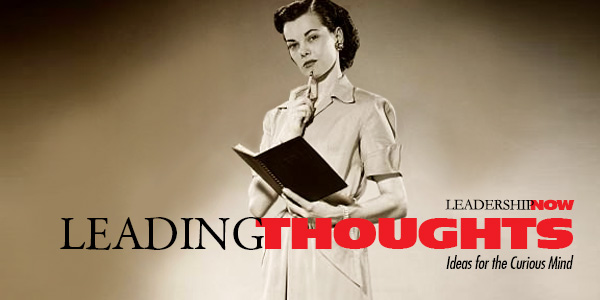 IDEAS shared have the power to expand perspectives, change thinking, and move lives. Here are two ideas for the curious mind to engage with:
I.
Paul Magnone, Christopher Frank and Oded Netzer on how we consider data in decision-making without taking the time to ask for context:
"Humans tend to claim they know the absolute truth about something without appreciating the whole picture. They rely heavily on their own subjective experience to draw generalized conclusions, and they ignore other people's limited subjective experience, even though combining their own experience with that of others would produce the most comprehensive and objectively accurate picture of something."
Source: Decisions Over Decimals: Striking the Balance between Intuition and Information
II.
Saj-Nicole Joni and Damon Beyer on the need for leaders to create a certain amount of healthy struggle and positive change by fighting the right fights … right:
"You cannot win with a team that is badly aligned. The problem is, it's not sufficient. Achieving perfect or near-perfect alignment is not the end of the road. It's merely the beginning

In an environment where alignment is the only goal, alignment robs us of necessary dissent, of the checks and balances that mitigate risk, and of the tensions that create innovation and sustainable value. People and organizations perform optimally when they are under the right kinds and amounts of stress."
Source: The Right Fight: How Great Leaders Use Healthy Conflict to Drive Performance, Innovation, and Value
* * *
Look for these ideas every Thursday on the Leading Blog. Find more ideas on the LeadingThoughts index.
* * *


Like us on
Instagram
and
Facebook
for additional leadership and personal development ideas.

Posted by Michael McKinney at 07:35 AM
Permalink | Comments (0) | This post is about Leading Thoughts