5 Leadership Lessons: The Five B's of Purposeful Leadership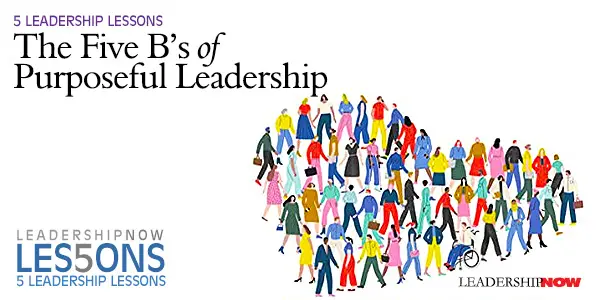 IN The Heart of Business: Leadership Principles for the Next Era of Capitalism, former CEO of Best Buy, Hubert Joly, shares the philosophy behind the resurgence of Best Buy: pursue a noble purpose, put people at the center of the business, create an environment where every employee can blossom, and treat profit as an outcome, not the goal.
He shares what he learned and what he had to unlearn. How we lead matters. He concludes with the five principles of purposeful leadership that guided his leadership.

  Be clear about your purpose, the purpose of people around you, and how it connects with the purpose of the company. I believe that business is fundamentally about purpose, people, and human relationships—not profit, at least not primarily. Companies are not soulless entities. They are human organizations made of individuals who work together toward a common purpose. When that common purpose aligns with their own individual searches for meaning, it can unleash a kind of human magic that results in outstanding performance.

  Be clear about your role as a leader. You cannot choose your circumstances, but you can control your mindset. Your mindset determines whether you generate hope, inspiration, and energy around you—or bring everyone down. So, choose well.

  Be clear about whom you serve. As a leader, you must serve the people on the front lines, driving the business. You serve your colleagues. You serve your board of directors. You serve the people around you first by understanding what they need to give their best, so you can do your best to support them. Executive coach Marshall Goldsmith once told me to see everyone as a customer. Before speaking or acting, be clear about your motivation and whom you are trying to serve.

  Be driven by values. For the most part, we all agree on what is right: honesty, respect, responsibility, fairness, and compassion. On paper, every company has great values. But values are no good if they remain on paper. Bing driven by values is doing right, not just knowing or saying what is right. Knowing and doing what is right is not always simple, of course. If you refuse to give in to the "just this once" and remember to tell the truth and do what is right, choices become easier.

  Be authentic. I have been told the longest journey you'll ever take is the 18 inches between your head and your heart. It is a long and arduous journey indeed. Like make leaders of my generation, I long believed emotions were not meant to be shared in a business context. I had a lot to unlearn, and it took me a lifetime to embrace the fifth, and for me by far the hardest, "Be": Ne yourself, your true self, your whole self, the best version of yourself. Be vulnerable. Be authentic. This is something the new generation of leaders seems to grasp more intuitively and naturally.
Our employees are expecting us to be human, and they expect us to grasp who they are and to make them feel respected, heard, understood, and included. This means we have to open up and make ourselves vulnerable, including by acknowledging what we do not know.
* * *


Follow us on
Instagram
and
Twitter
for additional leadership and personal development ideas.
* * *


Posted by Michael McKinney at 08:55 AM
Permalink | Comments (0) | This post is about Five Lessons , General Business