Leading Thoughts for March 3, 2022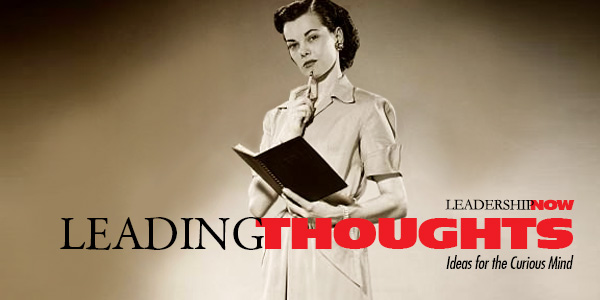 IDEAS shared have the power to expand perspectives, change thinking, and move lives. Here are two ideas for the curious mind to engage with:
I.
P. M. Forni on the art of going over your life:
"You reflect to review the past, take stock of the present, and build a better future. The learning you acquire from reflecting on your experiences and those of others will depend on your willingness to ask yourself tough questions and to stick around for the uncomfortable answers. Here you must exercise caution. Do not dwell on the past unless you can learn from it. Do not look back to hurt yourself or others. The point is to use the past in ways that are beneficial to you."
Source: The Thinking Life: How to Thrive in the Age of Distraction
II.
Performance psychologist Jim Loehr on our moral operating system:
"The combination of personal beliefs, ideology, and strong emotion can completely overwhelm our capacity for rational thought and sound judgment. Once we declare a belief to be unfettered truth, we close the door to introspective inquiry. Rather than using our powers of reason to investigate weaknesses and inconsistencies in what well could be a faulty belief, we instead use our capacity for creative logic to garner support for what our gut tells us to believe. Once a belief is successfully dressed up as truth, we feel justified in whatever moral judgment or decision we render."
Source: Leading with Character: 10 Minutes A Day to A Brilliant Legacy
* * *
Look for these ideas every Thursday on the Leading Blog. Find more ideas on the LeadingThoughts index.
* * *


Like us on
Instagram
and
Facebook
for additional leadership and personal development ideas.

Posted by Michael McKinney at 07:34 AM
Permalink | Comments (0) | This post is about Leading Thoughts