Take Charge of You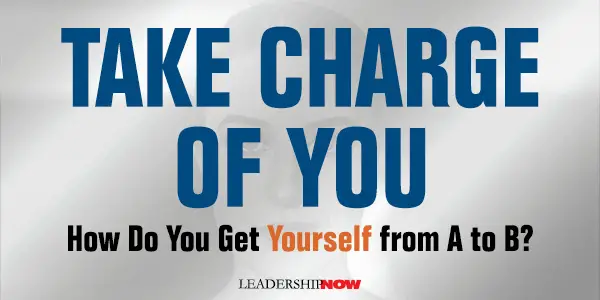 HOW do you get from A to B? Most of us want to evolve beyond today. A coach can help. But what do you do when you can't afford a coach? Or the coach you want isn't available? You learn to coach yourself.
In Take Charge of You, David Novak and Jason Goldsmith say you can't leave your personal growth to chance. But coaching yourself doesn't mean going it alone. Instead, "it means you are constantly looking for ways to grow yourself and for anything and anyone who can help you do that."
As in any coaching situation, you begin by getting to understand who you are and what you want. What brings you joy? Where do you want to see yourself?
When you choose a destination in this self-coaching process, you are choosing a direction for where you want to take your life or career in the future. Once you do that, the work becomes about planning your route, making steady progress, dealing with the inevitable potholes and roadblocks along the way, and maybe even making changes on the fly if circumstances change.
It is important that you develop a coaching mindset—meaning "being open to whatever is going to drive your growth and performance." Like a good coach, you don't have all of the answers. So you need to be open, flexible, and ready to explore. Reframing your experiences will help you remain open to the lessons you could be learning.
I liked their explanation of reframing as some people think of it as lying to yourself:
Reframing isn't an exercise in wishful thinking, and it isn't an exercise in denying your feelings … Instead, reframing is an exercise in choosing a more productive way of thinking about anything you are up against.
A big part of the self-coaching mindset is knowing your own mind. Know what thoughts are getting in your way, perhaps creating self-fulfilling prophecies in your life. What situations trigger negative thoughts? How are you responding to roadblocks? The authors provide various exercises to help you take control of your thoughts. These are all opportunities to grow.
Self-coaching means taking responsibility for the ideas and insights you need to move you forward. Ask people who have done something similar to what you want to do. You don't need to find the best in the field. You just need to find the person that knows a bit more than you now.
With these insights, you can now take insightful actions—actions that are both "informed and inspired." Make a list of all of the actions you need to take to get you closer to the person you want to be. Break them down as much as possible.
Before you begin your journey, make sure you know where you are—your current reality. It is essential that you keep your eye on your goal "while you make decisions about what you want to do and where you want to go in life. Does that mean that every single thing you do will be joyful? Of course not." You may not be doing exactly what you want to do right now, but you are learning things to help you get where you want to go. In the beginning, focus on making sure you have the experience and skills to be good at whatever it is you want to be when you get there.
The path to achieving something new will always be a question mark until we walk in it. So what do we do with that question mark? We can start by admitting we won't have all the answers up front, and we don't need to.
Always focus on the next step rather than focusing on all of the ings you have to do. Focus on the process. A consistent effort makes all of the difference.
A word about setbacks: they are inevitable.
Life isn't static, so even when you master something, there will still be new obstacles to come. That's just how life works in any field, in any industry, in any context, at any time, for any and every person out there.

Accept setbacks as a given and the next one as just another opportunity to coach yourself through it and become more resilient in the process.

Just because something didn't turn out the way we wanted it to doesn't mean that it never will. It just means that it hasn't happened yet.
Every setback is an opportunity to learn a lesson and grow.
It is helpful to build motivation into the process. How? Remind yourself what matters, connect with your future vision, and share your intention with others.
Take Charge of You is full of helpful exercises to help you through the self-coaching process. A good portion of those exercises cover the right mindset, gaining an understanding of who you are, how you think and respond to situations. This is the tough groundwork we must go through to find that inner sense of joy we want. Do that right, and the rest becomes much easier.
* * *


Follow us on
Instagram
and
Twitter
for additional leadership and personal development ideas.
* * *


Posted by Michael McKinney at 09:18 AM
Permalink | Comments (0) | This post is about Personal Development