My Dad's Seven Principles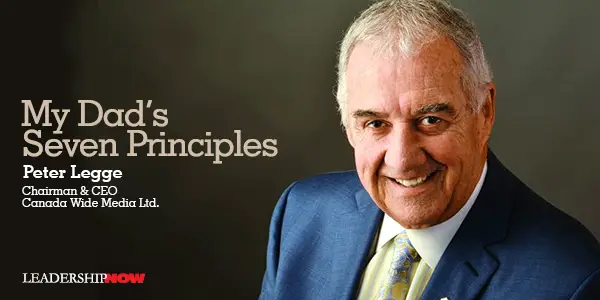 WHENEVER I have to opportunity to hear Peter Legge speak, I take it. Always interesting and practical. Recently he shared the following from his father:
My father Bernie Legge had a well-developed philosophy about success, which was based on seven basic principles. When I was 11 years old, he sat me down and shared them with me, and I have since shared them with countless others. Let me share them with you.
Be resourceful, inventive, and creative.
Carefully choose the five people that you spend the most time with.
Live every day with passion, a positive attitude, and emotion. Never waste a day.
I won't always be with you, so seek out mentors who will teach you, encourage you and guide you.
Serve the community. Give back to the community infinitely more than you take out.
Set big goals.
Guard your integrity.
Finally, my father liked to quote Sir Winston Churchill when he famously said, "Sometimes it's not enough that we do our best, we must do what is required."
* * *
Speaker and the author of 23 books,
Peter Legge
is the Chairman & CEO of the largest, independently owned media publishing company in Western Canada – Canada Wide Media Limited. Peter learned from his father that the best reward is service to the community. Peter has received two honorary doctorate degrees from Simon Fraser University and Royal Roads University, an honorary doctorate of technology from BCIT and an honorary fellow from Douglas College. In June of 2008, Peter was presented with the highest honour in his province, The Order of British Columbia, for his lifelong commitment to the community. You can contact him at
PeterLegge.com
or phone at (604) 299-7311
* * *


Follow us on
Instagram
and
Twitter
for additional leadership and personal development ideas.

Posted by Michael McKinney at 07:41 AM
Permalink | Comments (0) | This post is about Personal Development