Leading Thoughts for March 17, 2022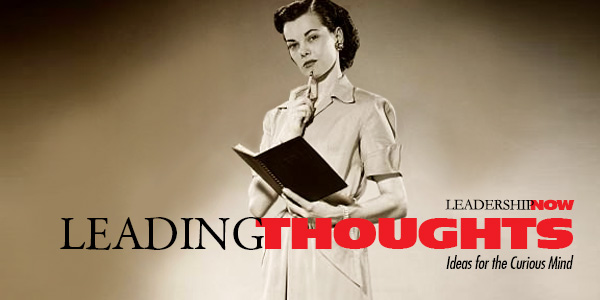 IDEAS shared have the power to expand perspectives, change thinking, and move lives. Here are two ideas for the curious mind to engage with:
I.
Lawyer Michael L. King on identity:
"One of my happiest childhood memories is of a ride with my father in our old clunker of an automobile. A shiny red Cadillac whizzed past and daddy remarked how pretty and expensive it was. "Why do Cadillacs cost so much money?" I asked. "Is it the name?"

"Well," he responded deliberately, "that's part of it. But it's also what that name means. It's like your name. It says that you are a [product] of the Chessies, and the Taylors and the Kings, and that you are so very, very special."

"Ever since, I have carried that praise with me. And I have never looked to another human being for my worth. My father convinced me that I didn't need to. Even in my lowest times, I believed I was special."
Source: "Fatherhood and the Black Man," Wall Street Journal, June 6, 1988
II.
American psychiatrist Thomas Szasz on learning:
"Every act of conscious learning requires the willingness to suffer an injury to one's self-esteem. That is why young children, before they are aware of their own self-importance, learn so easily; and why older persons, especially if vain or important, cannot learn at all."
Source: The Second Sin
* * *
Look for these ideas every Thursday on the Leading Blog. Find more ideas on the LeadingThoughts index.
* * *


Like us on
Instagram
and
Facebook
for additional leadership and personal development ideas.

Posted by Michael McKinney at 07:51 AM
Permalink | Comments (0) | This post is about Leading Thoughts