Leading Thoughts for March 10, 2022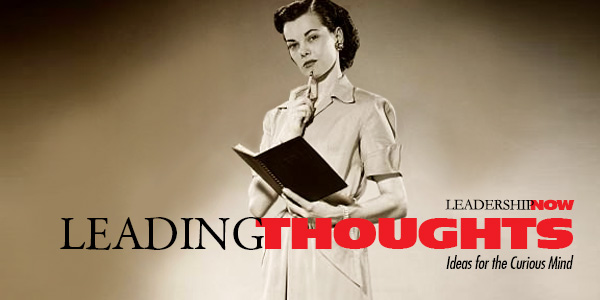 IDEAS shared have the power to expand perspectives, change thinking, and move lives. Here are two ideas for the curious mind to engage with:
I.
Julie Winkle Giulioni on career development:
"We have come to believe that career development is exclusively about the climb up and around the corporate structure. And because we've accepted this limited view of career development, we too are blind to the broader definition of the experience, the enormous possibilitities that are present, and the many other ways you as a manager can help employees succeed and grow.

"The result is we've inadvertently funneled people toward a ladder that can never accommodate them all—never mind that some of them don't want to climb anyway. This promotes competition, confusion, and frustration among employees that frequently fuel unwanted turnover for you and your organization."
Source: Promotions Are So Yesterday: Redefine Career Development. Help Employees Thrive
II.
Phil Nolan, former CEO of Eir, on distributed leadership:
"The concept of distributed leadership will keep you in touch with the environment. If you want to prepare people for this environment, you have to get leadership further down the organization. We generally tend to drive managing down the organization, but not leadership. As an organization, we have to prepare for acts of leadership further down the organization. I think that that is the hardest thing for us to do as people sitting at the top. It feels like an unnatural act."
Source: A Time for Leadership
* * *
Look for these ideas every Thursday on the Leading Blog. Find more ideas on the LeadingThoughts index.
* * *


Like us on
Instagram
and
Facebook
for additional leadership and personal development ideas.

Posted by Michael McKinney at 08:38 AM
Permalink | Comments (0) | This post is about Leading Thoughts