Grace Notes: Leading in an Upside-Down World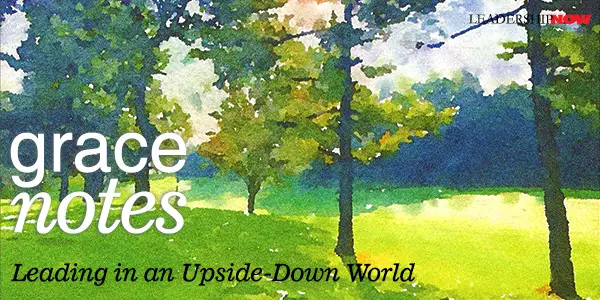 IN Grace: A Leaders Guide to a Better Us, John Baldoni laid out a philosophy for better leading and living. Now in Grace Notes: Leading in an Upside-Down World, he reflects on the practical application of that philosophy. Over the course of the last year, he collected his thoughts on the response to the pandemic and its implications.
Baldoni is a generous encourager. So, it is no surprise that he shares with us practical positive thoughts. These notes touch on many elements of what it means to be a good citizen, a friend, and a leader. Here are several that stood out for me:
KINDNESS
We've all heard the term "random acts of kindness."
I prefer something a little more direct…
I call it intended acts of kindness.
That is developing a mindset where you can be of assistance, of help,
be a source of joy to someone else.
By thinking this way, you adopt a kindness mindset.
You get out of your own skin, and you walk in the shoes of another,
if only for a moment.
It's other-directedness that I think we all need.
To be thinking of one another
and also finding ways to deliver joy.
And to deliver an act of kindness,
something that puts a smile on someone else's face.
It doesn't have to be a big thing.
An emoji text.
A funny photograph.
It could be a joke that you've heard… or a happy story. Simple things.
These are acts of kindness.
Little things show others that you're thinking of them, and
that you care about them as fellow travelers.
ABUNDANCE
Here's a word that makes me smile every time I hear it.
The word is abundance.
It is imperative in our time of crisis,
when our natural default is to protect.
And that means scarcity.
Many people are stepping forward and sharing.
And that's where the spirit of abundance comes from.
Abundance is rooted in Grace.
Because it means working for the greater good.
And when you have a spirit of abundance, you want to share.
All of us have something we can share.
It may be a resource. It may be our time…
it may be our experience, or maybe a story.
Abundance is an attitude that says
We're all in this together and let's pull together.
MAKING PERSONAL CHANGE
Change begins one person at a time.
And it begins with ourselves.
Assume the best intentions of others.
Look for ways to turn negative thoughts into positive actions.
Turn these kinds of things into making a positive difference for others.
Maybe you want to volunteer in your community.
And the other thing is to think and act more positively in general.
My philosophy is anchored in the notion of Grace,
which I regard as the catalyst for positive change.
Use Grace to reach out to others to make genuine connections.
We suffer together. We persist together.
We will emerge, let's hope, a better people.
But if we are, it will involve personal change.
Each of us is doing what we can.
GENEROSITY
Generosity is that open-hearted spirit.
It is the willingness to embrace others…to meet them where they are.
And to demonstrate that you care about them
and are willing to be open-hearted.
And to work for the benefit of all.
Generous people give of themselves.
They give their time.
And they also encourage others to do the same.
Not because they have to, but because they want to.
I like to say that generosity is contagious.
When we see one person acting generously,
we are moved to do the same.
He shares this mandate for leaders—Leadership Now:
STEP TO THE FORE
When trouble strikes, it is an opportunity for leaders to step to the fore.
This is how and where they show their mettle,
what they can do for others.
Crisis provokes opportunity.
It provokes the opportunity, at a minimum, to change.
Leaders call upon others to come together for a common cause…
be that cause of your business, your organization, your community.
Whatever it is, the time to act is now.
People are looking for direction.
People are looking for leadership.
People are looking for hope.
And leaders have the opportunity to deliver that.
As you look forward, and times seem to get tight and tighter,
nd tensions rise...
Now's the opportunity for leaders to step to the fore.
Offering over 60 notes, Baldoni reflects on many qualities that are central aspects of grace like patience, kindness, and respect. He also writes about anxiety, managing doubt and discouragement, and how to make this our finest hour. You will finish this little book inspired to be a better person.
* * *


Like us on
Instagram
and
Facebook
for additional leadership and personal development ideas.
* * *


Posted by Michael McKinney at 12:00 AM
Permalink | Comments (0) | This post is about Leadership