Dilenschneider: Power and Influence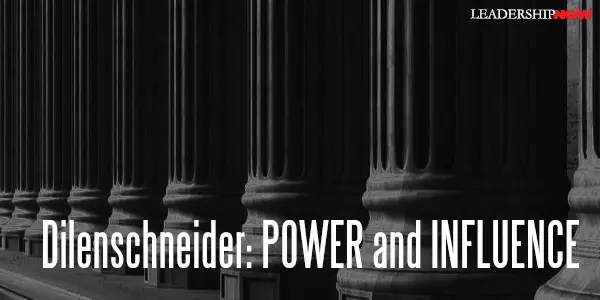 PUBLIC RELATIONS guru Robert Dilenschneider's excellent new book, Power and Influence: The Rules Have Changed, is worth your time because it is filled with a lifetime of wisdom about how to get along with others—a skill that is at the heart of leadership. He presents ten rules to think about and apply variously to your own situation. I think the most important ideas coming from these rules revolve around how to adapt to your changing world and situation, the importance of knowing how to be relentless, and the need for civility and humility.
Rule Four is Seize the Opportunity in Every Crisis. All of us experience some crisis of one form or another, at any given moment in our lives. The big question is how we handle it. Dilenschneider writes, "The ability to survive in an uncertain time is critical…. [A] big part of power lies in knowing the moment to move. It's not being all over the place all the time; it's knowing that one critical instant to move, taking action, and getting the result." He asked his friend, power player Alan Goodman how he viewed power players and their ability to respond to a crisis:
They are not impressed with power, and they are not concerned with power. They are concerned with ideas and impact. To me, that's the biggest lesson I've learned from the people I've met. Their focus, and the focus of any of us that are lucky enough to lead an institution, has got to be what you do with it. How you make the world less dangerous, how you make your community a better place, how you energize people to get their ideas, because you don't have all the ideas yourself. The best leaders focus on getting the best ideas and then doing something with them.
Here are a few other lessons from Dilenschneider:
LESSON:  For a power player, it's important to reach out to the shoeshine boy as well as the CEO. In fact, sometimes it's more important to reach out to the shoeshine boy so that the CEO sees that you're a person of the people, a person who's generous, who's humble, who's willing to do outreach.
LESSON:  What is it like to be with these men and women of power? With the best of them, it is terrific because they are essentially humble people who understand their own shortcomings.
LESSON:  Keep your friendships, nurture them, and don't expect anything in return. At the same time, when someone else has a problem, help that person instead of shying away from him or her. Most people tend to look at people with problems and say, "I want to avoid those people." The time to go to people is when they're down and out. They are unlikely ever to forget your goodwill.
* * *


Follow us on
Instagram
and
Twitter
for additional leadership and personal development ideas.
* * *


Posted by Michael McKinney at 10:58 AM
Permalink | Comments (0) | This post is about Books , Personal Development